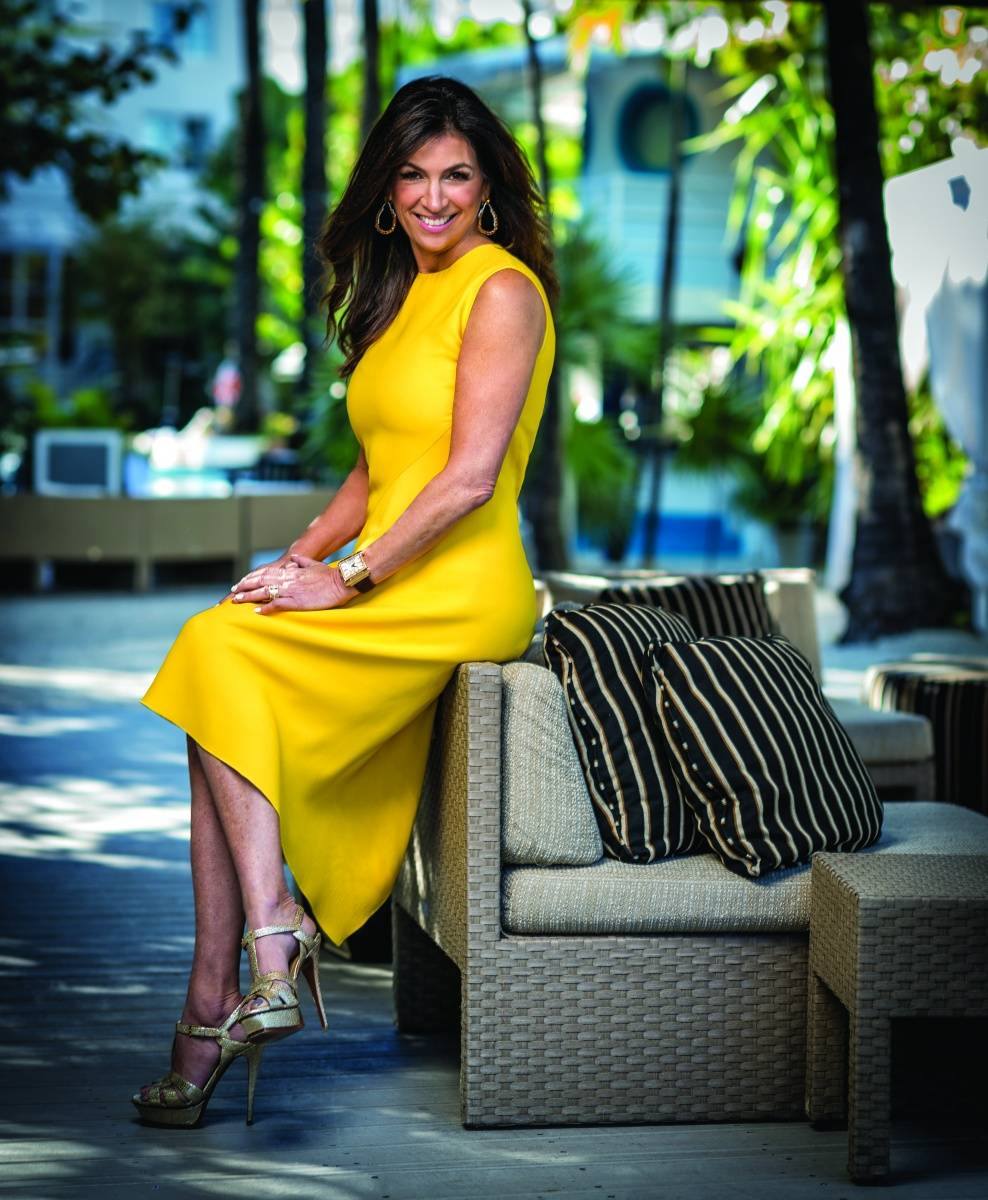 Arlene Chaplin has done something even harder than a headstand. She has taken two bacchanalian events (the South Beach Wine & Food Festival and Art Basel) and successfully paired them with yoga. If the thousand plus people who showed up for YogArt at the Wynwood Walls during Art Basel are any indication, these unlikely couplings have proved a resounding success.
"We started YogArt three years ago and the idea was to take a breather during Basel," says Chaplin of her unusual endevour. "There are so many events, cocktail parties and gallery openings [and they don't really] show the outdoor beauty of South Florida."
Mrs. Chaplin is certainly qualified to present such an event: the dedicated yogi, who focuses on Vinyasa and Ashtanga, is eager to introduce as many as people as possible to the practice, whenever and wherever she can. One of the many she has turned on to yoga includes South Beach Wine & Food Festival mastermind Lee Brian Schrager, who not only embraced yoga, but now practices every day.
To bring yoga to the fore during Basel, she's paired it with art, another one of her great loves. Part of event proceeds even go to local high school students in need of art supplies. "They are so appreciative," she says, getting a tad misty. YogArt also has actual art programming, which has included a tour of the walls by Jessica Goldman, a lecture by PAMM Director Thom Collins, and appearances by Brooklyn street artist Swoon, Los Angeles legend Shepard Fairey, Dal East from China and more. Each year, it's something and someone different.
Of course, all of these fabulous people are at arm's reach for Chaplin, who is married to Southern Wine & Spirits President and CEO, Wayne Chaplin. She's also on the Board of Directors at the Perez Art Museum Miami, which certainly makes it easier to procure the big guns, though in her day-to-day role she works with a younger set, on the committee responsible for making sure the teenagers of Miami-Dade and Broward counties can get involved. "They have so many great programs," she says proudly. "Did you know they bring every third grader in the two counties through the museum because research has shown that that's the age the mind is most influenced by art?"
On the heels of the success of YogArt, Chaplin started YogArt presents Buddhas and Bellinis with yoga instuctor Dawn B. The event takes place during the South Beach Wine & Food Festival. It is another unconventional yet beloved event that will be held at the Raleigh's Oasis on Saturday, February 21st and Sunday, February 22nd.  At $35, the  event is one of the festivals least expensive and most casual. It offers up a guided yoga session to live music provided by MC Yogi and hip Miami band Afrobeta, followed by—you guessed it—bellinis and light bites. The ticket sales of this event—and the entire festival—benefit Florida International University. As big as the event is, she is most jazzed about the human connection. "I find that yoga brings people together; I think that's one of the things I enjoy the most about it," she says.
Chaplin's involvement in events and committees goes far and wide. She and her husband are both involved in a great many charitable organizations, including but not limited to Women of Tomorrow; the Tisch School of the Arts Parents' Council;  Mt. Sinai Hosptial and the University of Miami (where she and her husband both graduated from the business school). Add to that long list raising three children, who are in their teens and twenties, and you would guess correctly that she has a very full plate.
Arlene and Wayne are preparing to celebrate their 29th anniversary, but still seem as enamored with each other as newlyweds are. "We've known each other since middle school. He was two years older than me. My [older] brother's name is Wayne too and they were really good friends," she says.  Though they've known one another for  40 years,  she's quick to note that they were not high school sweethearts.  "Our mutual friends had invited me to come on a ski trip because my husband decided not to take his [then] girlfriend, and there was one extra plane ticket," she remembers, adding that she took that golden ticket and the two have, "been together ever since." 
While she played the role of stay-at-home mom with her children, she did have a successful career in advertising after graduating from the University of Miami Business School, the same program her husband had finished two years prior.  She worked for Fisher Island when the project was being launched, and applied the same professionalism and work ethic later to raising kids and committing herself to charity work. "I always like to do things to the best of my ability whether it was advertising or being a mom, being a good wife, and partner," she says.  The partner part was especially important, as her husband helped to grow his company from a small distributor to the largest in the country, operating out of more than 30 states.  She notes sagely, 'Things grow when you have a lot of patience and have a good attitude and don't give up."
Photos by Nick Garcia of Blindlight Studio
Subscribe to discover the best kept secrets in your city