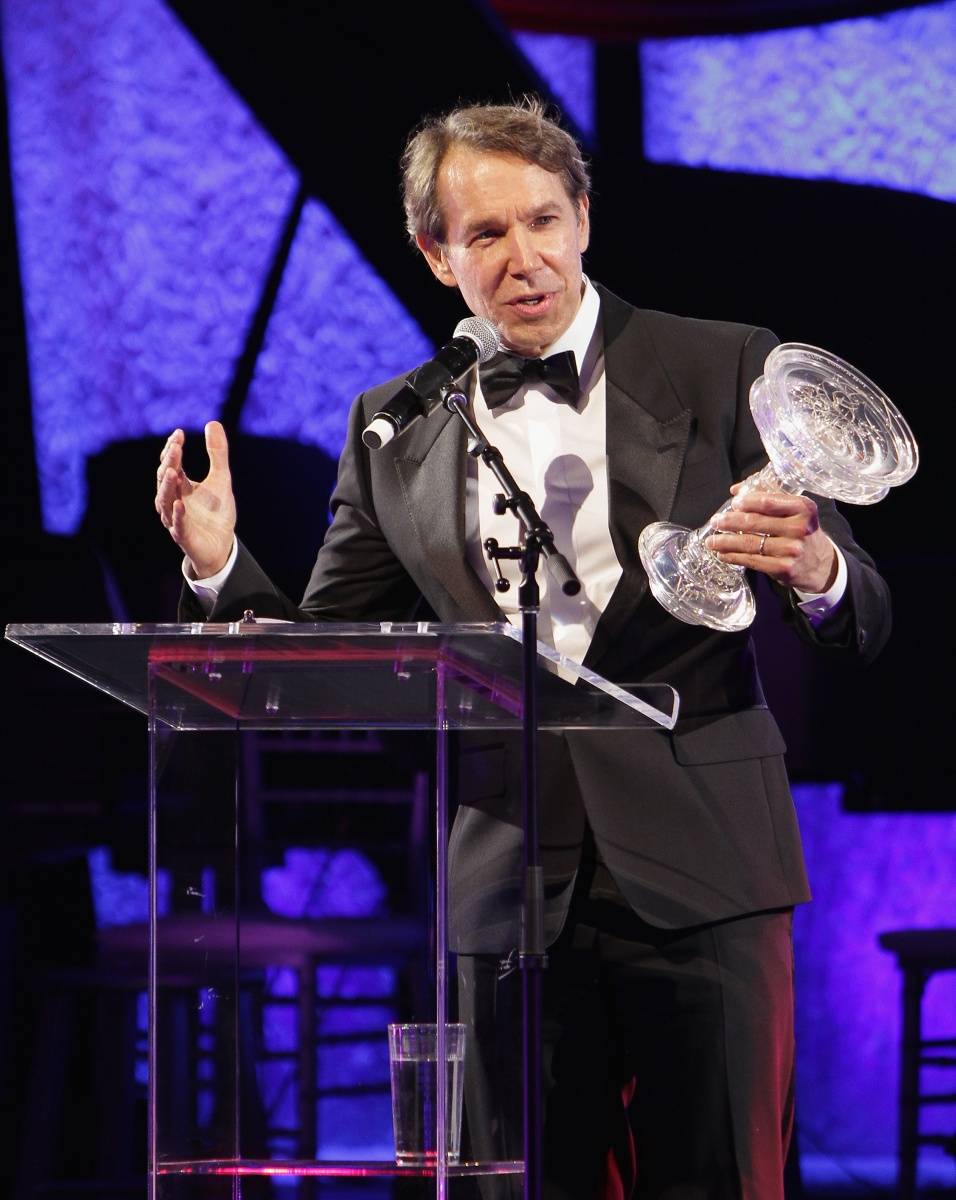 The stars came out for YoungArts' Backyard Ball, arguably one of the most fun events of the social season. This year, the evening was hosted by National YoungArts Foundation President & CEO Paul T. Lehr and co-chaired by Bruce and Berkowitz and Facundo and Elizabeth Bacardi. The "backyard" the ball is referring to is that of the YoungArts campus, the former Bacardi headquarters on Biscayne Boulevard where the event is held.
For 2015, they bested themselves by $200,000 over 2014, and raised $1.7 million with sold-out ticket sales and an exciting raffle for a Bruce Weber-designed Mini Cooper that was donated by Braman Motors.
The bash presented artist Jeff Koons with the prestigious Arison Award, bringing the world's richest pop artist to the podium with presenter Sarah Arison. Grammy-nominated recording artist, singer, songwriter and actor Josh Groban took home the 2015 Arison Alumni Award.
In addition to awarding talent and the groups amazing alumni, the event served as a cap to YoungArts Week in during which 170 YoungArts Finalists across multiple arts disciplines converged on Miami to perform, exhibit and give attendees an amazing set of live performances at the event.
For those that didn't attend the big gala, entrance to the event's concurrent and after party, 1 | 2 | 7 (which refers to activations and exhibits on the various floors of their historic headquarters,) that included a live simulcast of the gala performances and a happening after-party on the plaza, which gala-goers joined when their dinner party was done. DJ Cassidy, a boldface name in his own right, spun tunes to get the crowd dancing, which included Bruce Weber; Ricky Ubeda;  Sarah Arison;  Jorge & Darlene Perez;  Alex & Olga Blavatnik; Don Soffer; Armando Codina; Dennis & Debra Scholl; Adriana Cisneros; Martin Margulies; and  Lourdes Lopez & George Skouras.
Christina, Jorge, & Darlene Perez_Credit World Red Eye
Sarah Arison_Credit World Red Eye
Chris Young_CreditGettyImages_JohnParra
Michelle King & Don Soffer_Credit World Red Eye
Paul Lehr, Chris Young, Sarah Arison, & Facundo L. Bacardi_WorldRedEye
Desmond Child_Credit World Red Eye
Bruce Weber_Credit World Red Eye
Bruce Weber by World Red Eye
Paul Lehr & Jorge Perez_Credit WorldRedEye
Paul Lehr & Jorge Perez by World Red Eye
Chris Young, Jeff Koons, & Josh Groban_Credit WorldRedEye
Phylicia Rashad & Bill T. Jones_Credit WorldRedEye
Diane & Alan Lieberman_Credit WorldRedEye
Paul Lehr & Facundo Bacardi_Credit WorldRedEye
Josh Groban_Credit WorldRedEye
Jeff Koons & Phylicia Rashad_Credit WorldRedEye
Jared & Stacie Galbut_Credit WorldRedEye
James Caan_Credit World Red Eye
Bruce Weber & Mini Cooper_Credit World Red Eye
Sam Robins_Credit World Red Eye
Oren Alexander, Jillian Jacobson, & Nicoline Artursson_WRE
DSC_3994_Credit World Red Eye
DJ Cassidy2_Credit World Red Eye
Subscribe to discover the best kept secrets in your city