College students don't always follow the advice of their elders, but it's a good thing that Pamela Joyner wasn't like her typical peers. While receiving her MBA at Harvard University in the mid-1980s, she and her classmates were advised by Lowery Stokes Sims, then a curator at The Metropolitan Museum of Art and the first African American to hold that title, to focus on collecting art once they became successful in their careers. A decade later, Joyner began buying art—and she hasn't stopped.
The former money manager and founding partner of Avid Partners LLC, a strategic marketing consulting firm, has grown from a neophyte buyer who carried the attitude of "like lots of people, I had a lot of blank walls and had to fill them" to amassing what has been described by curators as the world's leading collection of fine art from the African Diaspora. "Our mission is certainly to build that," says Joyner, including her husband of 10 years, investment professional Fred Giuffrida, in the equation.
Hundreds of works, spanning four generations, hang in their residences in San Francisco, Sonoma and New York. She often opens their 106-year-old, 9,200-square-foot home in San Francisco's exclusive Presidio Terrace enclave to outsiders and she is known for throwing a dozen or so lavish events a year. One day it's an event for Dior, another it's a gathering for Tate Modern collectors. She's hosted esteemed curators such as Franklin Sirmans, Terri and Michael Smooke department head and curator of contemporary art at the Los Angeles County Museum of Art, and artists, some of whose works adorn her walls, such as painters Richard Mayhew and Sam Gilliam. Last spring, she took part in the Private Collections tour, an annual event where San Francisco's most passionate art collectors open their homes to share their exceptional collections with the public and raise awareness for Enterprise for High School students at the same time.
"We love to do it because we think it showcases a number of our artists, many of whom have been underrepresented in museums and overlooked by history," Joyner says.
A tour of her more than 100 pieces comes with a warning: "I always tell people when they come to see our collection that it's full of artists that they've never heard of—although that's less true than it used to be," she says.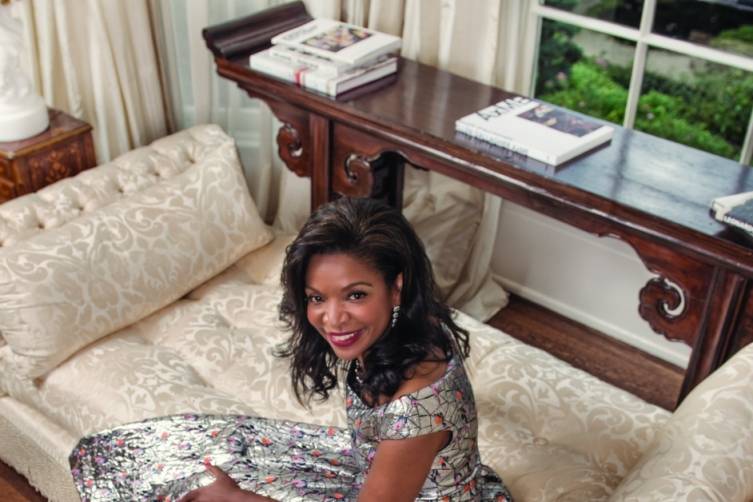 Artists can thank Joyner, 56, for making their names more recognizable. In the 1990s, Mayhew told her about Spiral, a New York–based collective of African-American artists who came together in the 1960s to discuss their relationship with the civil rights movement and the shifting landscape of American art, culture and politics.
"The majority were abstract painters, and what they were discovering was that they couldn't get any traction to their careers. Why? Because the mainstream art critical world wanted this group of people to paint representational material that was clearly and identifiably black," says Joyner, who was intrigued by this general story and, as she dug deeper, even more so by the artists' individual tales. She adds, "From there, we built a collection primarily of abstraction."
At the time, Joyner, a Chicago native, was married to her first husband, Gary Love. The couple, who have a daughter together, moved to San Francisco 20 years ago for her career, separated in 2001, and eventually divorced. In 2004, then-San Francisco Mayor Gavin Newsom officiated her wedding to Giuffrida. They decided to become serious collectors in 2009 after his job took him to London.
"I decided that I couldn't move to London and sit on all of the boards that I sit on and continue to work," says Joyner, whose previous board positions include the San Francisco Ballet, The School of American Ballet and San Francisco's Asian Art Museum.
She quit working and at the suggestion of a friend, became involved with Tate Modern in London, the most-visited modern art gallery in the world. One day, the Tate's director, Sir Nicholas Serota, rang her and asked if she would help fill the hole his museum had with African-American art.
"There's a group of collectors at Tate who have a passion about this art," says Joyner, who doesn't use the word "I" and is also quick to credit others in her accomplishments. "In a relatively short period of time, we, as a group, have helped rewrite what Tate's collection looks like in this area and in others. It's been a real focus point and really engaging and rewarding."
Today, she's a member of Tate's International Council and the North American Acquisitions Committee of Tate Modern as well the Modern and Contemporary Art Visiting Committee of the Met in New York. A trustee of the Art Institute of Chicago and the New York City Ballet, Joyner is also on the President's Committee on the Arts and Humanities. Still active in finance, she sits on the board of First Republic Bank, where she chairs the Investment and Compensation Committee.
Her full calendar—yes, there are even more board positions—didn't stop her from taking on yet another endeavor. Last year, Joyner and Giuffrida inaugurated an artists residency in Sonoma. They bought a six-acre property, which includes a 3,000-square-foot home with a proper studio, adjacent to their own abode to give artists a place to relax or work for as long as they please.
"I'm excited about that," Joyner says of the residency, then adds, "It's a little more work than I thought it would be. I thought it would be like having houseguests every weekend."
Among the artists to take advantage of this generous offer: Shinique Smith, who currently has an exhibition on display at the Museum of Fine Arts, Boston [with pieces on loan from Joyner], Lorna Simpson, and Leonardo Drew. What's the catch? Artists must sign a book, which has turned into a work of art itself, and also allow Joyner to host a dinner or lunch for them.
This patron of the arts gets a kick out of living next door to artists, hearing their stories and discovering aspects of the practice that she otherwise wouldn't know.
"I'm having the time of my life," says Joyner, who took an art history course at Christie's and is enthralled by the community of learners she meets in the art world as she travels, quite literally, all over the globe. While her industry has changed, the manner in which she operates has not.
"Certain aspects of the investment business have this characteristic where you are really pursuing something that is rare, to which there is proprietary access," she explains. "So you have to position yourself in a way so that you have proprietary access to what is high quality and rare. In both industries, very often, that is a relationship-driven process. People have to be comfortable with you, your scenario, and your stewardship of the asset, whether it is a painting or whether it's an investment in a private company."