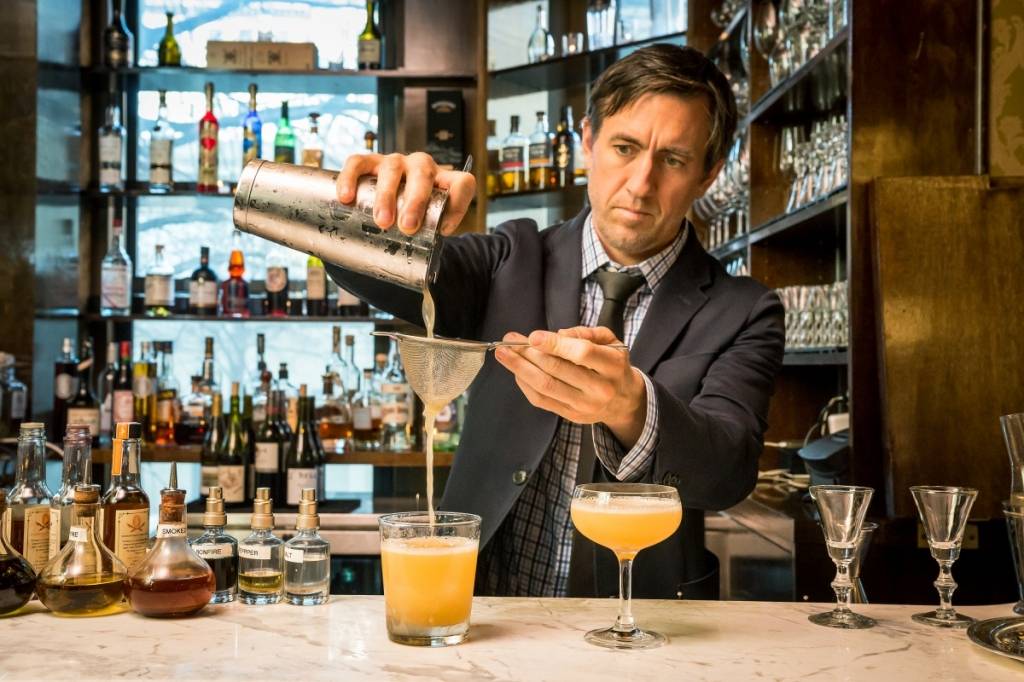 Photo Credit: Courtesy Greg Seider
Whether you're making a haute cocktail for one or for a group this holiday season, you'll want to pick up mixologist Greg Seider's new book, Alchemy in a Glass: The Essential Guide to Handcrafted Cocktails, for exciting holiday cocktail recipes and tips. For the past 18 years, he has shaken and stirred some of the most inspired cocktails at notable culinary and cocktail institutions including The Mercer Kitchen, Minetta Tavern, Le Bernardin, his own The Summit Bar (New York Magazine's Best Cocktail Bar in New York 2010), and Manhattan Cricket Club. He's one of the trailblazers of the craft cocktail movement but possesses a signature style of uniquely layering flavors. Unlike the fussy, complex cocktails you find at most craft cocktail bars today, Seider has an approachable, practically formulaic process for mixing his nuanced concoctions. He breezed through San Francisco last week and shared cocktail tips. You may not realize how important ice is until you read his answers below:
HL: What are the three or five most important items/tools/etc. someone needs for their home bar?
GS: Good shaker tins, jigger, Hawthorne strainer, good booze and good ice. It's worth getting the 1×1 and 2×2-inch silicone ice molds.
HL: How important are glasses and stemware? Can you serve a martini in a tumbler when you're home?
GS: It's great to have a glass that feels substantial in your hand. Other than champagne and wine, you don't need to to use stemware. You can serve a martini in a coffee mug if you made it right! Ha!
HL: What's the most common mistake people make when making or serving cocktails at home?
GS: They don't shake or stir the cocktail properly. You need to use enough ice when you stir or shake to create the right temperature and add right amount of dilution of the ice which makes all the difference.
HL: How long does liquor last after a bottle is opened?
GS: Spirits are shelf stable indefinitely unopened. Once opened, it's eight months to a year before the you start to lose the flavor characteristics and they start to taste flat. Vermouth and fortified wines should be fine for a few months once opened. Always store anything with a cork upright as the alcohol will eat away at the cork.
HL: What's the latest/greatest/hottest cocktail trend right now?
GS: The tailored barware and drinking vessels at places such as the The Aviary and Artesian in London. If used right, they can maintain the temperature and aromatic vapors which affects the interactive experience for the guest. Personally, I feel using certain beautiful super high-end spirits in a cocktail, if balanced correctly, can be an epic drinking experience.
HL: With the emphasis on freshness, is it harder to make cocktails these days?
GS: I personally like to use the highest quality blended teas and spices to add freshness so I don't have to worry about finding garden fresh ingredients all year.
HL: What are some simple things hosts can do to add holiday cheer to their cocktails?
GS: Holiday spices such as cinnamon, clove, nutmeg, ginger, mistletoe toe, etc., can all be used to make spiced infusions to add a little holiday nostalgia.
HL: What are your favorite watering holes in San Francisco?
GS: The Cavalier. It's got such a great vibe and energy. Anna (Weinberg) always creates a rockin' atmosphere at her spots and even though I'm a New England boy, (I enjoy) the fish and chips and a pint of Fuller's black cab stout. Swan Oyster Depot is my old school fix for some oysters and crab. Later I like to go see my boys at Trick Dog if I want some tasty cocktails and a rockin' time.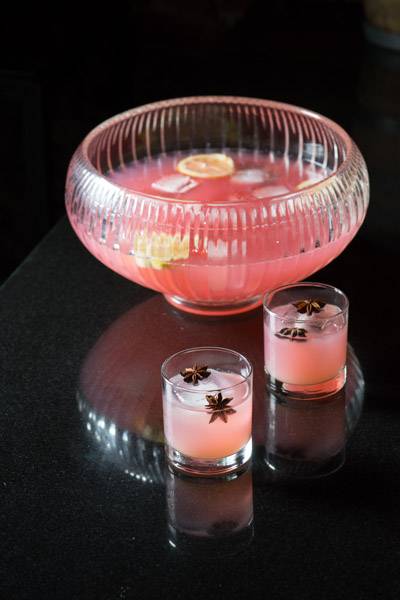 Photo Credit: Noah Fecks
Buona Vita Punch
Makes 20 servings
30 oz Brooklyn or similar gin
20 oz St. Germain
30 oz fresh grapefruit
10 oz Aperol
1/2 oz of Scrappy's grapefruit bitters
20 oz Prosecco
Add all ingredients except prosecco to large container and chill for at least hour. About 15 minutes before serving, add prosecco and ice mold to punch bowl.
Garnish with lemon slices and fresh berries.
Ice molds (May make multiple molds depending on amount of punch)
Fill appropriate size tupperware container that fits your punch bowl 2/3 with water. Drop in garnishes and freeze with lid on. To remove ice mold turn Tupperware container upside down and run warm water on it until it slides out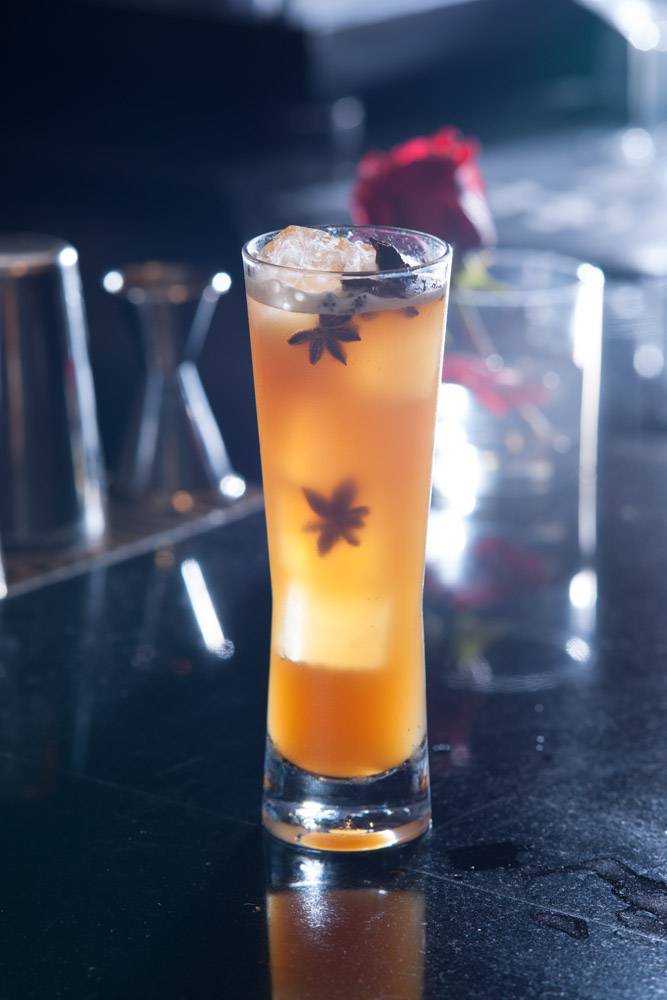 Photo Credit: Noah Fecks
French Connection
2 oz Pimm's
1/4 oz yuzu or lime juice
1 sliced cucumber
1 oz 5 spice agave
1 dash angostura or aromatic bitters
1 dash orange bitters
Absinthe rinse
3 oz Fever tree club soda
​Mist or rinse glass with absinthe. Muddle cucumber in shaker. Add rest of ingredients except club soda​ to shaker tin. Fill shaker with ice. Hard shake for about eight seconds.
Add club soda to shaker. Strain over ice in highball glass. Garnish with whole star anise.
5 Spice Agave
Makes 25 oz; will keep for three to four months in a refrigerator
2 tablespoons coarse ground 5 spice mix
13 oz water
13 oz light or amber agave
Mix water and agave together in pot. Add 5 spice mix. Bring to light boil. Remove from heat. Cover for 30 min. Strain.