Following the success of The Shed in Notting Hill, the Gladwin brothers are back with Rabbit, another outpost of rus in urbs – this time in Chelsea.
Everything has been inspired by the brothers' particular blend of country casual meets serious grub, with produce sourced from the family estate in Sussex – everything from the food to the wine, and even the furniture is family import. What's unique about Rabbit, however, is its dedicated ethos of introducing Londoners to wild foods. Rabbit is all about promoting foraged and unusual ingredients that you cant necessarily buy in the shops, greens such as sweet cicely and lovage, alongside meats including woodcock and squirrel. It's a punchy philosophy, but it seems to be charming Chelsea and on our visit we could see why.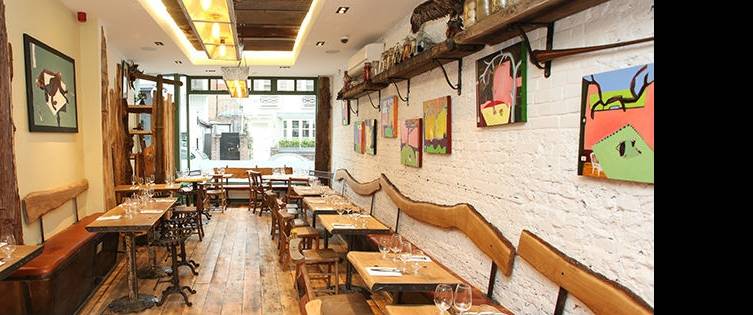 An all-day eatery, there's a friendly buzz about this place, generated both by the excellent staff and the unpretentious setting. Comfortable and cosy, it's a great spot to get stuck into a meal, and whatsmore, the food is great. The menu is made up of small plates and separated into sections including 'mouthfuls', 'slow cooking' and 'fast cooking', offering plenty of scope to get a true taste of the Rabbit experience.
The mouthfuls – marmite and mushroom éclair, brown crab bombe with lemon and dulse – are a must, and make for a perfect appetizer, washed down with the housemade 'daily loosener'.
Lamb chips with harissa is a signature dish; crisp-crumbed and packed with unctuous meat, these are chips, but not as you know them, and are well-deserved of their stellar status. Other standout dishes include gurnard with Jerusalem artichoke and chanterelles, and Nutbourne lamb with onion squash, honey, sunflower seeds and mint.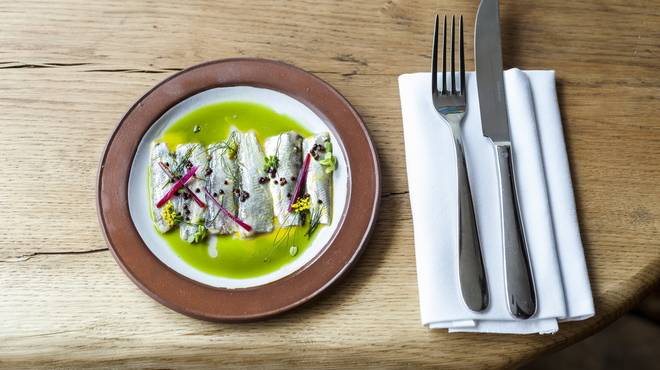 Best of all, perhaps is the magnum Vienetta parfait, a pastiche on the classic 90s ice cream dessert, reinterpreted with quality ingredients and skill. A spoonful of this and you're in heaven, with chunky shards of dark chocolate, and ribbons of salt caramel against a background of dreamy set cream. The menu changes daily and in accordance with what's in season, but food themes remain the same, and each dish is beautifully presented.
Fancy taking the Gladwin Bothers home? Pick up a copy of The Shed: The Cookbook: Original, Seasonal Recipes for Year-Round Inspiration, a story of what the family does, from farm to table, with seasonal notes on the land and vineyard, as well as recipes from the restaurant. An atmospheric read, beautifully shot and annotated, this is more than a cook book – and would make a great addition to any kitchen.
It's about time the Kings Road scored an independent restaurant; indeed this part of town deserves some decent places to eat and this restaurant more than fits the bill – run, Rabbit, Run!