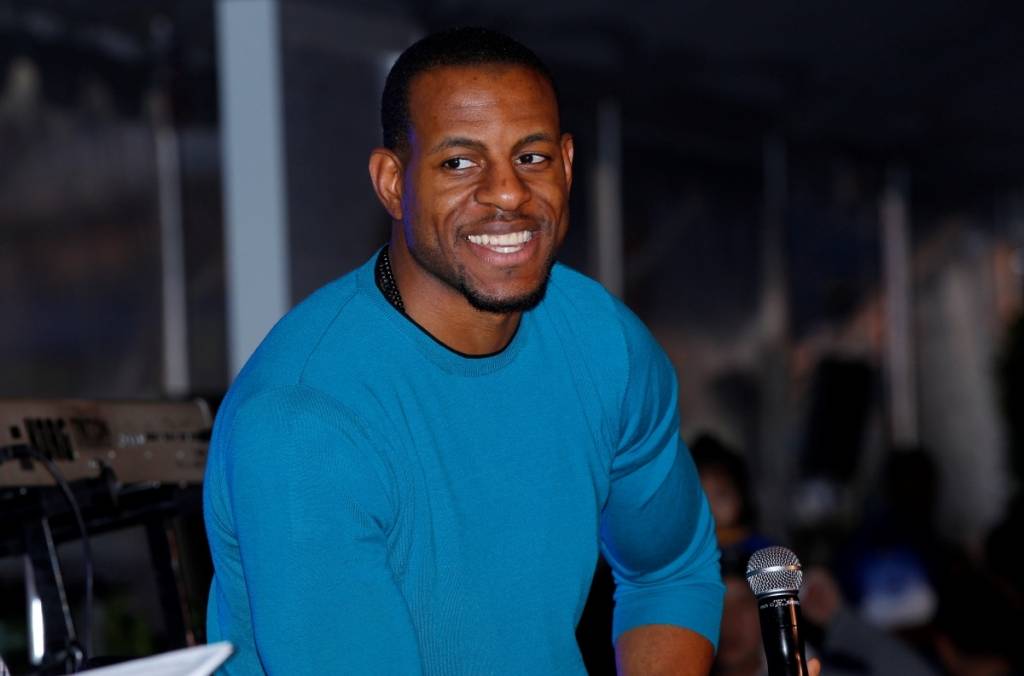 Photo Credit: Rocky Widner, NBA Photos
Golden State Warriors forward Andre Iguodala makes his living on the basketball court — for now. The business savvy 30-year-old is already thinking ahead to how he'll fund the NBA and WNBA teams he aspires to buy when his playing days are over. His future plans are part of the reason that, as a free agent, he accepted less money when signing with the Oakland-based team in 2013 rather than his other prospective suitors. "I was thinking about that and all of the [investment] opportunities in this area that I can venture into to help me make the transition a little bit smoother and start the process," the 10-year NBA veteran says. Since arriving in the Bay Area, he's developed a "great" relationship with the venture capital firm Andreessen Horowitz, and has also met with Tesla Motors co-founder and CEO Elon Musk at the electric car's plant in Fremont. "That was pretty neat; he's a genius," Iguodala says. He follows his stocks, which include Apple, Nike, Facebook, Netflix and Tesla, and has his home page set to the Wall Street Journal. "I'm taking it just as serious as my life on the basketball court," says Iguodala, who received the Twitter name @andre as a birthday present from his business manager. Here, he takes us through a normal day is his life.
9 a.m. I get to the gym to get breakfast before practice; our organization is really good about taking care of the guys getting breakfast. We have chefs who prepare omelets, waffles, pancakes and oatmeal — whatever you need is at the gym. After I eat, I lift weights for an hour.
11 a.m. Practice begins and runs for an hour and a half to two hours. I shoot for 30 to 40 minutes after practice and
then I eat at the gym. They take care of us here and have a lunch spread.
2:30 p.m. If I have time, I squeeze in nine holes of golf or hit some balls at the range.
4 p.m. When I get home, I'm doing a million things. I'm with my fiancée [Christina] and my son [Andre], who is home from school; he's seven. I'm joking around with him and might go in his room and play basketball with him for 15 or 20 minutes. I read a few articles that my business manager sends me every day as far as to what's going in the tech world.
6:30 p.m. I have dinner with the family because my son goes to bed early. I have a chef but I can cook — I'm the cook of the house, actually. It's just so hard to have variety [but] my chef does a really good job of making sure I'm eating healthy. After dinner, I watch a game to scout teams.
8:30 p.m. I spend about 30 minutes on homework. I'm taking a business ethics class online through the University of Arizona. I do everything on my iPad. I can cram two hours into one sitting in a week but I'd rather spread it out. When we're flying, I do all of my homework on the plane. I've been taking classes for the last two years; I'm trying to get my Bachelor's degree in psychology. I think I'm going to switch it. Who knows?
11:30 p.m. I'm in bed and that's early for me. I used to have a sleeping problem, but I got it fixed last year. Now I'm going to sleep by midnight, which is really good. It used to be about 3 a.m.
Like Haute Living San Francisco? Join our Facebook page or follow us on Twitter @HauteLivingMag. Want Haute Living San Francisco delivered to your inbox once a week? Sign up for our newsletter.
Subscribe to discover the best kept secrets in your city