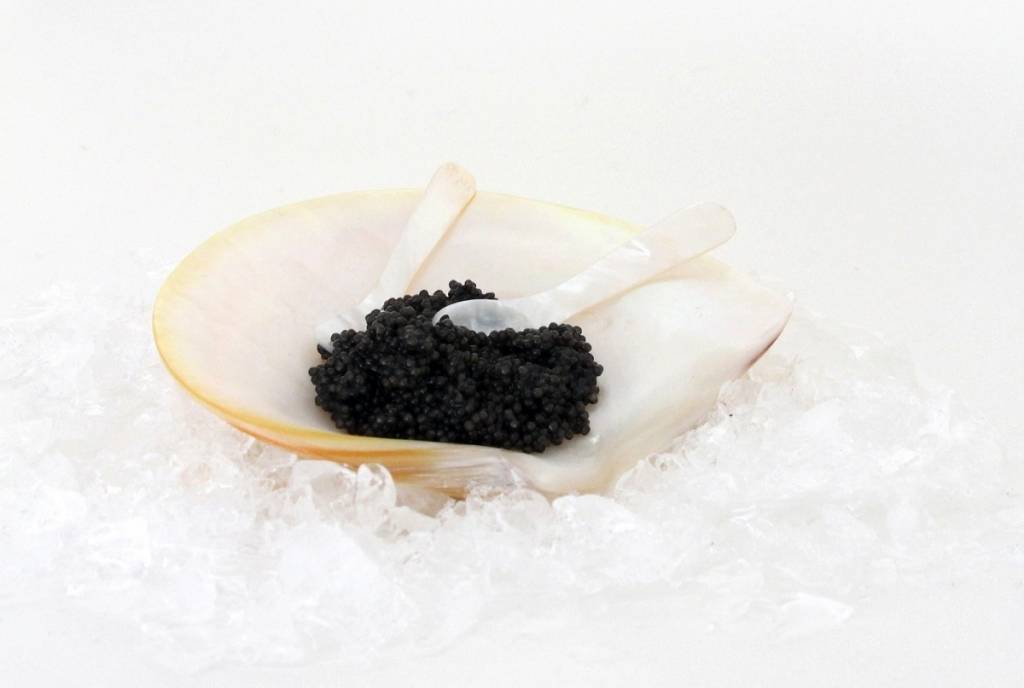 With the holiday season kicking into full gear, there's no better time than the present to enjoy a pearl spoonful of luscious caviar. The hautest place to taste said caviar? The California Caviar Company's exquisite tasting room in Sausalito. We recently sat down with the Queen of Caviar, Deborah Keane, the founder and CEO of California Caviar Company (CCC), to learn more about her "interactive approachable personal caviar experience." Keane explains: "It's a lot like going to a winery where you can try things by the gram and taste it by yourself."
A short walk from the Sausalito Ferry Building, the CCC tasting room has a beautiful and sleek state of the art kitchen with an adjacent bar and countertop. Pull up a seat and grab a blanket if necessary, as the space is more than just a tasting room, it's headquarters for Keane's entire caviar empire. Not only does Keane operate the drop-in and by-appointment caviar tasting room and shop, but she's also a large importer of internationally renowned caviar, supplying many of the country's most elite chefs. Her team takes care of the packaging for all of the mail ordered and distributed caviar in the tasting room. To ensure that the caviar is super fresh, packing must be performed in chilly refrigerator temperatures, hence the plush blankets that are tossed over the backs of the high bar chairs.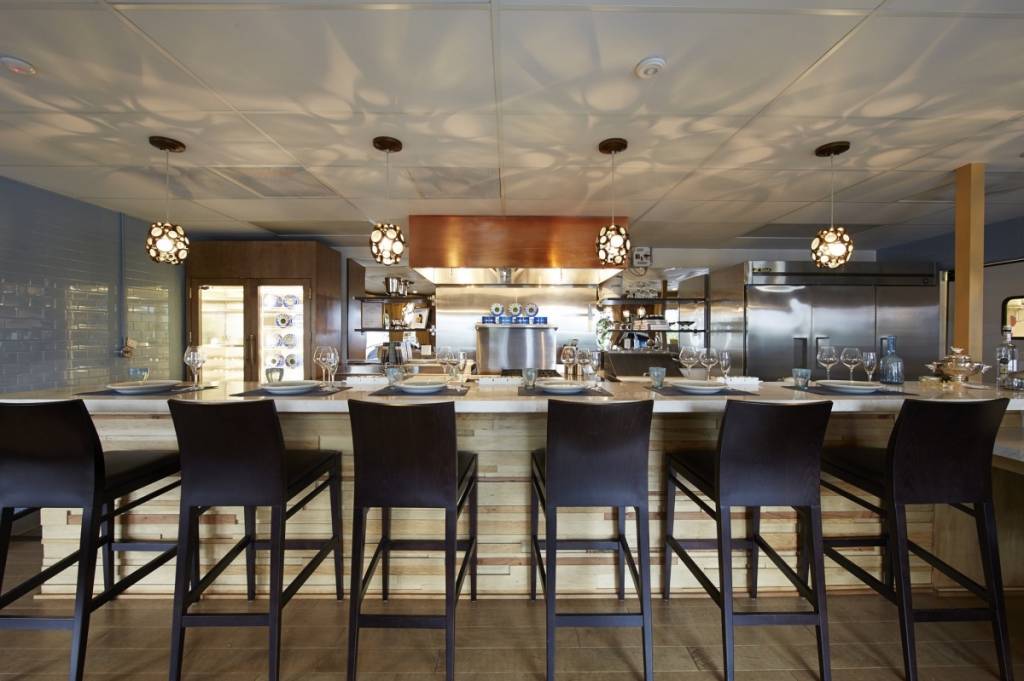 A pioneer of sustainable premium caviar, Keane began operating the CCC in 2007. It launched as a source for farm-raised fish, both caviar and roe, and she quickly began distributing to the nation's best restaurants, luxury hotels, and finest markets. A book shelf the size of a door is filled with cookbooks in the tasting room, "all of those cookbooks are from chefs or restaurants that use our caviar," Keane says, pointing out that she collaborated with illustrious French chef Jacques Pépin to create his signature line of pressed caviar. Keane's knowledgeable and approachable attitude toward caviar is so refreshing that we couldn't help but ask her insider input on the ultimate caviar tasting experience. Here's everything you need to know about caviar now.
Caviar is sustainable. Traditionally, the term caviar referred only to roe from wild sturgeon that flourished in the Caspian and Black Sea. Today, the term still applies to sturgeon roe, but most of it is sustainable, farm-raised caviar. When the wild sturgeon population became increasingly closer to extinction, a series of bans in the late 2000s forced caviar lovers to rethink the way caviar was harvested and produced. Keane was at the forefront of this movement. "My background is on both sides of the fence," she explains, "I have a background in buying and selling, so the next step was farming. It was the right time and right place for getting in on the farm movement." She founded her company on the belief that one could responsibly raise and farm sturgeon roe. Earlier this year, Keane, the ultimate caviar pioneer, took things one step further with the launch of Vivace, the world's first-ever caviar harvested using a no-kill harmless method of egg extraction. In partnership with Angela Köhler, a leading European marine biologist who developed the massage technique to gently push the eggs out of mature female sturgeon, Keane was able to harvest a unique and delectable new variety of caviar, without causing harm to the sturgeon it was harvested from.
Terrior matters. Similar to the way soil affects the flavor profile of wine, everything from the type of water the sturgeon swim in to the different kinds of algae that grow in their environment affect the taste of caviar. "I happen to have a palette that can pick up the nuances in caviar. I notice if it has off flavors or if it was fresh water versus pond water," Keane says. She likes to compare it to wine in that the more you taste, the more you know.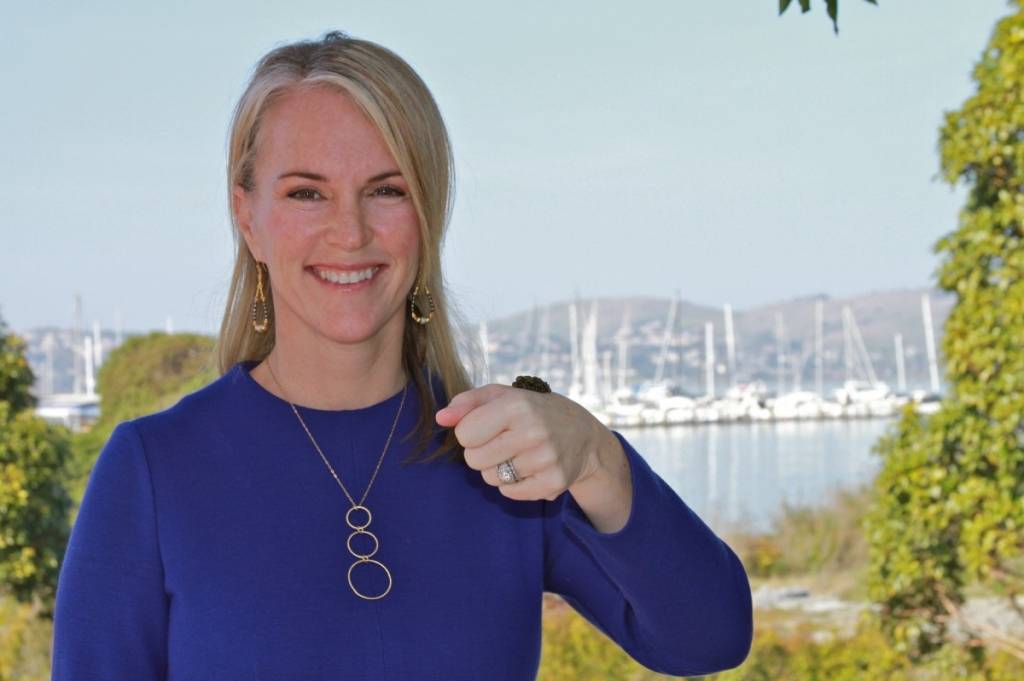 The best way to eat caviar is off your hand. "Caviar should be eaten off your hands as your skin warms it up ever so slightly and makes it more aromatic and flavorful," Keane explains as she holds her hand in a loose fist with the thumbnail pointed toward the ceiling. The caviar is spooned and placed on the back side of the hand in between the wrist joint and the area where the thumb joins the hand. If you don't want to eat it off your hand, avoid using a metal serving utensil. "Metal spoons tend to give a slightly metallic taste to caviar," Keane clarifies, "so we try to stick with pearl, glass, or bone."
Skip the fancy accoutrements. A lover of caviar in its truest form, Keane avoids fancy accompaniments. "I'm not a big onion, chive, or accoutrement person — I am a little bit more purist." She believes that before refrigeration standards were widely practiced, people would have to mask the rotting fish smell of caviar with strong accompaniments like vodka, onions, or creme fraiche. "Now the roe is purged of any rotten flavors and it's mild and being raised in fresh water. It has a much gentler and more delicate flavor, so it doesn't need a lot of those additional accoutrements. That being said, it's really good with lightly salted potato chips. Also, butter is game changing," Keane admits to putting a little bit of unsalted butter on blini and topping it with caviar for a delicious balance of richness, salt, and brine.
It goes with everything. "You can integrate it in so many dishes!" she says of how easy it is to cook with caviar. "Although it's an incredible celebratory product, it's not just for anniversaries anymore. It's also incredibly good for you. It has the nutrients of any other protein." She does advise eating it quickly: "caviar is incredibly fragile and the minute you open it, the clock starts to tick. Remember five and five. Once open, a jar of caviar lasts five days, closed it lasts 5 weeks." It is Keane's parting words about caviar that are the most noteworthy and especially significant to the spirit of the holiday season, "do share," she says, "and don't leave any." Don't worry caviar queen, we won't.
Photos Credit: California Caviar Company
Subscribe to discover the best kept secrets in your city