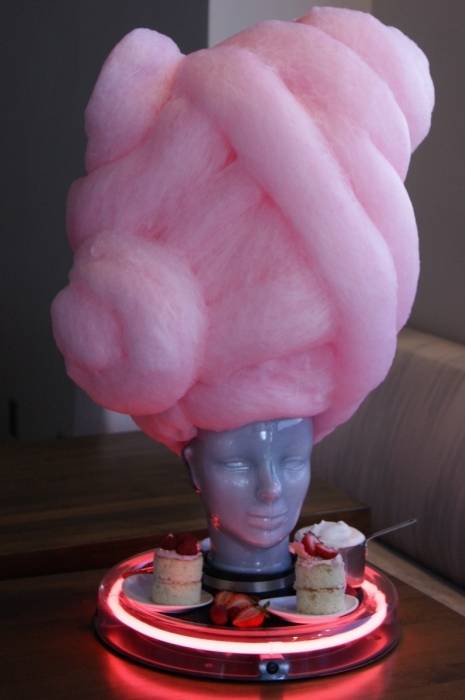 In our opinion, Barton G. is one of the most exciting new restaurants to open in Los Angeles in ages. From the moment you step inside the West Hollywood eatery, every single moment is an exceptional experience for your senses.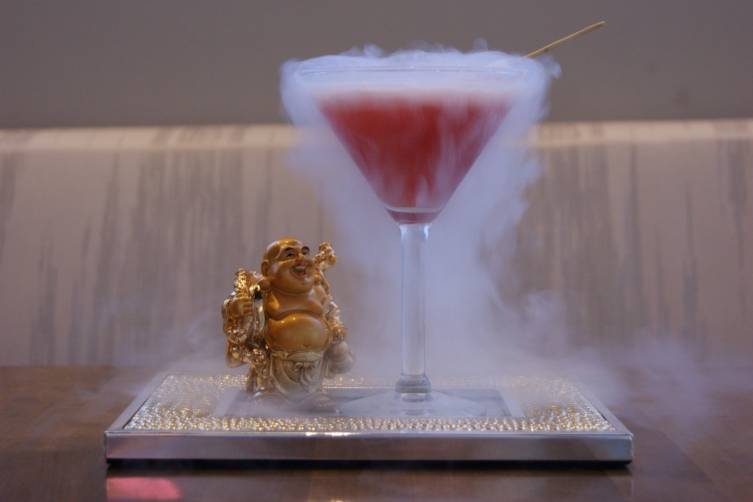 There is a line when we arrive, guests with noses very nearly pressed up against the glass in their eagerness to enter. All is very calm when the clock finally strikes, however; this is a high-end restaurant, after all. Stepping inside, we find a chic, dimly lit interior with an 18-foot pink bar with two larger-than-life neon pink lipsticks hanging overhead, a living flower wall, and napkins arranged on our plates to look like bathrobes. Everything we see is aesthetically pleasing, but the games don't truly begin until we receive our "bread basket."
Warm out of the oven appear to be frosted doughnuts, which are actually the eatery's answer to that pesky problem of overeating before the meal. Choose from delicious confections that contain cheese, garlic, and wheat—but don't have more than one. You'll be fully sated by the end of your meal, trust us.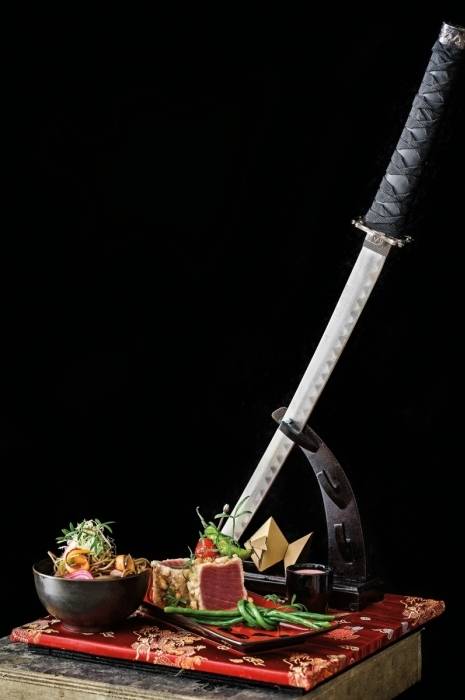 There is an extensive wine list, but we want to order what the eatery is famous for: its liquid nitrogen cocktails. Its signature drink is the Sabrinatini—orange vodka with watermelon liqueur adorned with a nitro-champagne swizzle stick and a chocolate monkey–but the Buddhalicious, pear vodka with lychee and cranberry juice served with a little mini Buddha and a frozen liquid nitrogen popsicle—hits our sweet spot.
Then: on to the appetizers. We love the presentation on just about everything we saw, but we were particularly fond of the veggie delight, the Rake and Ho Garden salad—locally farmed organically grown petit lettuce and greens, blooming kale, herbs and blossoms, heirloom baby tomatoes and vegetables, red and white quinoa, bag of seeds and grains and nuts served with white truffle champagne vinaigrette. Quinoa comes in a baby flower pot, while there is actually a rake and a ho involved—they're your serving spoons. The Laughing Bird Popcorn Shrimp comes in an old-fashioned popcorn maker, while The Lobster Pop Tarts—Maine lobster, gruyere and Pernod monray sauced baked in a flakely phyllo—come in an old-fashioned toaster.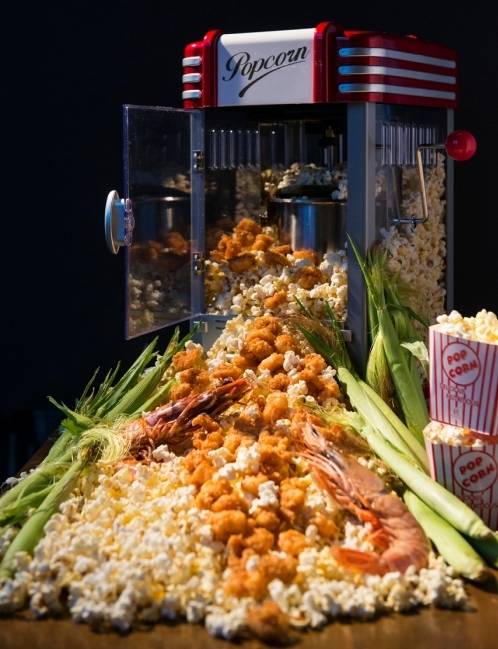 Entrees are just as magnificent. Imagine our surprise when our Samurai Tuna—rice cracker crusted Ahi tuna, spicy peanut soba noodles, sizzling long beans with fermented black bean, seared shishito peppers, and pomegranate misowas—was delivered to the table along with a giant samurai sword that dominated the table, or when the Great American Steak—char broiled with slow braised oxtail, roasted bone marrow, truffled duck fat
steak fries, baby carrots and asparagus and black pepper bordelaise—was delivered with a giant fork.
It was also a treat to watch other guests' food arrive (no one here seems to mind looky-loos, so don't worry about looking weird): the Mouse Trap Mac N Cheese does, indeed, come in a mouse trap, while the Lured by Salmon arrives with a giant fish and fishing lure.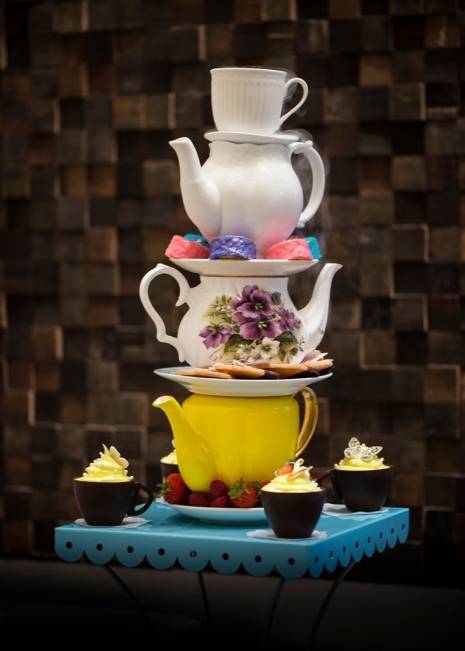 And now, on to our favorite part of any meal: dessert. The dessert here trumps everything, especially if you order up the Marie Antoinette's Head, a two-foot edible neon pink candy wig which comes complete with a mannequin bust, neon lights, and raspberry and strawberry cream cheese cakes with fresh berries and whipped cream. You'll also love the Chocolate Treasure Chest, with comes with gold-dusted coins, and the Marshmallow Pizza, which might just have you fooled into believing it's a hot-out-of-the-even cheese-laden affair.
We can't recall having a more delightful evening in Los Angeles. We were entertained, amazed and awed all the way throughout our meal. If you're a food purist with a gourmand's palette, this innovative eatery may not be your bag, but anyone who wants something new, something different, something completely unique will love every single second of their meal at this Willy Wonka-esque wonderland.
Subscribe to discover the best kept secrets in your city