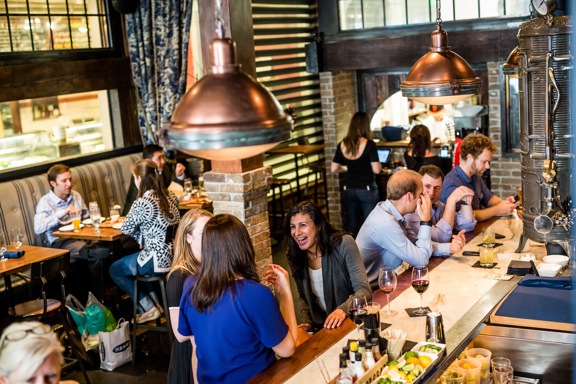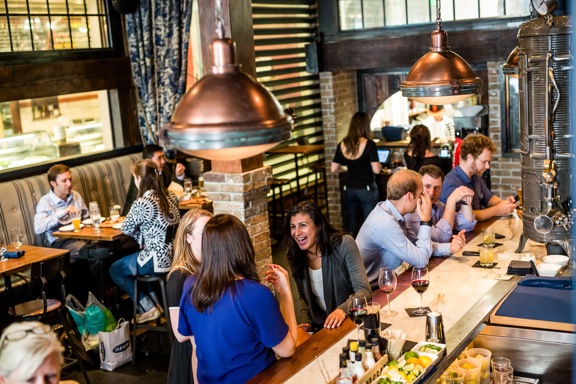 Chances are you've probably been to Per Diem, the two-story masculine restaurant and bar in the heart of downtown San Francisco that opened in late 2011, for happy hour. It's Financial District location and haute, dapper decor make it a hot spot for cooling off after work. However, Per Diem has never really been talked about as a dining destination — until now. After recently enjoying an exquisitely interesting meal at Per Diem, we decided to set up a chat with the chef, Matthew Bousquet, and we came up with five reasons to convince you to give Per Diem's dinner a chance.
1. The new chef has a Michelin star on his resume. Chef Bousquet was brought on to recreate the dinner menu in September. Bousquet has years of executive cheffing under his belt and even earned a Michelin star (in 2001) while working at Windsor's now-closed Mirepox. He was also in charge of Bistro Jeanty's kitchen in Yountville. "We aren't quite Michael Mina or the old-school Aqua, but we are driving to make that a reality here at Per Diem," Bousquet says of his plans to bring the Per Diem experience to a whole new level. "We do that by education of the staff, trying out a lot of specials, getting everyone up to speed on what I believe a San Francisco restaurant should be." Bousquet is quick to point out that Per Diem's established lunch and happy hour business is allowing him to do this sort of experimentation: "Per Diem is a funny little spot as it already has a built in business. Lunch is always busy and happy hour is always busy and it's my goal to redevelop dinner and increase that business. It's kind of just a matter of going thru the motions."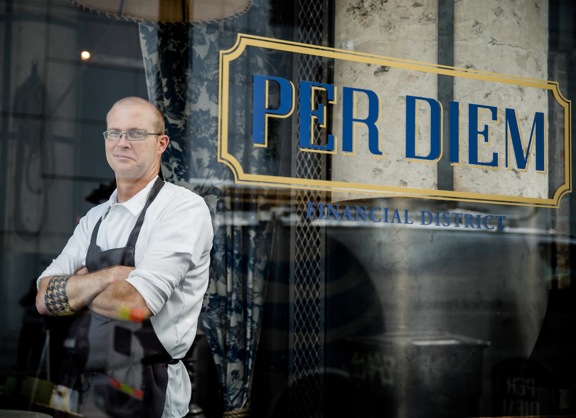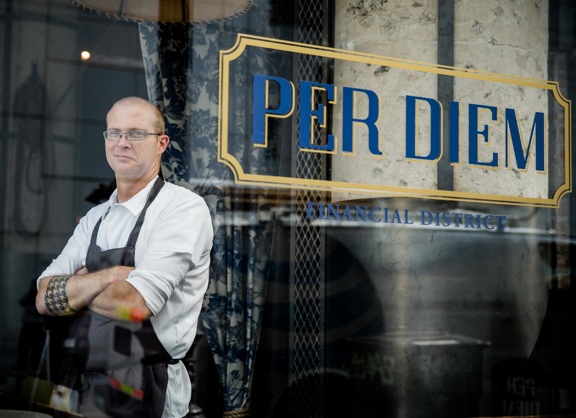 2. New menu. Naturally, a new chef calls for a new menu and Bousquet describes his as "New American." He recommends some of the best sellers, "we've had great success with swordfish and lamb cheeks that everyone told me was a loser of a dish, but we are now selling 20 pounds of lamb cheeks a week," and encourages you to be adventurous when deciding what to order. The steamed mussels are unusually tangy in the best sort of way. They come doused in a spicy broth that's delightfully creamy thanks to a house made crème fraîche. The rich bone marrow is a mish-mash of ingredients — capers, escargot, tomatoes, pernod, butter — that you think won't go together, but absolutely do. The healthy portion is decidedly well-balanced and downright delicious. The red wine-reduction coated Brussels sprouts are so scrumptiously sweet they are like candy and the roasted sweet potatoes come with crisped prosciutto and melt-in-your mouth shaved manchego cheese.
3. Offal that's not awful. Bousquet is a champion of offal, the entrails and internal organs of cows, pigs, and lambs, and cooks it expertly, as in the aforementioned bone marrow, to perfection. "I enjoy cooking the bits and pieces. I don't like putting a pork chop on a plate; the lamb cheeks are a little more exciting and better at establishing a longer term, more adventurous costumer. Getting people into offal and seeing them enjoy it after knowing what it is — that's the fun part of being a chef."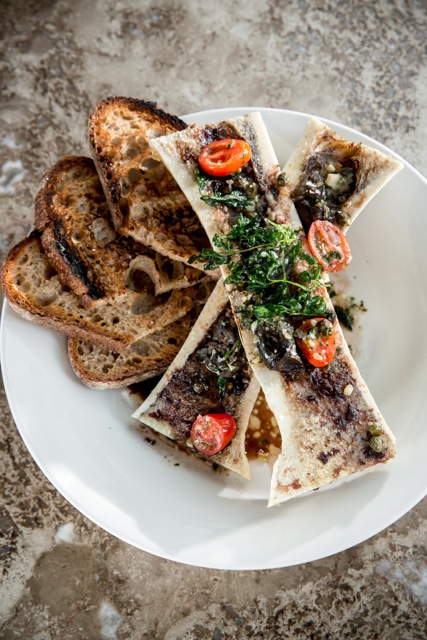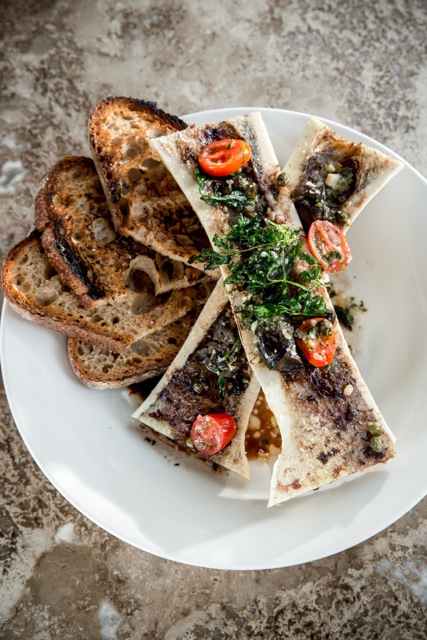 4. They take reservations. So many restaurants in SF these days are over crowded with long wait times for a table. Many of these places don't take reservations, which only makes things worse. This isn't the case at Per Diem. The dinning room is neither jam-packed nor booked completely with tables only available at 5:30 or 10:30 pm. If you want to relax, ask for a table in the upstairs dining room, which has the atmosphere of a charming old bachelor's upscale library-meets-smoking-room with big comfortable chairs that bring to mind something one might find in Game of Thrones' King's Landing.
5. The Manhattan Project. We love a good Manhattan, especially in the fall and winter months, and think there is no more decadent way to end a meal than with a triangular shaped glass of potent brown liquor. The bar manager at Per Diem, Brandon Thrash, has crafted a wonderfully fun, choose your own adventure Manhattan menu. Called the Manhattan Project, the spirited menu allows drinkers to select the type of bourbon, rye, vermouth, and bitters to build an original Manhattan. Thrash then stirs it up to icy perfection and brings the cherry-garnished drink to your table. Cheers to that!
Photos Credit: Phillip Wartena

Subscribe to discover the best kept secrets in your city