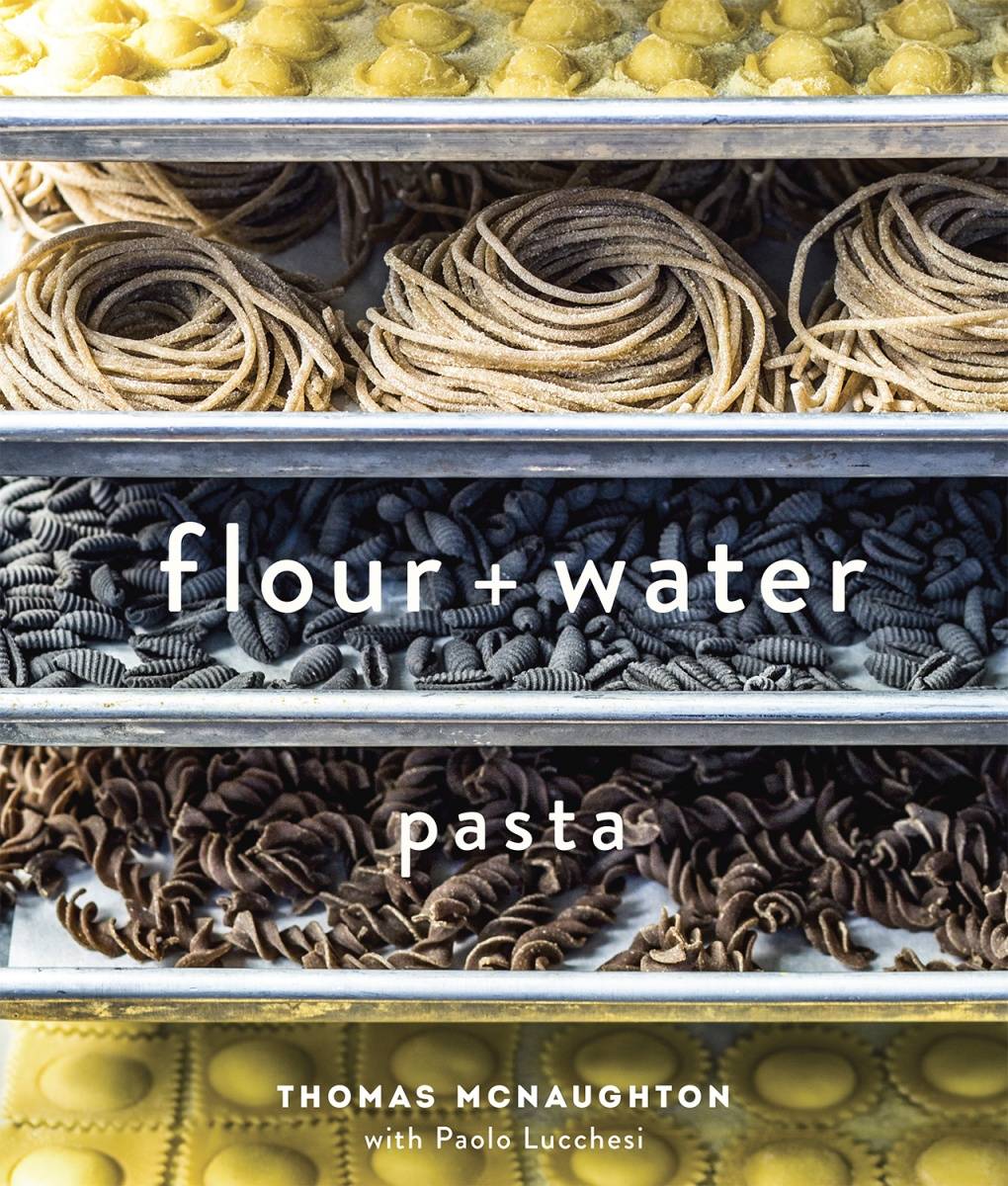 Photo Credit: Eric Wolfinger
The cookbook that's on everyone's (including ours!) must-have list this Fall? Flour + Water Pasta, from the rustic artisinal Italian restaurant of the same name in the Mission. Naturally, we were hungry to speak with the mastermind behind the cookbook, chef Thomas McNaughton. Here's what Tom had to say about the difficult task of writing a cookbook (while opening a restaurant) and a behind the scene look at what went into the recipes. Plus, the mouthwatering technique to one of his beloved pasta dishes, fresh from the book.
Tell me how the cookbook came to be, from start to finish.
My partner actually came up to me at the pass one night as I was expediting and he was all fired up and he said "you should really do a cookbook." That is when we were starting Central Kitchen. I felt that the book shouldn't be just about the restaurant, so I thought it should be completely about pasta. I mean if you think about it, there's not that many really well done pasta books out there that focus on fresh pasta.
Ok, what were the next steps?
Our entire menu is always a collaborative process with our Chef de Cuisine and Sous Chefs. So before we even said out loud that we wanted to do a cookbook, I knew I needed to find the right team. So we went to Eric Wolfinger, the photographer. The first step was to get him signed up. This all started two and a half years ago. It was like getting the band back together. Obviously the writer is very important and everyone wanted me to have a ghost writer, but it really didn't feel right. I've had an ongoing relationship with Paolo Lucchesi and I kind of threw the idea out there and he said yes.
How did you decide which recipes to include?
It was the hardest part: selecting what recipes to put in the book. Writing a cookbook is the opposite of how we think about the restaurants. At Flour + Water, we don't know what produce is coming in and lot of the dishes evolve organically, so we don't have very many set recipes. It was also very difficult to select spring recipes for the book when we were actually at the beginning of autumn. There's definitely a selection of favorites from the restaurant like the agnolotti del plin. The pumpkin tortalloni is one of my favorite dishes. It's a classic pasta from Emilia-Romagna region. The chestnut pasta is one of the easiest that comes across as the most decadent. It's incredibly easy to make braised porcini mushrooms and braised celery root!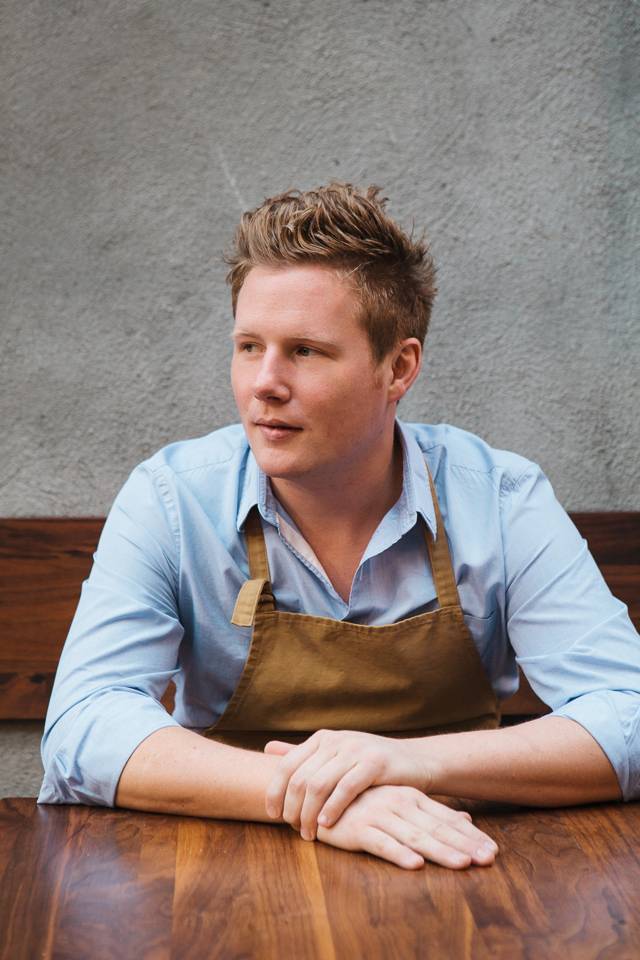 Photo Credit: Eric Wolfinger
What tips do you have for the home cook who has never made pasta before?
The sad thing is not that many people make pasta at home. I think that there is a huge mystery behind what goes into pasta making because not a lot of people replicate it. That's part of the reason I wanted to write about it: to demystify pasta. Right from the very beginning, we try to make it seem as easy as possible.
Which Italian cookbooks are your favorite?
Cooking by Hand by Paul Bertolli — that is a very much a timeless cookbook that kind of keeps coming around.
Do you see yourself doing more cookbooks?
It was a long process and we had so many things going on while we were writing. The test kitchen space above the restaurant was put in to write the cookbook. It was just chaos at times. There were all these things going on and half way thru the process, I thought, "this is my first and last cookbook ever." It's just as much work as opening a restaurant. It was a huge learning experience.
What was the part you most enjoyed about the process?
The entire reason I am in this industry is because it's a constant learning process and diving into that side of the industry is fascinating. Learning what it takes to write a cookbook was so interesting. We decided to do it so nonchalantly. I also enjoyed the collaborative nature because it was all friends. We took the whole team to Italy and we were there for 10 days and went to a pasta labortorio and learned about where they make parmesan and prosciutto. It was awesome.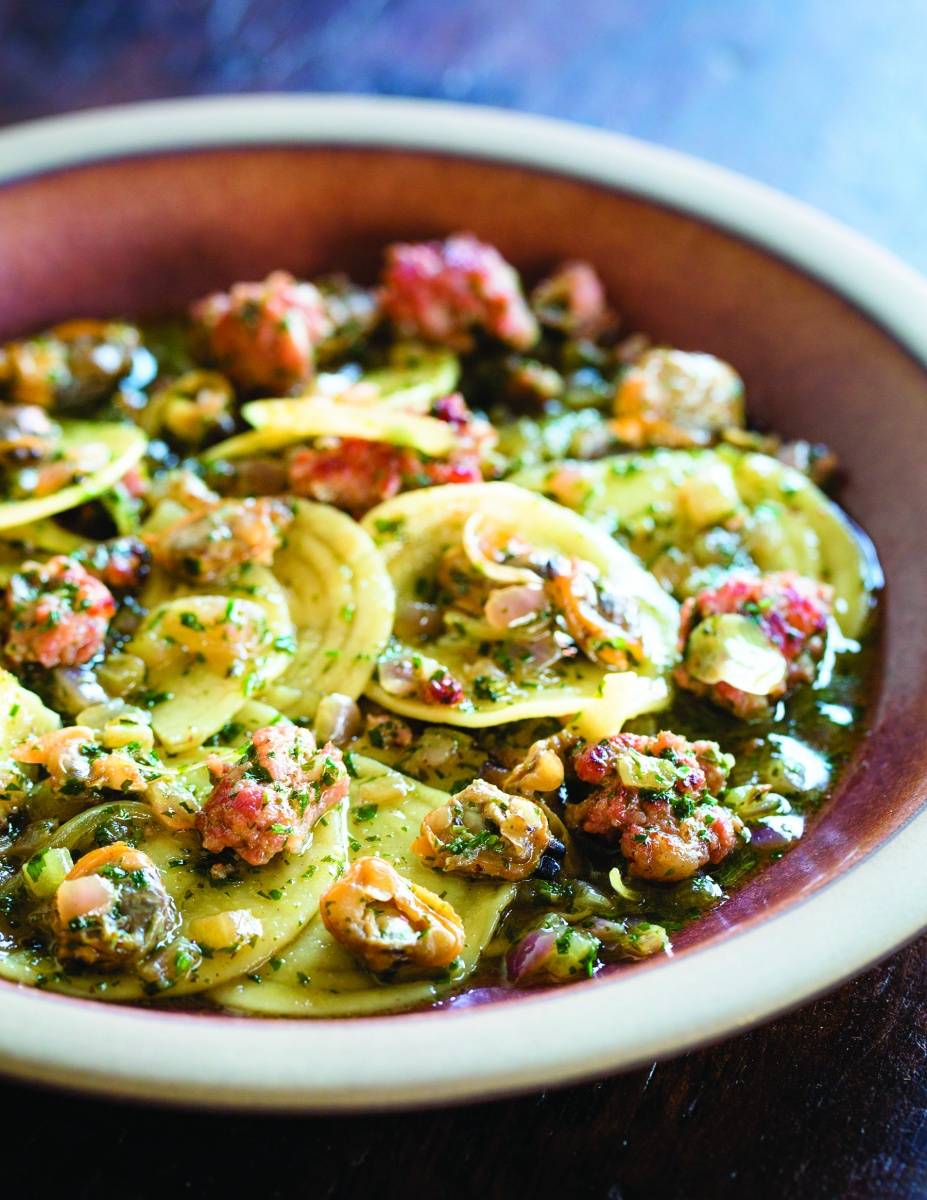 Photo Credit: Eric WolfingerCorzetti with Sausage, Clams, and Fennel
It's always exciting to see how the textures of various clams play so well with pasta. At the height of the season we have a gamut to choose from: manila clams, littleneck clams, cherrystone clams, and even razor clams. They're nearly always used in pasta dishes, because basically everything about clams—the fork-size bites, the briny flavor, the meaty nuggets 
of texture—pairs well with pasta.
When dealing with clams in pasta, I steer away from my East Coast roots and the classic Italian-American combination of linguini, whole clams, and a smothering cream sauce. I'm never high on including clam shells in pastas; I feel like it detracts from the rhythm of eating, and having a shell bowl on the table is just one more thing that the waitstaff has to worry about in our tiny dining room. So instead of Italian-American menus, we look to Spanish ones, where sausages and clams are a classic combination. Corzetti stampati—easy to make, but increasingly available dried in stores—are the logical pasta to use, though 

I suppose linguine is not a bad option either.
Serves 4
Equipment
Pasta machine  +  Rolling pin  +  Corzetti stamp or 2-inch ring mold or cookie cutter
Baking sheets
Store-bought option
Dried corzetti, or any short noodle
Corzetti
1 large egg
½ cup white wine (118 milliliters)
360 grams 00 flour
Clams
1 tablespoon pure olive oil
1 shallot, thinly sliced
1 clove garlic, sliced
2 cups white wine (474 milliliters)
2 pounds Manila clams, scrubbed (907 grams)
1½ cups flour (360 grams)
2 tablespoons squid ink (26 milliliters)
1 egg
½ cup white wine (126 milliliters)
To Finish
1 tablespoon pure olive oil
8 ounces fresh pork sausage, broken into ¼-inch pieces (227 grams)
1½ medium red onions, finely diced (383 grams)
4 cloves garlic, thinly sliced
½ cup white wine (118 milliliters)
1 cup chicken stock (237 grams)
2 tablespoons extra-virgin olive oil
Kosher salt
Juice of ½ lemon
1 tablespoon chopped fresh Italian parsley
1 tablespoon finely minced chives
To make the clams, in a 12-inch sauté pan over high heat, add the olive oil and shallot. Cook until translucent, about 6 minutes. Add the white wine and clams to the pan, cover, and cook until the clams all open, about 8 minutes. Remove the clams and continue cooking until the liquid is reduced by half.  Let the liquid cool completely. Remove the clams from their shells, cover with the cooled liquid and refrigerate until ready to use.
To make the pasta, mix the dough together as instructed on page 6. Roll out the dough and make the corzetti stampati 
as instructed on page 74.
To finish, bring large pot of seasoned water to a boil.
In a 12-inch sauté pan over high heat, add the olive oil and the sausage. Brown all sides of the sausage, about 3 minutes. Add the red onions and cook until translucent, about 90 seconds. Add the garlic and continue cooking until the garlic starts to brown, about 3 to 4 minutes. Add the white wine and cook until almost evaporated, about 30 seconds. Add the chicken stock, the clams, and their liquid. Bring to a simmer.
Drop the pasta in the boiling water. Once the pasta is cooked 80 percent through, until almost al dente, about 2 to 3 minutes, add it to the pan. Reserve the pasta water. Continue simmering the pasta over high heat until the sauce coats the back of a spoon, about 3 minutes. Drizzle with the extra-virgin olive oil. Season to taste with salt and lemon juice.
To serve, divide the pasta and sauce between four plates. Finish with the parsley and the chives.
Flour + Water Pork Sausage
This is our standard recipe for the sausage we make at  Flour + Water, scaled down for home use.
The recipe here features pork shoulder, pork fat, and pork skin. The pork fat is included for moisture in the finished product, and the pork skin is there for texture. Beyond that, the sausage recipe can customized by substituting any lean protein for the pork shoulder: lamb, rabbit, goat, duck, chicken, turkey, or even a high-fat fish like salmon.
Makes 26 ounces/737 grams of ground sausage
Equipment
Meat grinder
2¼ ounces pork skin (65 grams)
1 pound pork shoulder (or leg), diced and chilled (450 grams)
½ pound pork fat, diced (225 grams) and chilled
2 tablespoons white wine
¾ teaspoon freshly ground black pepper
Pinch of red pepper flakes
Pinch of fennel pollen
1.29 grams dextrose
1 tablespoon plus 1 teaspoon kosher salt
In a stockpot, add the pork skin and cover with cold salted water. Bring to a simmer over medium heat. Skim off any residue and simmer until completely tender, about 45 minutes. Chill for 1 hour or up to 4 days and dice.
Making sure all your diced meat is very cold; mix all of the ingredients together in a large bowl. Quickly put through a meat grinder.
Mix the ground meat until the mixture is tacky and sticks to your hand. If you're using a stand mixer with a paddle attachment, put the ground meat in the bowl and mix for 4 minutes to get a cohesive texture. Keeps 4 days refrigerated 
or 3 months frozen.
Subscribe to discover the best kept secrets in your city