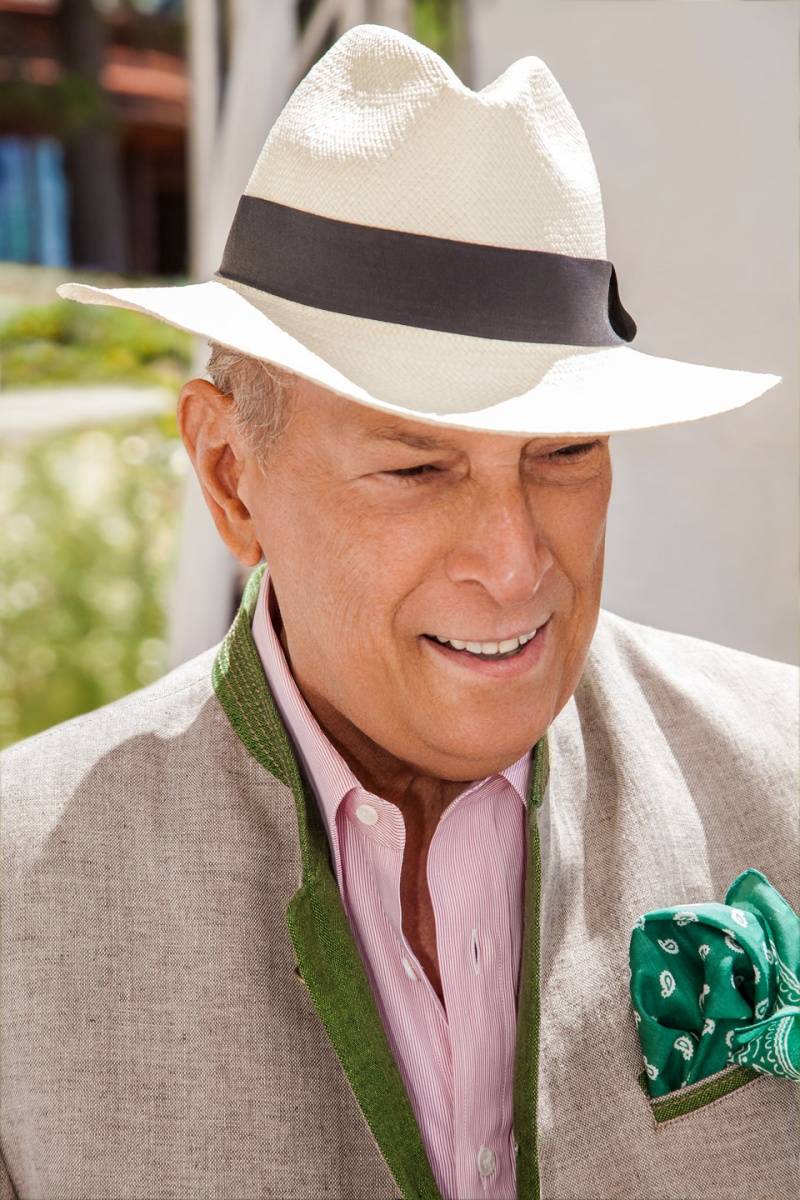 There are many reasons individuals become fashion designers. Some want fame, some want fortune, and some, like Oscar de la Renta, simply wanted to make women feel beautiful. "I love women," he told Haute Living last fall. "The 21st century woman is unbelievable."
And it seems the admiration is mutual. When news broke last night that de la Renta had lost his battle to cancer at the age of 82, it shook the fashion industry, the world, and women everywhere. Because that's exactly who he touched—women everywhere. Unlike other fashion designers, de la Renta didn't design for an age, a socio-economic subset, or an era; he designed for a mentality. He designed to strengthen. He designed to empower. And for that, women everywhere—from Hillary Clinton to Sarah Jessica Parker—don his dresses like badges of honor. "My most important customer is a wonderful woman walking down the street… a woman who is proud to be a woman today, a woman who has an extraordinary life," he explained. "Women have always been my source of inspiration."
Women may have inspired de la Renta. But de la Renta inspired fashion. In celebration of his life—and impressive five-decade career—we've put together a list of the top 10 lessons that de la Renta taught us about life, love, and of course, fashion.
10. Choose a profession that excites you.
When you work in the same field for 50 years, it's only natural to become bored. But not de la Renta. "I come to work every day and it's like walking into a candy store," he explained. "I love what I do."
9. Don't be afraid to forgive.
In 2013, de la Renta invited disgraced designer John Galliano—who had been fired from his position as the Creative Director of Christian Dior and axed from his own label following an anti-semitic tirade caught on tape—to assist him with his 2013 Fall/Winter Collection. Though his decision shocked the fashion industry, de la Renta ignored the naysayers, and insisted, "Everyone in life deserves a second chance."
8. Fashion Week should be about clothes, not celebrities.
In recent years, most runway shows have become a who's who in Hollywood instead of a first-look for journalists, buyers, and fashion executives. While many designers relish rubbing elbows with the A-list crowd—many even moved to larger venues to accommodate the expanding audience—de la Renta did the polar opposite and cut his guest list in half. "I do love to dress celebrities, but [at the show] I think they are a distraction to the ultimate goal, which is presentation," he revealed. "The focus is not on the clothes; it detracts from the whole experience."
7. Embrace technology.
Today, customers want to do more than just buy clothes. They want to be involved in the design process and get a sneak peak at the man behind the curtain. To give his admirers an inside look into his fast-paced world, De la Renta created the ever-popular tumblr account, OscarPRGirl.
6. Keep evolving.
Great designers aren't afraid to step outside their comfort zone and grow as an artist. From lace ivory bridal gowns to checkered midriff-baring tops, de la Renta designed in a variety of colors and fabrics, even becoming the first Dominican designer to design for a French couture house (Balmain).
5. Don't be afraid to be a b*tch
There's a commonality between all the women that wear Oscar De la Renta—and it's not a size 2 dress size. It's confidence. From political power players to Hollywood heavy hitters, all of the designer's clients are fierce, independent women who aren't afraid to speak their mind. "The women that wear Oscar de la Renta are strong and powerful," he declared.
 4. Color is the new black
Oscar de la Renta lived a vibrant life, and his clothes reflected that. Though little black dresses are timeless, and a staple every woman should have in their closet, de la Renta showed us that it's possible to look chic in pink.
 3. Giving back is just as important as moving forward.
In addition to serving as a board member of several charitable institutions, including New Yorkers for Children, last February de la Renta recreated his entire spring presentation, Designed for A Cure 2014 collection, to raise money for the Sylvester Comprehensive Cancer Center at the University of Miami Miller School of Medicine. He also founded the Casa del Niño orphanage in La Romana, Dominican Republic.
 2. Trust your instincts.
When Hillary Clinton was on the fence about appearing on the cover of Vogue—a first for any First Lady—de la Renta urged her to take the leap and made it his mission to design a dress that really captured her essence. "I did a lot to define to the viewer who Hillary actually is," he said. "I do remember at the time her advisers weren't sure if it was the right thing to do, but in the end, she said, 'Oscar, you have a great instinct about me. Let's do it.'"
 1. Cherish each day
After being diagnosed with cancer in 2006, de la Renta epitomized positivity and humility while receiving the Council of Fashion Designers Designer of the Year Award in 2007. "The only realities in life are that you are born, and that you die," he told the crowd. "We always think we are going to live forever. The dying aspect we will never accept. The one thing about having this kind of warning is how you appreciate every single day of life.
Subscribe to discover the best kept secrets in your city