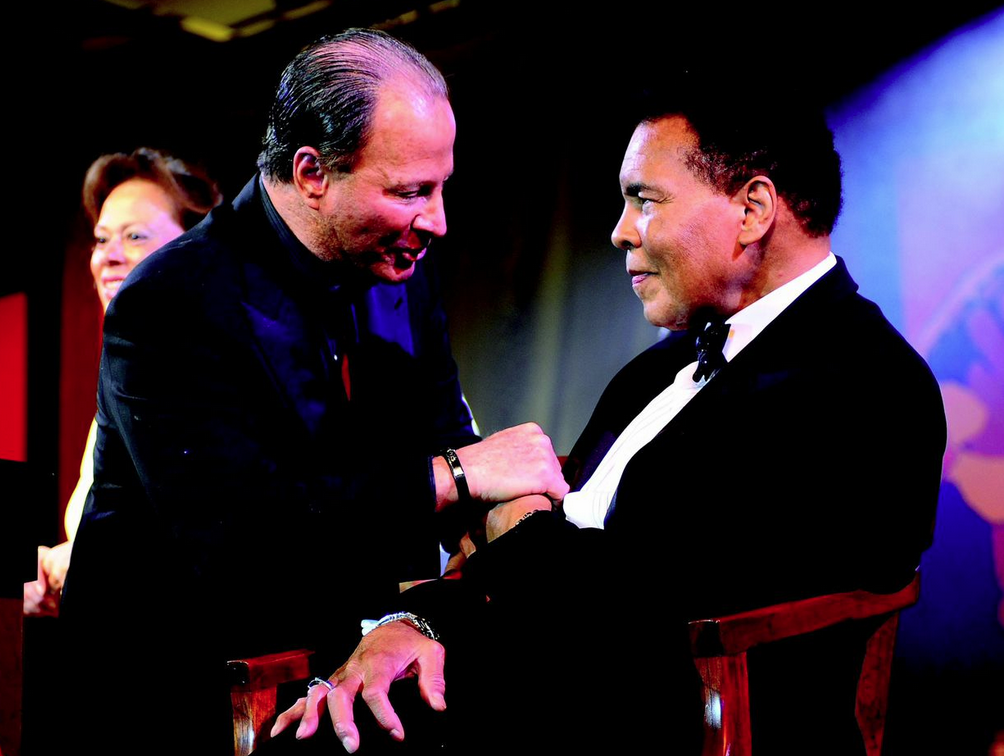 Stewart Rahr is a self-made pharmaceutical mogul who went from making 50 cents per hour doing deliveries for his father's pharmacy to becoming one of the wealthiest men in the world. After selling his selling his drug wholesale business, Kinray, to Cardinal Health for $1.3 billion in 2010, Rahr has devoted his attention to philanthropy, donating more than $40 million to various organizations. But "Rah Rah" isn't all work and no play. The 68-year-old business tycoon is a fixture at red-carpet events, whose inner circle includes New York's A-list. Haute Living asked the self-proclaimed "No. 1 King of All Fun" to walk us through his day and give us a glimpse into his real Manhattan lifestyle.
4 AM: I can't seem to shake waking up early. For years, I arrived at the office every morning at 4 AM (and stayed until 4 PM), so I'm still in the routine.
6:30 AM: Walk to work wearing jeans, a button down, and my favorite yellow Ray-Ban sunglasses. I never wear suits.
7 AM: I get to the office and sort through my mail. Every day I receive tons of requests from different organizations and individuals around the world. There's always music playing. Today, it's Alicia Keys—I love her new song.
9 AM: I eat a bagel and cream cheese while I go through my emails and write notes to myself. I have yellow post-it notes plastered all over my office—they help me stay organized. Most days, I create a celebrity trivia game where I email a list of questions to my friends, and the first five people that respond correctly win $10,000 for the charity of their choice. I usually donate about $50,000 each game.
10 AM: Donald Trump pops down to say hello—his office is located a floor above mine.
11 AM: I like getting massages regularly. So much so, that I built a massage room adjacent to my office. After a quick session with my favorite masseuse, it's back to the grind.
12:30 PM: I never like to leave the office for lunch, so I have a turkey sandwich and green juice delivered and eat at my desk.
1 PM: Hop on the phone with philanthropist Michael Milken for our daily catch up call. He's one of my best friends and we speak almost every day. He's involved with so many foundations from medical research to education reform, and I'm always interested in learning about new ways that I can help.
1:30 PM: I spend the rest of the afternoon getting calls and visits from different celebrities, many of whom are framed on the walls of my office. I have 520 photographs of myself with various celebrities that I've gotten to know over the years like Leonardo DiCaprio and Mark Wahlberg.
4 PM: I leave the office, but my day is far from over. Most evenings, I stop by a charity function or art event. I'm really involved with the Make-A-Wish Foundation and am always out and about offering my support.
8 PM: I don't like to cook, so I meet friends for dinner and drinks at Il Mulino. There's nothing better than a Double Cross vodka and cranberry juice to cap off a busy day.
10 PM: I watch the news and take note of tomorrow's weather forecast, which comes on near the end of broadcast.
Subscribe to discover the best kept secrets in your city