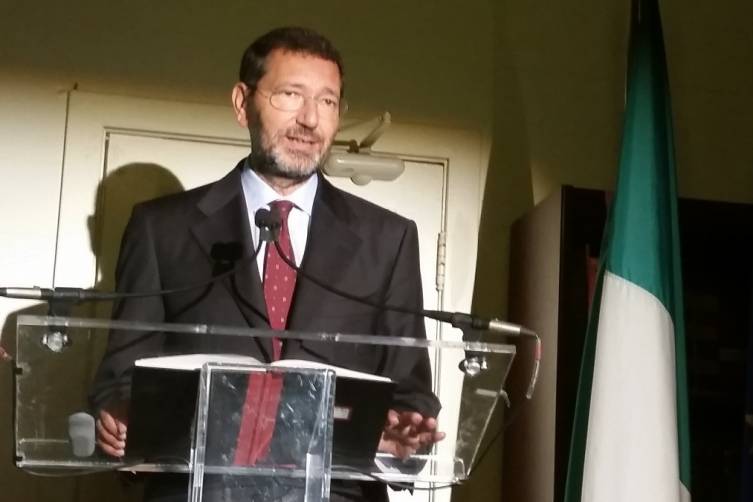 Photo Credit: Kelly E. Carter
San Francisco may be known for its stunning scenery, amazing architecture, tantalizing food and haute cultural offerings but none of that is what recently drew the Honorable Ignazio R. Marino, the Mayor of Rome, to our city. It was our trash. And that's no rubbish. While he was here to check out our commendable waste management program (one more feather in San Francisco's hat), Haute Living caught up with the mayor to find out which of our city's Italian restaurants he favors, what he thinks about California wine and where we should eat when we visit the capital of Italy.
Mauro Battocchi, the Consul General of Italy, hosted an intimate reception for Marino at the Consulate's grand offices in Pacific Heights. Among those on hand was San Francisco Opera Music Director Nicola Luisotti. Marino, a year into his five-year term, is no stranger to the States. In his former life, he was a liver transplant surgeon and worked in Pittsburgh in the late 80s.
"When I ran for the position of mayor of Rome as a liver transplant surgeon, I thought about the health of the city and I thought that we need to close our landfill," Marino explained. "Obviously San Francisco was the model to follow."
He calls San Francisco's waste management program "one of the best in the entire planet. You guys started, about 12 years ago, to collect the garbage in a very intelligent way. Nowadays you separate paper from plastic from metals. All these things are going back to the industry that have to use these materials so this gives richness to San Francisco. But also it's very, very important for the environment."
He notes that San Francisco is also the model in other arenas.
"When I was elected, San Francisco immediately became a place to look at because we decided all people in Rome— regardless of who they are, which religion they practice, what is their lifestyle—should have the same rights," said Marino, who marched in Rome's Gay Pride Parade. "I've been an advocate for same-sex marriage in Italy for a few years and I really want people to have their rights recognized in a city like Rome. So San Francisco is a very important city for us."
Marino has been to San Francisco around 10 times. As much as we love our Italian restaurants here, that's not the kind of food he craves when he visits.
"You have some of the best sushi/sashimi restaurants in the planet," said Marino, who had reservations at Koo in the Inner Sunset the following evening. "I love that kind of food. Italian food I will eat at home."
Just like he's a fan of our sushi, he thinks highly of California wine—both in taste and price.
"I love California wine! The wineries in California, in Napa Valley and Sonoma Valley, did a terrific job in the last couple of decades," he said. "The wines are really superb–but kind of too expensive. You can get a good bottle of wine in Italy for 20 euros and the equivalent in Napa Valley or Sonoma Valley is twice as much."
He had plans to visit Napa during this trip but not to soak up the viticulture. Instead, he was going to a tea where he would meet "very wealthy people who are interested in donating money for archaeology in Rome." Just like he's concerned about Italy's environment, he's equally passionate about restoring Rome's art, archaeology and antiquities. One of his early actions as mayor was to ban cars and scooters around the Colosseum, whose walls were black due to the pollution.
The locals didn't care for the move but tourists sure did. Speaking of tourists, he gave Haute Living a few restaurant choices to pass along to future visitors of Rome:
"I would go to a small restaurant called the Archimede in Piazza Santa Eustacio. At the end of the dinner they can have a great coffee in one of the most terrific coffee shops in Rome. Another one is Sapore di Mare, which is close by Piazza della Minerva. Then I would go to a pizza place called Baffetto, close to Piazza Navona. And then I would try a family restaurant that is not really downtown but close by, probably a mile away from Via Veneto, called Al Padovano, which is a real Roman family restaurant."
Like Haute Living San Francisco? Join our Facebook page or follow us on Twitter @HauteLivingMag. Want Haute Living San Francisco delivered to your inbox once a week? Sign up for our newsletter.
Subscribe to discover the best kept secrets in your city