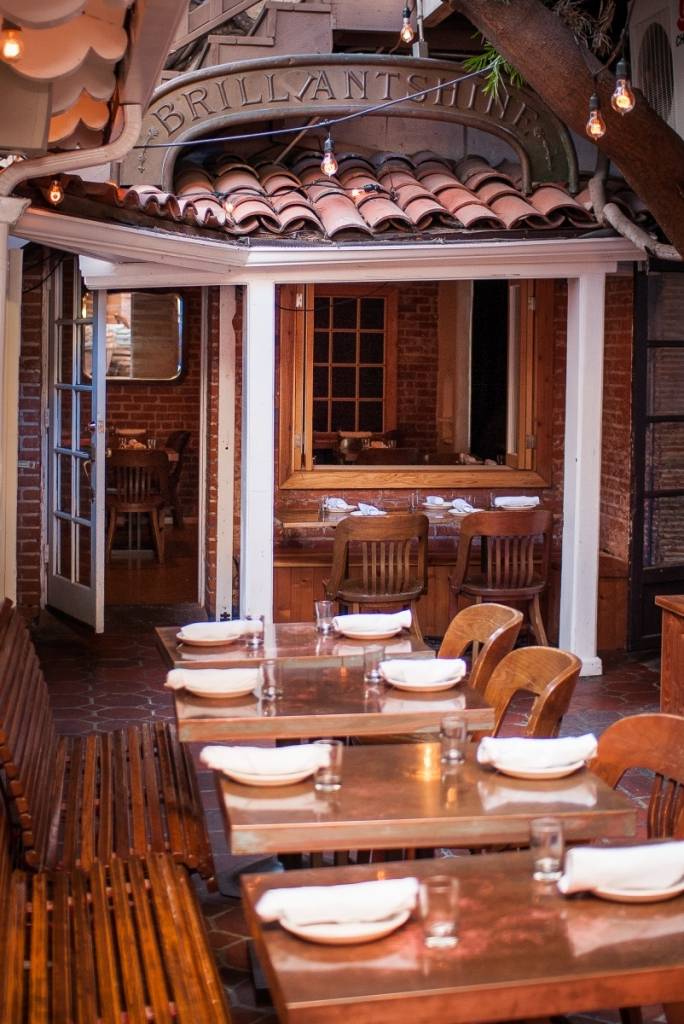 Mixologist masters Julian Cox and Josh Goldman finally have a bar they can call their own—Santa Monica's newly opened den of designer libations, Brilliantshine—and the results are—as expected—straight up awesome.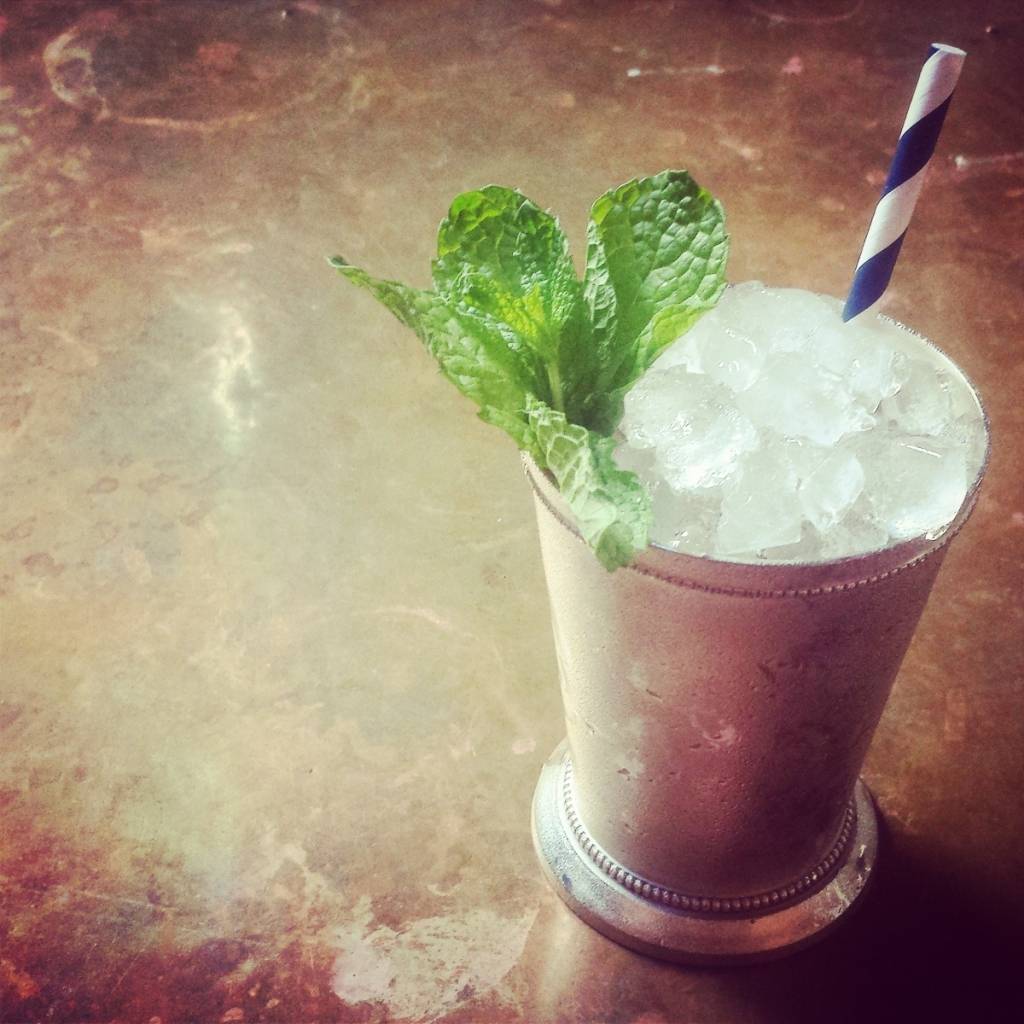 The new watering hole—whose name comes from a vintage sign the owners found and haggled for at the Rose Bowl fleamarket— is located in the former Renee's Courtyard space off of Wilshire, but unlike the busy street from which you've entered, Brilliantshine itself has a tucked away, Secret Garden-ish type of vibe that's more old-fashioned saloon than trendy bar (though it is both).  Here you'll find every type of seating situation for any time of day. There's a lovely outdoor patio for daytime dining and drinking and a classy, timeless dining room and indoor bar, which turns into a total party scene at night. Yes, DJs and turntables are involved.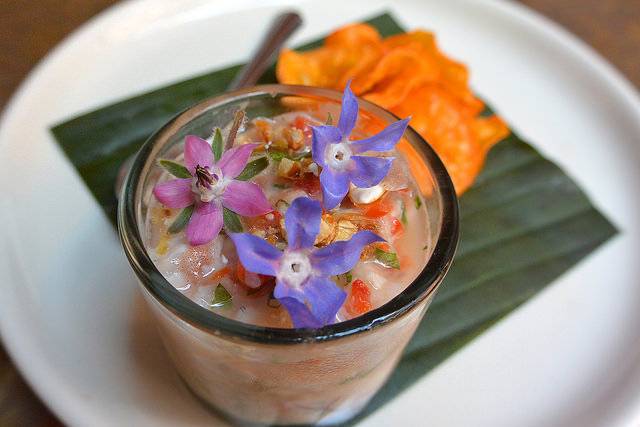 Thanks to chef Richie Lopez, formerly of Ricardo Zarate's Paiche, the menu has a distinctly Peruvian feel.  We particularly liked Lopez's take on shrimp ceviche and his quinoa—a light and refreshing dish prepared with melon, lemon vinaigrette, watermelon radish and baby oak lettuce. Also expect to see items like goat cheese fritters with peaches and beets, squid ink tagliatelle with clams, rocoto butter, lamb sausage and bottarga, and a lamb merguez burger with epoisses cheese, Fresno chilies, egg and avocado. There are also two dessert options at Brilliantshine, including the innovative purple corn granita with coconut, pistachios and lemon, and s'mores, which are lit on fire tableside.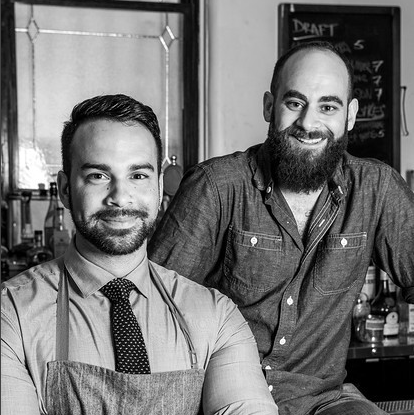 Photo Credit: Andy Keilen
We could hardly mention a Cox/Goldman institution without mentioning the cocktails, and thus, have saved the best for last. Though the cocktail menu is constantly evolving, expect to see the Rye 'n Goslings—Knob Creek rye, El Dorado 12yr, demerara, Goslings 151, mint and apricot, the speakeasy style Bourbon Milk Punch —Eagle Rare 10yr, almond "milk", Straus Family cream, Amaro CioCiaro and bitter chocolate, and the Brilliantshine Creole—Michter's USA 1 bourbon, Punt e Mes, Benedictine, China-China and orange bitters with a lemon twist. There's also a bartender's choice ("We choose, you booze," the menu declares) which, given its proprietors' pedigrees, might be the best option of all.
Photo Credit: Jo Stougaard
Lobster Uni Rice
Lobster Uni Rice
Photo Credit: Jo Stougaard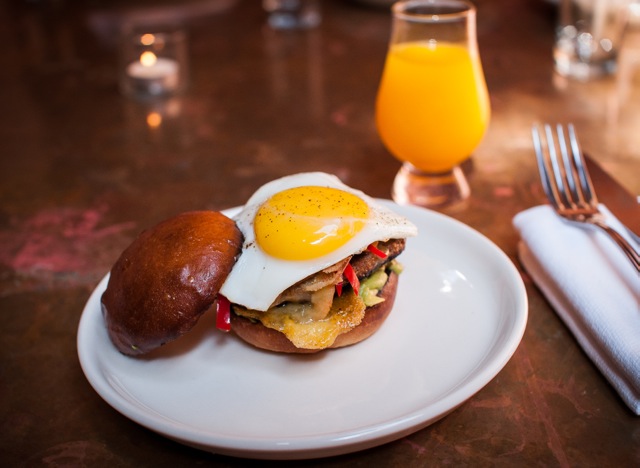 Pork Belly + Beet Hash
Pork Belly + Beet Hash
Photo Credit: Jo Stougaard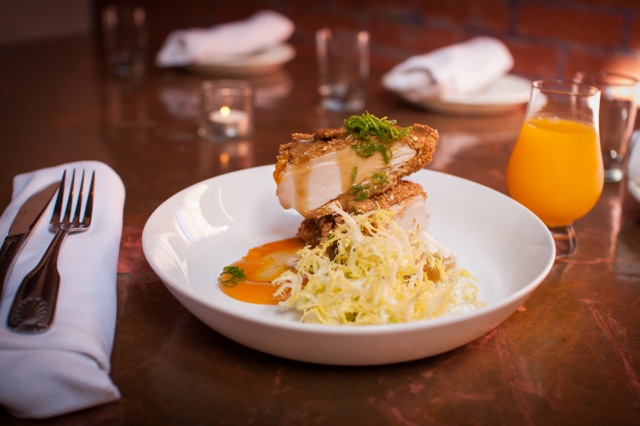 Fried Chicken
Fried Chicken
Brilliantshine
Brilliantshine
Brilliantshine
Brilliantshine
Photo Credit: Brilliantshine
Photo Credit: Richie LopezAndy Keilen