Photo Credit: Anne Fishbein
Haute Living went one on one with Jar owner and chef Suzanne Tracht, who is among the rare group of American women chefs who have achieved the ultimate dream of owning their own restaurant. With Jar, her modern chophouse in the heart of Los Angeles, Tracht dazzles Angelenos with the allure of her familiar retro dishes from the American culinary repertoire. Her contemporary interpretation of dishes like pork belly and chocolate pudding prove that delicious food can also be unpretentious. We sat down with Tracht to chat about her ultimate steak dinner, being a female chef in the biz and begged her for her famous butterscotch pudding recipe (thankfully, she obliged).
5 QUESTIONS WITH SUZANNE TRACHT
What is your idea of the ultimate steak dinner?
Big old honkin' dry-aged prime porterhouse with spicy creamy horseradish, a beautiful arugula salad with extra virgin olive oil and Neal Family Cabernet 2007 or II Fauno Super-Tuscan blend
How do you personally make classics contemporary?
First, I search for the best sources for my ingredients and then I prepare them in a way that you can really taste the food. If I get a sea scallop from Maine, I want it to taste like a fresh sea scallop from Maine. I avoid including too many ingredients that muddy the flavor of the true source.
Have you found any roadblocks to being a female chef in the industry? Why or why not?
I like to think positively and I look at competition as a way to keep me on my toes. And one of the best things you can do in this industry is to have strong relationships with others.
What is your dream collaboration (with another chef) and why?
I've already realized my dream of collaborating with my long time Chef d'Cuisine Preech Narkthong. We would love to develop another venue that's a little bit quirky with more seafood and a lot of Asian influence.
What are 7 things you always have in your kitchen?
Lemons, fleur de sel, freshly ground black pepper, extra virgin olive oil, butter, fresh herbs, eggs
What are 5 new (cooking) products that make your life so much easier?
Microplane, mandoline slicer, Robocoup and an immersion blender
Jar's Butterscotch Pudding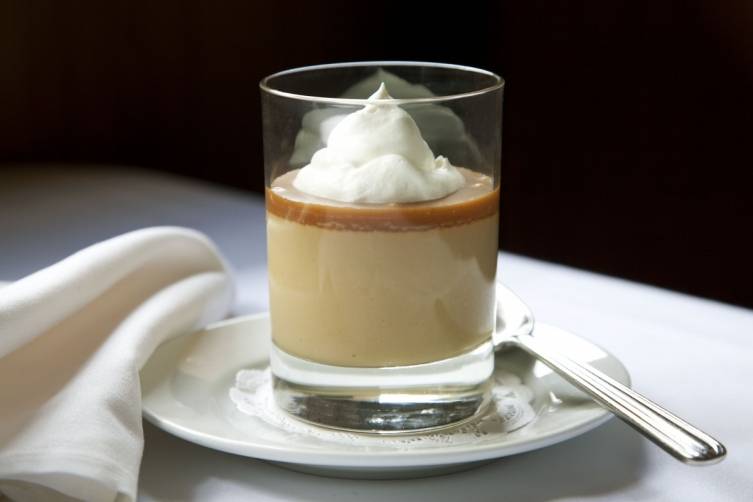 Jar's Butterscotch Pudding
Makes 8- 10
Ingredients
1 1/2 cups sugar
1/2 c water
2 teaspoon kosher salt
3 1/4 c cream
1 3/4 c milk
2 eggs
4 yolks
1/4 c plus 1 tablespoon corn starch
6 tablespoons butter
2tablespoon spiced rum
In a medium pot over medium high heat cook brown sugar, water salt. In the mean time combine cream and 1 cup of milk. Set aside. In another bowl mix eggs, yolk, corn starch and the remaining 3/4 c of milk.  Once the sugar has cooked to a medium dark caramel add butter and cook until it has a light red hue. Add cream mixture. It will seize continue mixing until it becomes smooth. Temper the egg mixture and add to pot.  Mix until it thickens.  Remove from heat and add rum. Strain through a fine mesh and pour into desirable vessel.  Let cool slightly, cover with plastic wrap and refrigerate.  Serve with salted caramel and whipped cream.  Enjoy!!
Subscribe to discover the best kept secrets in your city