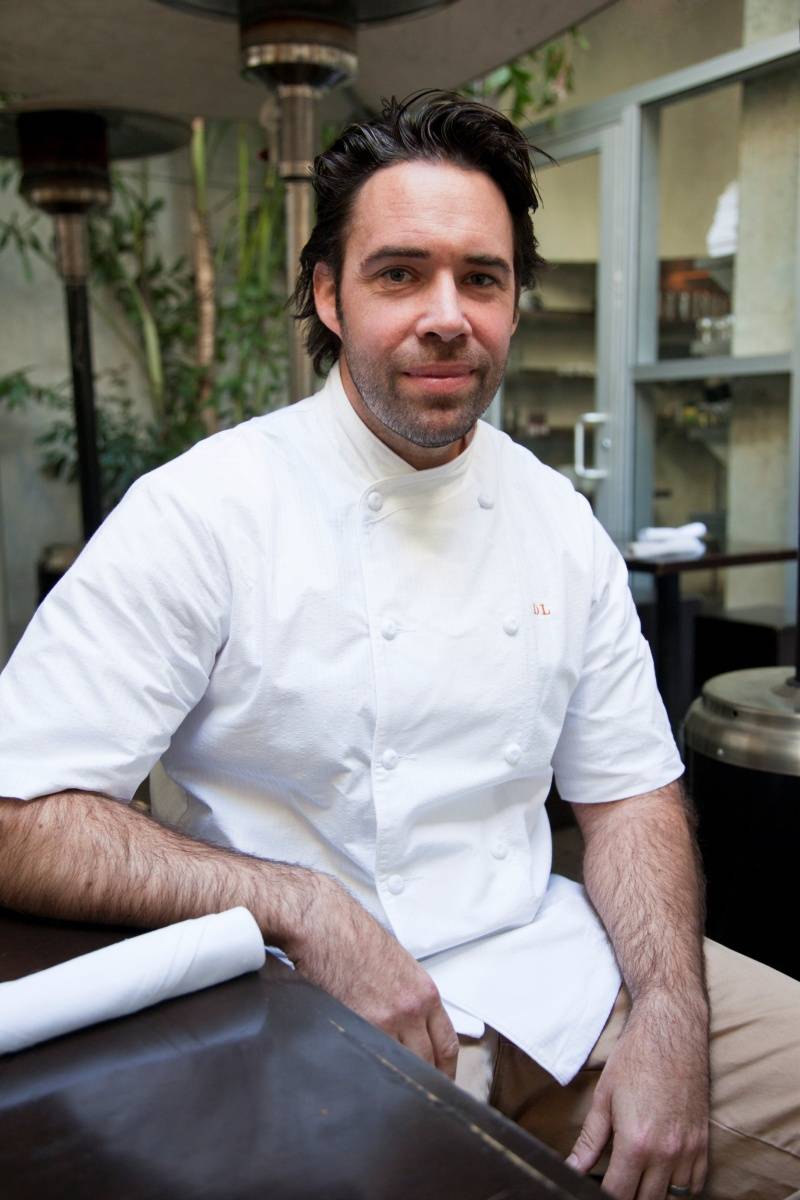 Photo Credit: Noe Montes Photography
David Lentz is a chef who gives back. Alongside wife and fellow chef Suzanne Goin and her business partner Caroline Styne, The Hungry Cat chef will host L.A. Loves Alex's Lemonade this fall, an event which raises money to fund childhood cancer research. Lentz, who was instrumental in helping to raise $2 million at the 2013 event, sat down with Haute Living as he prepares for the 2014 culinary and charity extravaganza at UCLA's Wilson Plaza on September 20th. Here, Lentz dishes on why Alex's Lemonade Stand Foundation is so important to him, what music he's listening to when he's prepping his delicious fare in The Hungry Cat kitchen and whether or not he and his wife might join forces for another project in the realm of haute cuisine.
Photo Credit: Alex Berliner | ABImages 2012
Why is Alex's Lemonade such an important charity to you?
Alex's Lemonade Stand Foundation is an important charity to me because it helps pediatric cancer patients directly. I originally got involved after attending The Great Chefs event in Philadelphia that Marc Vetri puts on each year to benefit ALSF. Once I heard Liz and Jay Scott speak about the courage in which their daughter fought i realized that as a parent and a human I needed to help in the battle against cancer. Since we started raising money for Alex's I have been fortunate enough to meet pediatric cancer survivors who were directly helped because of the foundation. It's pretty tragic and heart-breaking to see young children in pain, I think everyone can relate to that and I think if more people knew about Alex Scott and other cancer patients they would want to get involved as well.
Do you have a personal experience that has made the charity even more meaningful? 
Just meeting and now having a friendship now with Jay and Liz Scott makes it meaningful. As a parent I cannot imagine going through what they did with daughter. The fact that they not only got through it but were determined to make a difference is pretty inspirational to me.
How much of a role does philanthropy play in your day-to-day life? 
I firmly believe that if you are in a position to give back to others then you should. I am very lucky that I have a platform like cooking and restaurants where I am able to give to charities and the community. It's also extremely rewarding to know that one CAN making a difference.
Is it a blessing having two chefs in the family? What does an average dinner at your house look like (or an average breakfast, if that's the meal you do all together)? 
I wouldn't say it's a blessing with 2 chefs in the family. We don't see each other or our kids enough. It is what it is though. On the up side, our kids have been exposed to food and are really into food  at a young age. Our typical dinner together (which is once or twice a week) is grilled meat (steak, lamb or chicken), roasted vegetables (from our garden) and salad. We eat pretty healthy, nothing processed, no GMOs! At breakfast we are normally all together – we kind of rotate between pancakes, waffles, yogurt and granola parfait, smoothies, etc. Everything we do eat though is made by hand – like I said nothing processed.
What is your idea of a dream meal? 
Five years ago if I was asked this question the answer would have been Ducasse or the craziest 3 star Michelin restaurant, but now them that I'm growing wiser I actually prefer simple dinners with friends I think the company is the most important thing. We have had some memorable meals in Kauai, where we vacation. We scour the farmers markets and get some fresh fish and cook at home. It's great! I find that since I work in restaurants for a living I really prefer to stay away from them in my down time.
What are 7 of your favorite dishes at any LA restaurants (including your own)? 
Tomahawk pork chop, Chi Spacca
Salt roasted branzino, Canelé
The vintners plate, a.o.c.
Pastrami sandwich, Spago Beverly Hills
Tom yum noodle, Pa Ord Noodle
"Pit beef sandwich", The Hungry Cat – of course!
Kale salad, Gjelina
Do you and Suzanne have any plans to open additional restaurants together in the near future? 
Perhaps…
DAVID LENTZ'S KITCHEN PLAYLIST
Ride Like The Wind, Christopher Cross
Livings Tons Gone To Texas, Jimmy Buffett
Lawyers, Guns and Money, Warren Devon
Gideon, My Morning Jacket
Winning, Carlos Santana
Picking Up The Pieces, Widespread Panic
Hawaii '78, IZ
Like Haute Living Los Angeles? Join our Facebook page or follow us on Twitter @HauteLivingMag.
Subscribe to discover the best kept secrets in your city