Coming from a family of Italian chefs, Salvatore Sodano's first instinct is to feed. The challenge: adapting his cuisine at Nikita Malibu to lighter and brighter California-friendly fare. We're happy to say the tweaks this 29-year-old culinary guru has more than succeeded in his mission. Here, Nikita's executive chef reveals how he's bringing true Italian flavor to the West Coast and what dishes Nikita owner Larry Ellison simply must have the menu. 
How specifically does the essence of Malibu play a role in the dishes that you prepare?
Carbon Beach brings my thoughts to freshness, simplicity and defined flavors. I prepare food here in a really simple way, not modifying it a lot. I have to be honest: this amazing oasis on the Pacific Ocean influences a lot on my choices.
How do you modify your fare to make it more California friendly?
Being in California, there is so much amazing produce­—­fresh fruits and vegetables from local farmers—and I find myself using more seafood. I try not to mask the flavors of my product with too much seasoning — I use just enough to bring out the natural beauty.
Have you created any signature dishes for Larry Ellison based on the items he enjoys?
Mr. Ellison dines here very frequently and gives feedback for my team and me on almost every visit. He likes clean, fresh flavors, and beauty on the plate.  One dish I've created for him that he insists is always on the menu is the Poached Salmon. It is poached fresh king salmon that is slow-cooked in a beetroot reduction with fresh herbs; it literally melts in your mouth.
What is your favorite item on the menu?
Right now it's the Santa Barbara Shrimp. The texture and the sweet flavor is unbelievable, especially combined with this apple gelée and raspberry vinaigrette that balance the plate in acidity. The shrimp is seasoned with its own roe emulsion that gives it an additional brightness in flavor. I can say that this is probably one of my most interesting creations.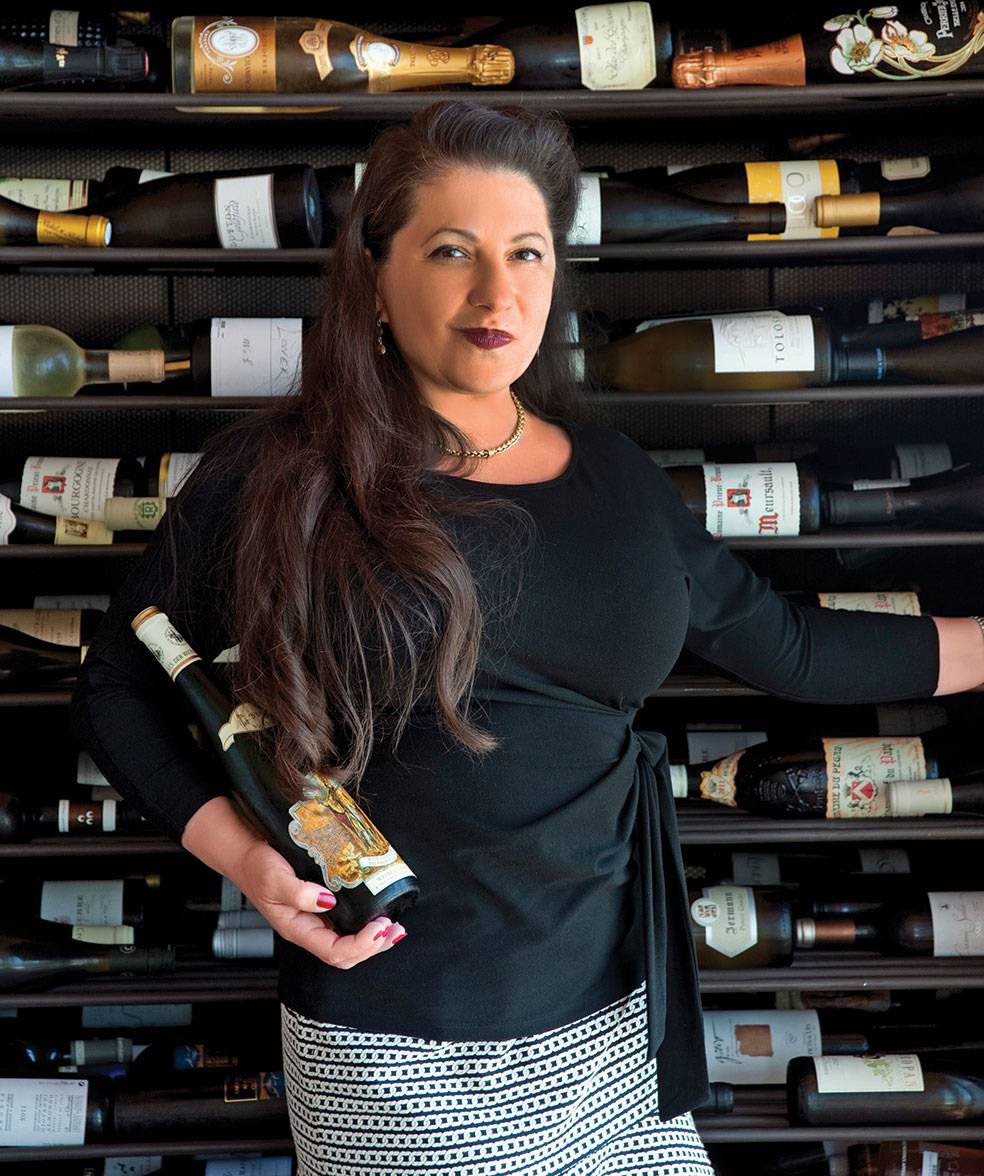 Renee-Nicole Kubin has a storied career in the restaurant industry that began at an early age: birth. Her mother, Erna Kubin-Clanin, is the owner of the iconic Relais & Châteaux property Erna's Elderberry House in Oakhurst, California. The 44-year-old (who is fondly referred to as "RNK" and is the former sommelier of Restaurant Gary Danko) is a burst of pure sunshine, only tearing up slightly when talk turns to her mentor and former boss, the late, great Charlie Trotter. 
How did you realize your love of wine?
My mother is a chef, and so I grew up with her being a restaurateur and eventually a hotelier when I was in my teens. She is from Austria, so food is very, very important. With her being European, wine was allowed. So my sister and I would have little tiny tastes of wine when I grew up, mixed with water. By the time I was in my teens, I was already recognizing how it would affect what was my on my plate. That was kind of an "aha moment" for me at age 17.
What is your first and what is your most fantastic wine memory?
When I was learning about food and wine, I was reading "Red Wine with Fish," a book by David Rosengarten and Joshua Wesson. I tried to relive all of those memories that they had recorded. One [menu] in particular was oysters with white wine from the Loire Valley, a Muscadet. I was quite young, and drove up from my family's estate to San Francisco when Jeremiah Tower's restaurant, Stars, was open. There, I had that first pairing of Muscadet and oysters, and it was amazing. It will forever live in my memory.
How did your experiences at Charlie Trotter's and Restaurant Gary Danko prepare you for this position?
I'm very honored to come from the family I've come from, working for the great Charlie Trotter. It's hard to speak of him without tearing up—he was the most influential person other than my mother in my career. He taught me about excellence and doing my best and that there is no compromise. Chef Gary Danko has been influential in my career as well, and I'm grateful to have spent so many years with him.
Is there anything specific that Larry Ellison requests be on the menu?
When creating  the  wine  program at Nikita Malibu, the only directive I received from Mr. Ellison was 'that we have the best'… and we do.  I took a cue from him after a discussion about Sauternes, and, in particular, Château d'Yquem. Needless to say, in addition to our amazing 'savory' wines, I have curated an impressive collection of Sauternes and sweet wines—to include several vintages of Château d'Yquem.  Although extremely rare, this is a wine we always have available by the glass.  We are one of few restaurants anywhere to offer it by the glass—or even half-glass.  Few will order a bottle, but everyone appreciates the chance to taste this "liquid gold!"
Tell us about the Malibu Wine Concierge. What should we expect? Who came up with the idea?
We are working on an exciting project just coming into fruition. It's exclusive and invitation only.  The Wine Concierge is an opportunity for our guests to find bottles that they can't otherwise find, very allocated wines, wines in high demand and high rated wines as well as what the next best new thing will be. We are in the beginning stages [of planning] still.
What do you enjoy most about working at Nikita Malibu?
I feel so blessed every day that I come to work. I know that sounds like butterflies and ponies but I mean it—it's the most special place. Above all what makes it special for me is our owner. He appreciates fine art so very much and wants to be the best, and  I share that. I appreciate the art in everything we do. Wine is an art. I get to have this amazing playground and curate this cellar with wines that are from near and far, well known and yet to be discovered. It's  incredible.
Photography By Andreas Branch
Subscribe to discover the best kept secrets in your city