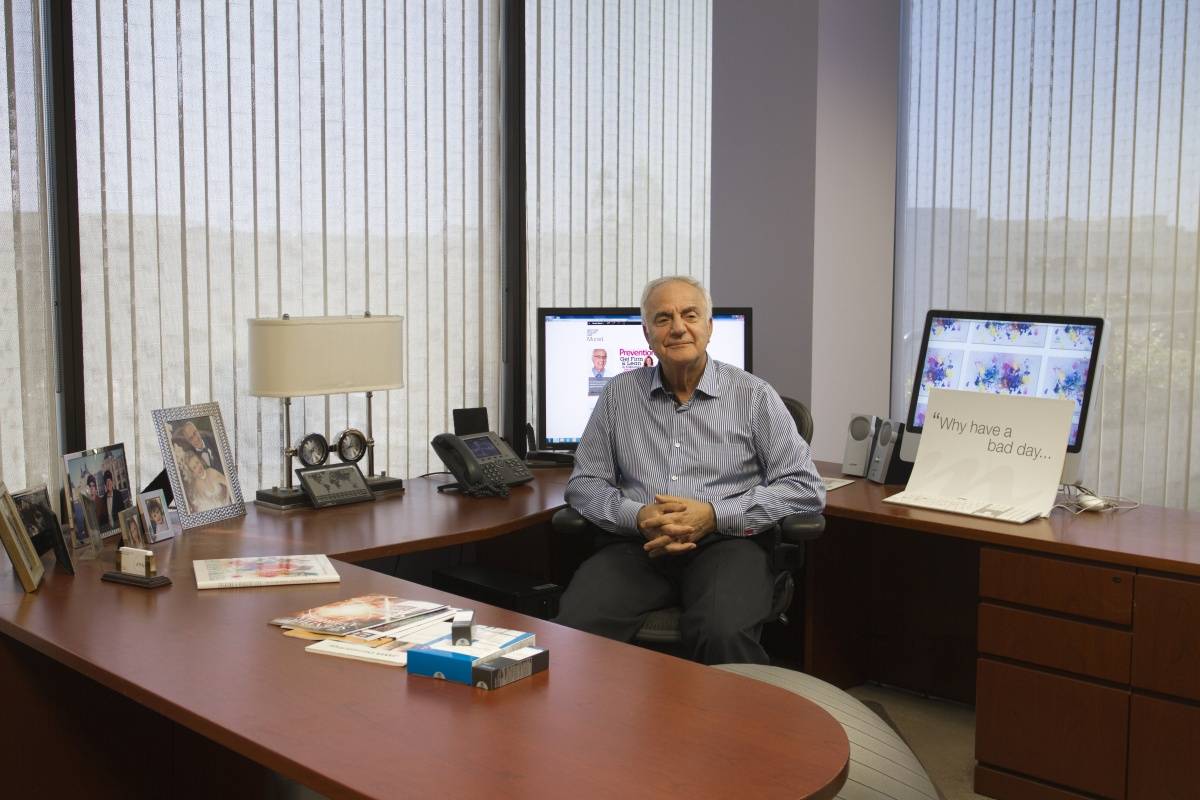 Ever wonder what the most powerful leaders, business execs and celebrities keep on their desks? Well, we're about to tell you. Our weekly "What's on My Desk" feature will take a look inside the offices and at the desks of the world's most influential power players.
This week we've featured the desk of Howard Murad, M.D., FAAD, the founder of Murad, Inc.  Dr. Murad is well known in the beauty world: he is a leading visionary for his scientific innovations and founder of the Inclusive Health movement, which focuses on three facets – Living Better through proper nutrition, Looking Better with the use of efficacious topical products and Feeling Better through stress reduction and emotional care. His mission and passion is to help people unlock their potential to look younger, to feel younger and to live healthier, happier and more rewarding lives. By sharing his scientific discovery of The Science of Cellular Water™, which identifies the common denominator of aging and illness as cellular water loss, he empowers people to achieve whole-body wellness, effortless weight management and freedom from stress—the keys to living well and aging well. Here is a peek at this skincare guru's desk, one of the places where his 'fountain of youth' magic happens.
1.     "Why have a bad day, when you can have a good day?" Insight Poster
Given the increasingly stressful pace of modern life, the emotional component of my Inclusive Health philosophy is often the most difficult to adopt. Thus, several years ago I began creating insights to share with my patients. These insights have helped many of my patients on their journey to finding happiness, which in turn improves their overall health along with the health of their skin. It's important to me that my employees always feel comfortable in my office and be inspired to live the Inclusive Health lifestyle, so I have this insight in a visible area for everyone to see. I also like glancing at it every so often – it inspires me as well. This particular insight, "Why have a bad day, when you can have a good day?" was the very first that I came up with so it's especially close to my heart and frankly, I want my employees to always be reminded to have a good day!
2. Pictures of My Family
I specifically have pictures of my wife, children, grandchildren and other members of my family because they're so important to me. My family has taught me many things and they help me find beauty and meaning in each day and every circumstance. They serve as constant reminders of the endurance and power of youth. I founded Murad as a family company and it's been that way ever since; these pictures remind me how very lucky I am to have them as my foundation. I always try to give that support back to my employees.
3.   Medical Journals
At any given time, I usually have a stack of 5-10 medical journals on my desk that I peruse daily. Medicine and technology are constantly evolving and intersecting and it's important that I'm aware of what's new and developing in the medical and dermatology landscapes.
4.  New Product Innovations
The core of my business is the product innovation and our New Product Development team which is led by my son, Jeff Murad. We are constantly trying to come up with new technologies to suit our consumer's needs while also improving on our current formulas. Right now, I'm particularly proud of our recent Acne brand launches, Acne Spot Fast Fix and Acne Clearing Solution. The technology is really cutting edge and the claims are strong.
5.  My Book, Creating A Healthy Life
I've written several books and have been proud of them all; this one, however, was much more personal than the others that I've written. Creating A Healthy Life is a collection of my insights and my passions, a book about my art and what inspires me. I always keep it on my desk as a sort of reference to my personal mantras in life that have led to my success. The book serves as a constant reminder about why and how I've come this far.
6.  My World Clock
We're in over 35 markets globally and I'm constantly on the phone and email with our partners and distributors worldwide. I keep this my desk at all times so I don't accidentally call someone in the middle of the night. A good night sleep is essential!
Like Haute Living Los Angeles? Join our Facebook page or follow us on Twitter @HauteLivingMag.
Subscribe to discover the best kept secrets in your city