Like most women, Molly Sims loves to shop. But it isn't just a love of designer duds that had the philanthropist and former supermodel clamoring to co-host Los Angeles' Super Saturday extravaganza: it was the lure of doing something charitable with the added bonus of spending time with pal Rachel Zoe.
Super Saturday, the Ovarian Cancer Research Fund's annual day of designer shopping in the Hamptons, has been a must for affluent East Coasters since its inception in 1994. To celebrate the OCRF's 20th anniversary, event founders Donna Karan and Liz Tilberis decided to duplicate their "Rolls Royce of garage sales" on the West Coast. Sims, for one, couldn't be happier about the decision. "I think it should be bi-coastal every year," she enthuses with just a hint of her native Kentuckian drawl. "There are people who always want to go and have the opportunity to help, but can't physically be there. This gives them that chance.
"I've been going for almost ten years now off and on. It's an amazing charity and it means a lot to me," the stunner continues. "You have a great time; you get to eat, shop, drink and shop again. I've gotten so many things there over the years, from jewelry to bags to outwear. Everyone gives—Marc Jacobs, Donna Karan, Calvin Klein. It's definitely a fun day for women. Give us a drink and great clothes, and we're all set."
It isn't just the easy access to luxury labels like Verace, Cosabella, James Perse, Trina Turk, Twelfth Street by Cynthia Vincent and David Meister that makes Super Saturday so worthy: it is the reason behind the day of revelry that is truly important to Sims. Though she has been lucky enough not to have lost someone to or been diagnosed with ovarian cancer herself, Sims is nevertheless a strong advocate for the cause. "I think it's so important. It's everything," she declares earnestly. "If you have a mother, a sister, a girlfriend, a niece, it's important that you make those girls get in [to see a doctor]. If you find it early, you can catch it. It's so hidden that by the time you catch it, it can already be at stage four. In my eyes, anything I can do to raise awareness is worth it."
Super Saturday does much more than raise awareness for the organization: it raises funds. Over the course of its 15+ year history, the event has raised a substantial amount for the Ovarian Cancer Research Fund; its 2013 event alone raised $3.7 million. It is also a day for families: fashionable tots got an early push on the industry at the LA event with the Stitched Fashion Camp courtesy of designer Rob Younkers and Elle's Creative Director Joe Zee, while more worldly fashionistas picked up style tips from Decades founder Cameron Silver.
The event also gave Sims the opportunity to spend time with Zoe, one of her best gal pals. Super Saturday is the second event the ladies have hosted in recent months: they also partnered to co-host Baby2Baby's annual gala in April. "Rachel is a really good friend of mine; she's been my stylist for almost seven years," says Sims. "When [the OCRF] asked Rachel and I and our husbands to do it [Scott Stuber and Rodger Berman, respectively] we jumped at the chance. As friends, we see eye to eye on many things. [We are similar] as moms, but also as philanthropists. We both think it's a necessity to give back."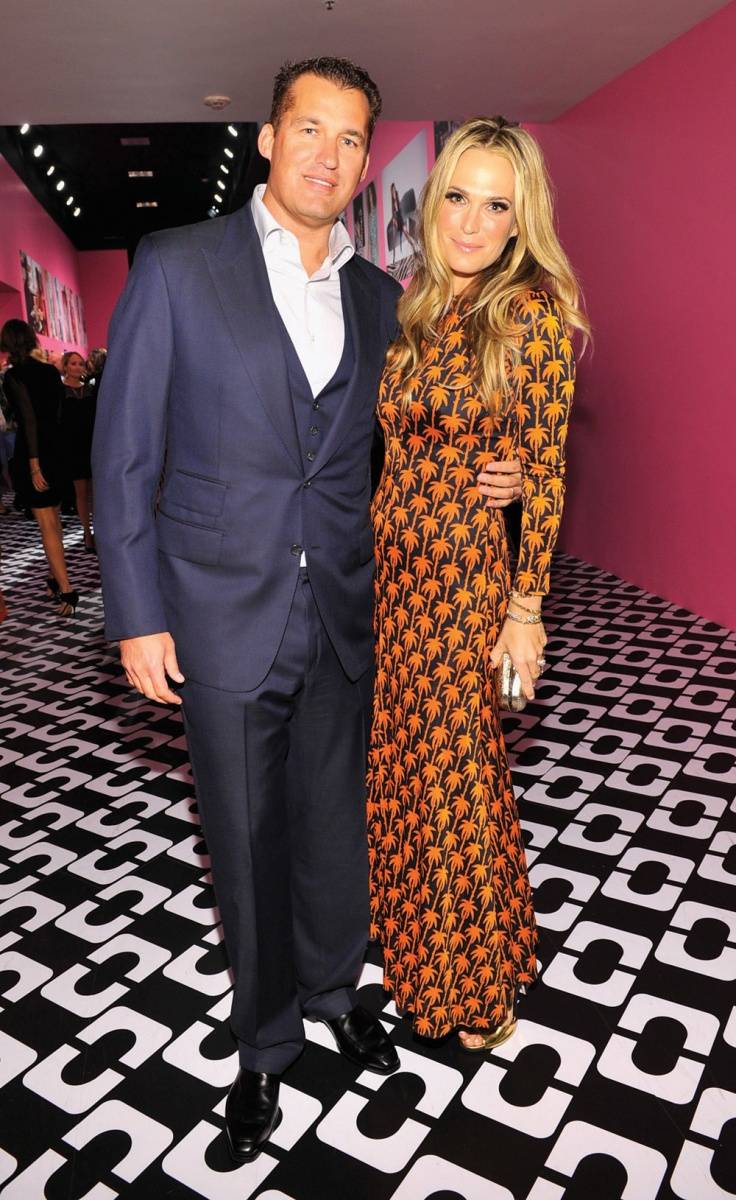 When she isn't focused on charitable pursuits, Sims is hardly being idle. In addition to whirlwind trips to Mexico and Manhattan, she's working on her latest book, "The Everyday Supermodel: Tips, Tricks, and Trade Secrets for a Happier, Healthier, More Stylish You" – a how-to guide being published by HarperCollins that she is co-writing with Tracy O'Connor which is slated for a 2015 release.
While her current artistic focus is the book, Sims does confess that one day she'd like to try her hand at designing again, as her 2010 accessories collection, Grayce by Molly Sims, was such a hit. It's just a matter of finding the right project—and the time. "A big company asked me to do an apparel line of core pieces—I'm a big fan of core pieces—last year," she reveals. "[As for the future], we'll see."
Given that she's acted in both films and television shows and that she happens to be married to a producer, [husband Scott Stuber is responsible for blockbusters such as A Million Ways to Die in the West, Ted and The Internship], it's only a matter of time before Sims tackles another entertainment industry project. But now that she has a family—she gave birth to son Brooks in June of 2012 – the timing has to be right.
"My husband is a great producer, and he's always asking me to look at material. I always tell him, 'I read this book, you should try to get this book,' but [my next project] has to be the right thing. I miss acting, but until I find a show that shoots here or in New York, I won't do it. I can't take something that shoots in North Carolina or Vancouver. I have a family and a life," she says.
Sims also wants to be able to enjoy life in Los Angeles, the city she loves so much, and to be able to focus on her truest love: her family. The lovely, philanthropic Sims definitely has much more love to give, and is hoping to increase her tiny family unit as soon as possible. She says with a smile, "We're trying [for more children] as we speak."