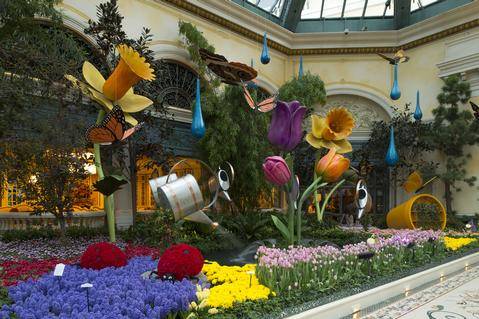 The weather around the country may still be a bit unpredictable, but springtime has officially sprung inside Bellagio's Conservatory & Botanical Gardens, where it's always a pleasant 68.4 degrees. The spring display brings a bounty of more than 8,200 flowers of vibrant colors and floral creations now through May 11.
Among the thousands of flowers including tulips, daffodils and lilies, guests will encounter a 45-foot-tall Cherry Blossom tree with a wooden stage nestled in the branches for nightly musical performances. Visitors are invited to stroll through the winding pathway of the oversized tree where koi fish below can be viewed up close on two monitors with live underwater feeds. Forty oversized raindrops sprinkle spring showers throughout the garden overhead.
Guests will be entranced by the sight of more than 800 live butterflies fluttering inside the 36-foot-long greenhouse located in the East Garden. The butterfly species on display originate from around the world including Costa Rica, the Philippines and Kenya. The perimeter of the greenhouse is adorned with an assortment of yellow, pink and white flowers filling out this lush garden.
The North Garden boasts an explosion of color as five aluminum watering cans stream into a pond below as 14-foot-tall multicolored tulips and 22-foot-tall yellow daffodils bloom nearby. Fresh flowers complement the oversized flora creating a storybook setting. Two floral ladybugs embellished in red carnations rest throughout the Garden and 50 butterflies, made from organic materials including green crushed Manzanita leaves, orange carrot flakes, lentils, radishes and rice, flutter overhead.
Flowers in the South Garden peer up at a 22-foot-tall neon green gardening shovel and oversized hand-painted flower pots. Two caterpillars wiggle around a performance stage, the second in the Conservatory, through rows of shrubs including gardenias, hibiscus and bougainvillea. Eight-foot long caterpillars, covered in colored moss and hand-painted faces, greet guests visiting this garden.
In conjunction with the Bellagio Gallery of Fine Art's new exhibit "Painting Women," the Conservatory has created a floral interpretation of Polly Thayer's "My Childhood Trees" with 1,200 mixed flowers. Located in the Giardini corner, the recreated painting is fitted within a 6-foot-tall elaborately carved frame.
The spring display within Bellagio's Conservatory & Botanical Gardens is complimentary to the public and open daily, 24 hours a day.
Click on the photos below to enlarge.
Like Haute Living Las Vegas? Join our Facebook page or follow us on Twitter. Want Haute Living Las Vegas delivered to your in box once a week? Sign up for our newsletter.
Subscribe to discover the best kept secrets in your city