London is currently in love with American cuisine.  Five Guys, Jackson & Rye, Shake Shack and Steam & Rye – a quartet of American themed restaurants – all set up shop in the capital late last year.
Brooklyn Bowl – a veritable pleasure-dome of food, drink, music and yes as the name suggest, pins – opened in the 02 Arena in January 2014. Joining Brooklyn Bowl as one of this year's hottest openings is  Big Easy Bar.B.Q & Crabshack which will open in Maiden Lane (Covent Garden) later this month.
Taking inspiration from its King's Road sibling, Big Easy v 2.0 will offer a serious evolution of the beloved 'crabshack' in a more urban West End setting.
The site has a formidable history: it's located in a former electrical power station built in 1883, owned by the Gatti Brothers and first used to light their own restaurant, 'The Adelaide' on the Strand. On the back of their success in the electricity business , the Gattis' then formed the Charing Cross & Strand Electricity Supply Company and the site went on to power the first bright lights of the West End. The interior will honour the building's original heritage, retaining many authentic features, such as copper conduits, brickwork, and steel and concrete girders, complemented by industrial lighting. Exposed timber beams and lots of Big Easy appeal – neon lobsters, Americana and nautical touches should add to the charm.
A central feature will be the nine metre theatre-style kitchen situated on the lower ground floor. Focus will be on a 'wall of fire', comprising two, 2.5 metre Argentinean-style parilla charcoal grills as well as a two-metre rotisserie spit that will roast whole hogs, and a huge 2.5 metre wood burning oven. A dedicated Bar.B.Q pit area will house two, 1.5 tonne J&R wood burning smokers imported from Texas where meats will all be freshly smoked on the premises using a variety of woods, including Oak, Hickory, Apple and Cherry, for up to 18 hours to impart their unique flavours.  Diners can keep an eye on what has just come out of the smoker via the restaurant's website and social media.
The menu itself promises to be based around the finest Bar.B.Q pork and beef cuts, rare-breed British steaks and freshest local seafood.  In addition, carefully sourced beef including Wagyu and USDA and traditional-breed pork will be showcased together with what Big Easy is also renowned for – the very best and freshest lobsters. The lobsters will be sourced all year round from Nova Scotia for their consistency, flavour and quality. A specially designed 1500kg lobster tank has been constructed on the premises to house almost 2,000 live lobsters.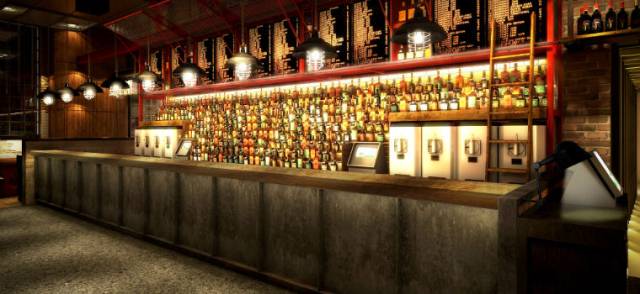 Big Easy Covent Garden are getting serious about their drinks offering too: situated on the ground floor, will be a jaw-dropping, nine-metre bar, boasting over 500 bottles on nine levels with a focus on domestic and imported premium and American whiskeys, as well as rare tequila, rum, liquor and French and Spanish brandy. Imported, purpose built cocktail machines will dispense frozen Margaritas and other well loved cocktails as well as Manhattans and Old Fashioneds on tap. The bar list will also include 'Boozy Juices' and milkshakes with an alcoholic twist and a great list of craft beers including exclusive brews on tap.
Big Easy founder, Paul Corrett, comments: "As London's love of Bar.B.Q, lobsters and steaks continues, I am absolutely thrilled to offer the evolution of the Big Easy to Covent Garden. No-one in London is cooking with wood and charcoal in such an unprecedented way. Fresh Bar.B.Q straight from the smoker is the holy grail for Bar.B.Q aficionados and we are aiming to provide local residents, workers and visitors alike, with the most comprehensive genuine, quality US style Bar.B.Q and seafood dining experience in the UK. This will truly be a return to extravagant social dining of a bygone age, with great food, drinks and music, in a relaxed, vibrant and unforgettable setting."
Subscribe to discover the best kept secrets in your city