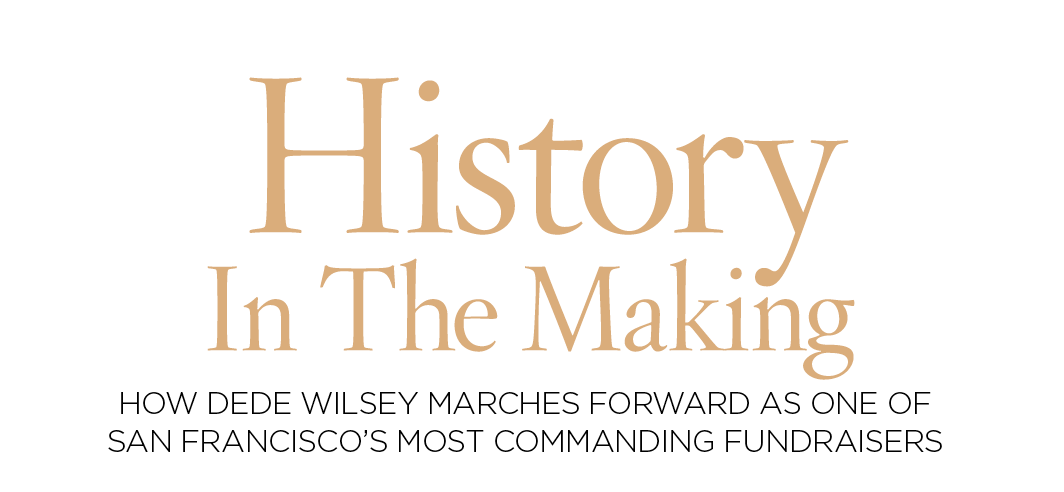 hat is the secret to living a truly rich life?  The answer, according to Diane "Dede" Wilsey, is simple: "It's all about giving back." To Wilsey, a renowned philanthropist, powerhouse fundraiser and President of the Fine Arts Museums of San Francisco, charity isn't something to be taken lightly. She has helped to raise almost $450 million for philanthropic projects over the past 30 years, including the $190 million campaign to rebuild the earthquake-damaged M.H. de Young Memorial Museum in 2005, which was the largest privately funded cultural gift ever given to the city of San Francisco. In 2007, when UCSF Medical Center needed help raising $600 million for their $1.68 billion dollar hospital complex, it was Wilsey they called.  There is a secret to her success, of course, but one that she's willing to share. "The real secret, deep down, is that it's very hard to ask for large sums of money if you aren't a big donor yourself," she says.
By her own estimation, Wilsey donates to roughly 150 causes each year, many of which are artistic organizations such as the Asian Art Museum or the San Francisco Museum of Modern Art.  She also sits on an assortment of boards, including those of Grace Cathedral, the San Francisco Opera and the San Francisco Ballet. While the renowned philanthropist has been successful in raising funds from most, she's frustrated that she hasn't been able to convince the new wave of Silicon Valley's tech billionaires to make charitable donations. "They're not wealthy in the way that you can write a check, not in the conventional way. Some of them have such instant wealth, but they don't realize that they're wealthy. To know you're wealthy is to know that you can give money away. We all sit around banging our heads against the wall trying to get them interested," she admits, though is quick to add, "I do think they're supporting good things; I'm aware that they're interested in our children and science type of things."
She references Facebook CEO and co-founder Mark Zuckerberg's recent near $1 billion donation to the Silicon Valley Community Foundation. "He really took the time to decide what is important to him," Wilsey praises. "We're sorry it wasn't the Fine Art Museums, but that's what he wanted to do, and it was sincere."  It's only natural that she would lament the loss of Zuckerberg's contribution at the FAMSF, as she was re-elected as its President last year, marking her sixth consecutive term since 1998.  It's no surprise that Wilsey devotes herself to the arts, as she was raised from birth to have an appreciation for the finer things in life. Her great-grandfather, Herbert Henry Dow, was the founder of Dow Chemical.  Her father, Wiley T. Buchanan Jr., was U.S. Ambassador to Luxemburg and Austria, as well as White House Chief of Protocol under Dwight Eisenhower.  "There was sort of a gang of us – The Nixon girls, the Johnson girls, the ambassadors had children – everyone knew each other. In those days, you didn't care what political party you were." According to Wilsey, it was perfectly normal for her parents to have traveled around the world with the likes of Queen Elizabeth, and return home to a political dinnertime discussion. "I heard stories about all these great leaders and that's what we talked about at dinner," she says.
It was childhood summers spent in Europe with her family where her appreciation for the arts truly blossomed. "My parents were great antique shoppers, and visited flea market in Paris every weekend. My sister and I were always taken around to museums, antique shops, flea markets and galleries," she recalls. "I thought 'Those are the things I want to have around me when I grow up.'" She favors the luxurious, such as gowns by the likes of Carolina Herrera, Valentino and "dear friend" Oscar de la Renta, though admits she rarely has time to shop these days. "My life is a business life, it's not a frivolous life," she maintains. 
Wilsey's proudest achievement is that she and ex-husband John Traina raised their sons to have a similar respect for philanthropy. Trevor is the founder of IfOnly, a company that marries special experiences with fundraising efforts for non-profit organizations, while Todd is a film producer. "I think that they've done a good job. They're very different, equally successful, equally smart, people of great integrity.  Both married wonderful girls with families I just love," she says proudly. Though her life sounds fairytale perfect, trust that not everything is roses for Wilsey. In recent years, she has faced harsh criticism from the likes of former donors and anonymous ex-employees who have accused her of advancing her own agenda as President. "If I thought it was well-founded, I would listen to it," she says of her naysayers, noting, "I think that we have the most wonderful and loyal staff and trustees, and I haven't heard that from them in 15 years."
Instead of focusing on negativity, Wilsey is now concentrating on her major task for 2014: raising $400 million more for the 2015 opening of the UCSF hospital.  She also has big plans to introduce Colin Bailey, the newly appointed director of the Fine Arts Museums of San Francisco, to the community.  Though she jokes that she dreams of "doing absolutely nothing", she realizes catching up on magazines and smelling the roses is less important than the good she's doing in her community. Says Wilsey, "I'm raising money, I'm building buildings, and I'm trying to do things that make peoples' lives better."
Subscribe to discover the best kept secrets in your city