Sex is a common theme in the arts. It's hard to flip through a magazine, turn on a television show or sit through a play without reading, hearing or watching the adult deed. But insects having sex, well, that's a whole new beast, or rather, bee. Perhaps that's the very reason that art-house luminary, Isabella Rossellini, has devoted the last several years of her career illustrating the surprisingly kinky and confounding mating rituals of insects and marine life in her celebrated Sundance Channel series, Green Porno.
"My films were meant to be comical," Rossellini tells Haute Living. "I wanted two reactions: the first one to be a laugh, and the second, for people to say, 'Oh I didn't know that.' But the first thing is to really laugh at them." With day-glow costumes, paper puppets and sultry subject matter, it's hard not to laugh as Rossellini prances around describing the reproductive habits of hamsters, worms and the like in scientific detail. "I bounce ideas off of scientific consultants to make sure that my science is always correct," she explains. But sometimes, Rossellini needs help of a different kind. "The costumes are sometimes very cumbersome," she admits. "My producer, Jody Shapiro, often helps me with directing because sometimes I need another eye. It's very difficult for me to move when I wear costumes, so sometimes I need a hand behind the camera to establish the frame."
In addition to becoming an award-winning web sensation, the 61-year-old actress, model, writer and director—and daughter of Ingrid Bergman and Roberto Rossellini—recently went back to school to earn a master's degree in animal behavior. After reading a book about the so-called self-sacrificing nature of all females by biologist Marlene Zuk, Rossellini was inspired to create a different film series called Mammas, which examines maternal instinct and various ways of parenting. "When you look at females of different species, it [the readiness to self-sacrifice] is not something that you can say characterizes all females," she reveals. When asked if she drew inspiration from the relationship with her own mother, the Oscar-winning star of Casablanca, Rossellini is quick to respond. "No, it's biology," she firmly asserts. "I cannot write Mammas about a worm and think of Ingrid Bergman. It's too far away."
But Rossellini has received plenty of inspiration from a different Oscar winner—Robert Redford. "He has always been very involved with alternative films. He believes that diversity is the richness of America and it should be continued," she divulges. "There is less money available for alternative films so there is less availability of them. We created a whole structure that is quite extraordinary to encourage it. Robert was very influential for all the independent films, so I benefitted from it." In a mission to keep evolving like her beloved biology, Rossellini adapted her web series for the stage. In January, she hopes to wow New Yorkers with a two-week run of Green Porno at the Brooklyn Academy of Music. "I've written it with an incredible screenwriter from France named Jean-Claude Carrière. "It's very similar in the sense that it's comical, but it goes much deeper into biology."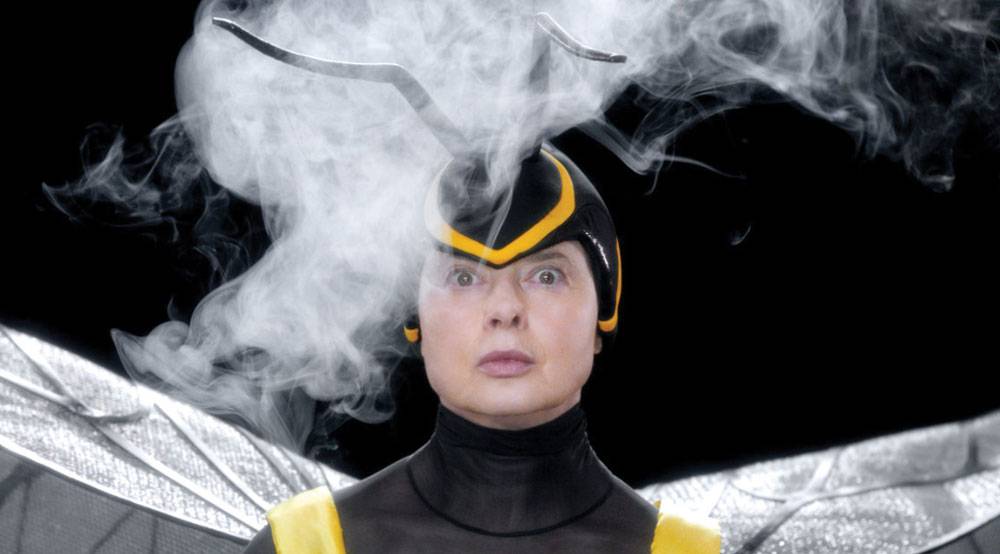 When Rossellini isn't focusing on the reproductive habits of wildlife, the Long Island native fights to save land from development and reestablish agricultural traditions in her area. "I've bought about 30 acres from a developer and did a conservation and organic farming," she discloses. "It's not as satisfying to simply donate money or go to conferences because you cannot really be fully involved.  It's so much more wonderful when you do it yourself." Rossellini also takes a hands-on approach to her work with the Guide Dog Foundation for the Blind. "I raise one puppy every year," she states proudly. The puppy is raised and trained by me and then it goes back to the foundation where they have specialized trainers who can evaluate the talents of the dog and work with them for another six months."
While the idea of getting attached to a dog only to part with it a short time later seems heartbreaking, Rossellini says that she has kept in touch with all the people her dogs are serving. "Just today I was contacted by a blind person whose dog is now eight and maybe has another year in him because the dog is getting old and slowing down too much," she reveals. "He asked if I would adopt the dog when he is retired because he cannot keep two dogs in his house. So the dogs that I raised as puppies come back to me when they are old to die at my place. They live the last few years of their life in my garden." And with Rossellini and her wacky world of biology, what a weird, wonderful life it must be.