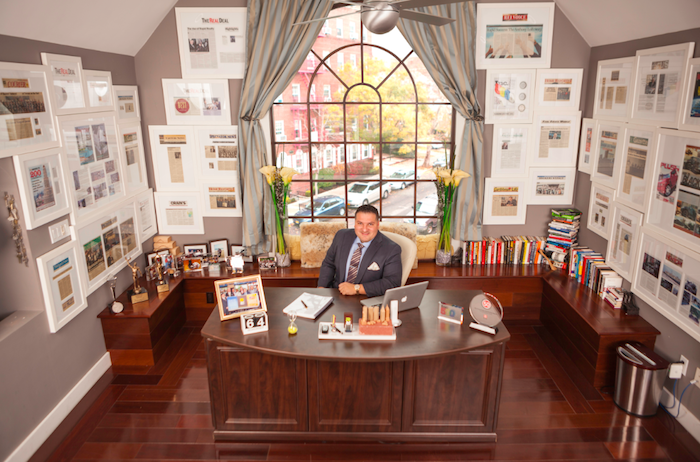 Anthony Lolli is the CEO of Rapid Realty NYC, the largest real estate rental brokerage in New York. Boasting 64 locations nationwide, Rapid Realty NYC distinguishes itself by specializing in both residential and commercial rentals.
Lolli has appeared on more than 2,000 media outlets worldwide, including his weekly segment on Fox Business News. Additionally, he just received the Silver Stevie award for Executive of the Year, the Golden Bridge Award for Entrepreneur of the Year and the Future 50 Award from Smart CEO Magazine.
Here is what he keeps on his desk to stay inspired:
Photo from an event I organized with Operation Warrior Wellness
Giving back is an important part of who I am and an integral part of the culture at Rapid Realty. One of the issues that's closest to my heart is veterans' affairs. When my father was 17, he lied about his age so he could enlist in the Navy during WWII. His experiences in the military shaped his entire life. OWW is a wonderful organization dedicated to helping veterans overcome the devastating effects of PTSD. It's so important that we honor our nation's veterans, whether it's by creating job opportunities for them or by supporting organizations like these that ensure they have access to the care they deserve.
Store Counter
I use this to mark each new Rapid Realty franchise. We've grown so quickly since we started franchising just four years ago. We're already up to 64 locations and counting. The feeling of satisfaction I get every time I add another number to that counter never gets old. Looks like I'm going to have to get a bigger one soon!

The Inc. 5000 Award and the Franchise Business Review's Franchisee Satisfaction Award
These two go hand in hand. One recognizes Rapid Realty's incredible growth and the other recognizes the quality of our franchising program and how happy our franchisees are to be a part of our team. It's not enough for a company to grow; it has to grow well. Looking at these awards reminds me of everything Rapid Realty has accomplished and keeps me motivated to never stop improving.
A brick from the first property I ever owned
Today I have more than a dozen investment properties, but this brick reminds me of how it all began. I spent every cent I owned on that first property, and renovated it with my own two hands. I never imagined where it would lead me.
Two keys
If there's two things I love, it's cars and travel. On my desk, I always have two keys—one is for my Rolls-Royce Ghost, which has been featured in music videos and fashion shoots. I'm always driving all over the city, so when you're in New York, keep an eye out for a big, white car with the vanity plate "Mr. Lolli." It's not exactly easy to miss. The other key is for my getaway pad in Ecuador. I'm half Ecuadorian, and I love going there to relax any chance I get. To be honest, I don't get there as often as I'd like, but having the key on my desk reminds me that part of being successful is having the freedom to take a little time to get away from it all.