"Flags from the Old Regime" is the second exhibition of Peter Doherty in Paris. His first exhibition "The Art of Albion" took place at the Galerie Chappe in Paris in 2008. His works were also exhibited in London at the Cob Gallery, "On Blood", in 2012. "Flags from the Old Regime" is an itinerant exhibition that will go to Moscow in January 2014 and then in Barcelona in March 2014. Exhibition will be on view at the Espace Djam, 32, rue du Moulin Joly, 75011 Paris, from the November 22nd to the December 8th 2013. Geraldine Beigbeder curated this incredible exhibition in collaboration with "Connus mais Connus".
When I was asked to write about Peter's works I was a bit confused at first. I mostly heard about him as a musician, a writer, a poet. I wasn't really familiar with his work as a painter, a visual artist. Since then I got the chance to discover another part of him and I clearly became a huge fan.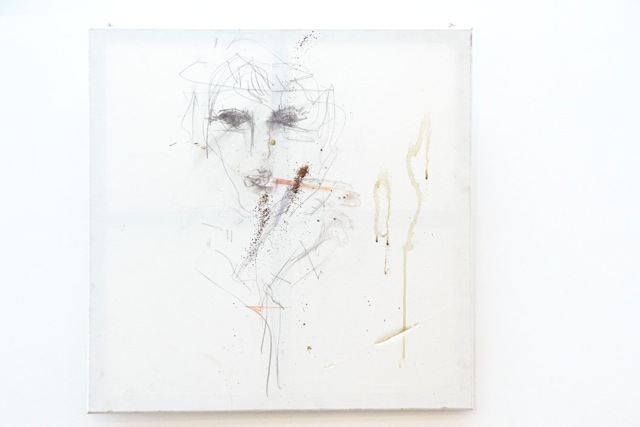 My first thought when I had a look at his work for the first time was that it kind of reminded me some of Basquiat's works. Regarding a purely analytical point of view Peter's ones are kind of messy; characters and unidentified shadows wander on the canvas without any clue of space or time; red, brown, black are the main colors used; there is no particular light source; one doesn't know where and when scenes take place. No foreground or background. Also words, numbers, and everyday life objects complete this apocalyptic vision. Apocalyptic because subjects are often linked to religion and mysticism. One of my favorite works figures Jesus Christ standing right in the middle of the canvas.
It is like if he wanted to put all the ideas that crosses his mind on the canvas in the same time and without following a predefined order. Peter is well-known for having a tortured soul, using any kind of support to express himself, mixing together either words and figures. Also one said that after his rehab Basquiat was unable to produce any "good work". Very often drugs, alcohol, pills, are taken because one doesn't know how to act in our world, how to find a place among other human beings. Artificial paradises can help in a way. One get lost in the maze of the nightlife and one wears a mask supposed to protect againts others. His mind, his soul, seem to be inhabited by a multitude of different personnalities. As if he couldn't stop thinking all the time. In this way his work would be the perfect representation of what's happening in his mind.
Regarding his technique I was told it's outrageous he uses his own blood to create his art. Well he is not the first one to do it. Marina Abramovic, the grandmother of body art as she likes to be called, cut herself to draw a star on her belly during one of her performances. Balkan Baroque, another performance realized in 1997 and for which she won the Lion d'Or at the Venice Biennale, shows her in the middle of liturgies of ossuaries of blood and flesh. Her body is a place of sacrifice. Also Marc Quinn's most controversial work, Self 1991, is described by the artist as a 'frozen moment on lifesupport' and carefully maintained in a refregirated unit. For those who may don't know he basically frozed his own blood – 4.5 litres taken over a period of five years – to create a self-portrait. His point is to hep the viewer to realize how fragile is our lives. And finally one remembers the scandal occured by Piss Christ, a work made by Andres Serrano in 1987. The work belongs to a series of works which objects, such as the cross used for Piss Christ, are submerged in bodily fluids (blood, urine…).
He takes his inspiration from Albion, his hometown, Paris, where he lives and works now, Saint Jean and the Apocalypse, Dorian Gray, among many others different subjects. He is influenced by his own destiny. His works are violent, provocative, free, and poetic in the same time. Intertextuality could be the commond thread of his work and his life: in his musique, in his writing, and in his paintings, drawings. He is haunted by the death of iconic idols such like Marilyn Monroe and Amy Winehouse. One of his autoportraits figures himself without his head like if he was a ghost. Chaos is at the center of his work and elements, letters spring up his work.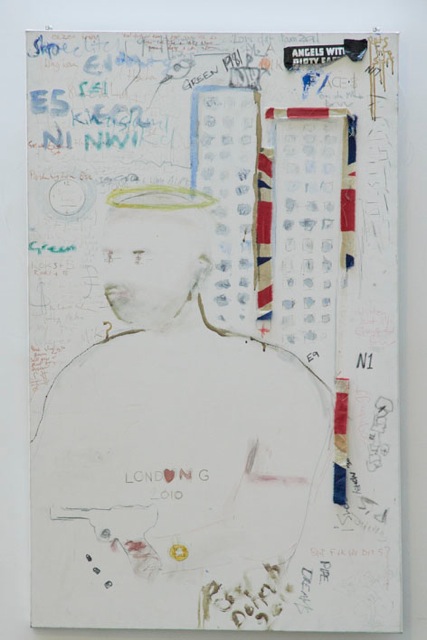 Angels with Dirty faces -Peter Doherty - 122x75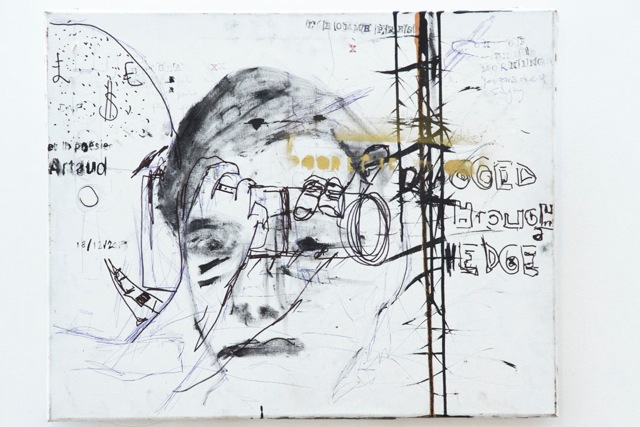 L'homme pressé - Peter Doherty - 76x61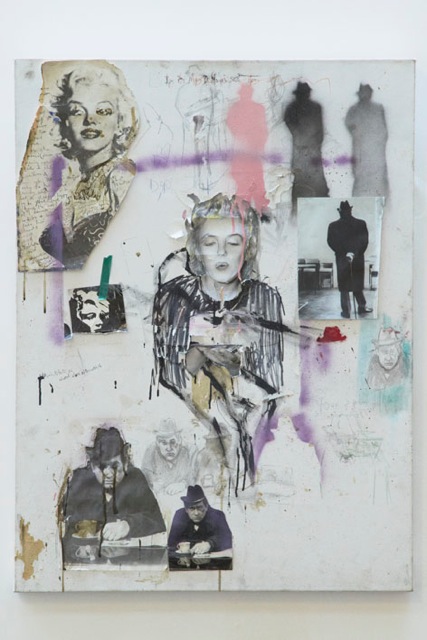 Marylin, Maggio&Hancock - Peter Doherty& Alizé Meurisse - 101x76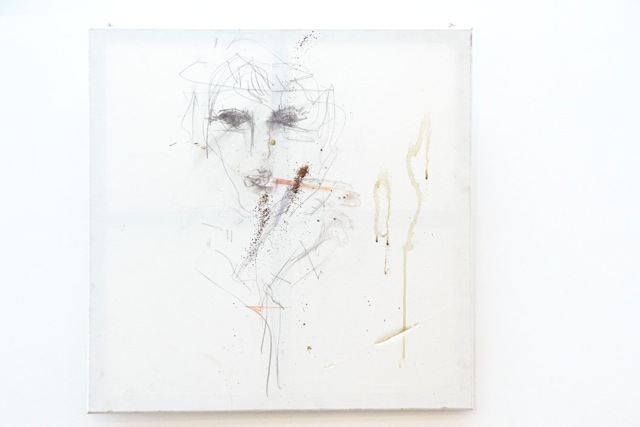 Self portrait - Face full of her - Peter Doherty - 101x76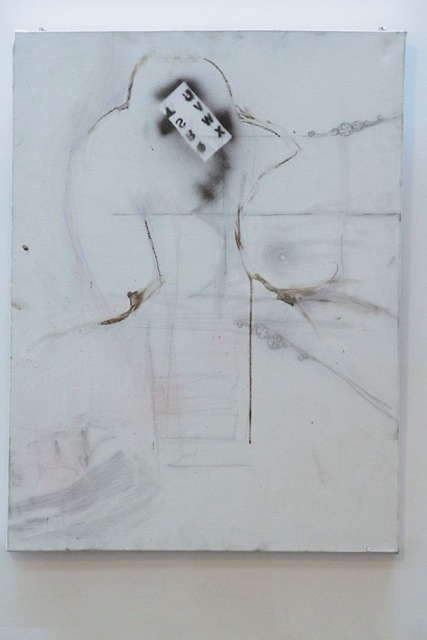 Self portrait - Face full of her - Peter Doherty
Peter Doherty_Crédit Guy Yuhyuk