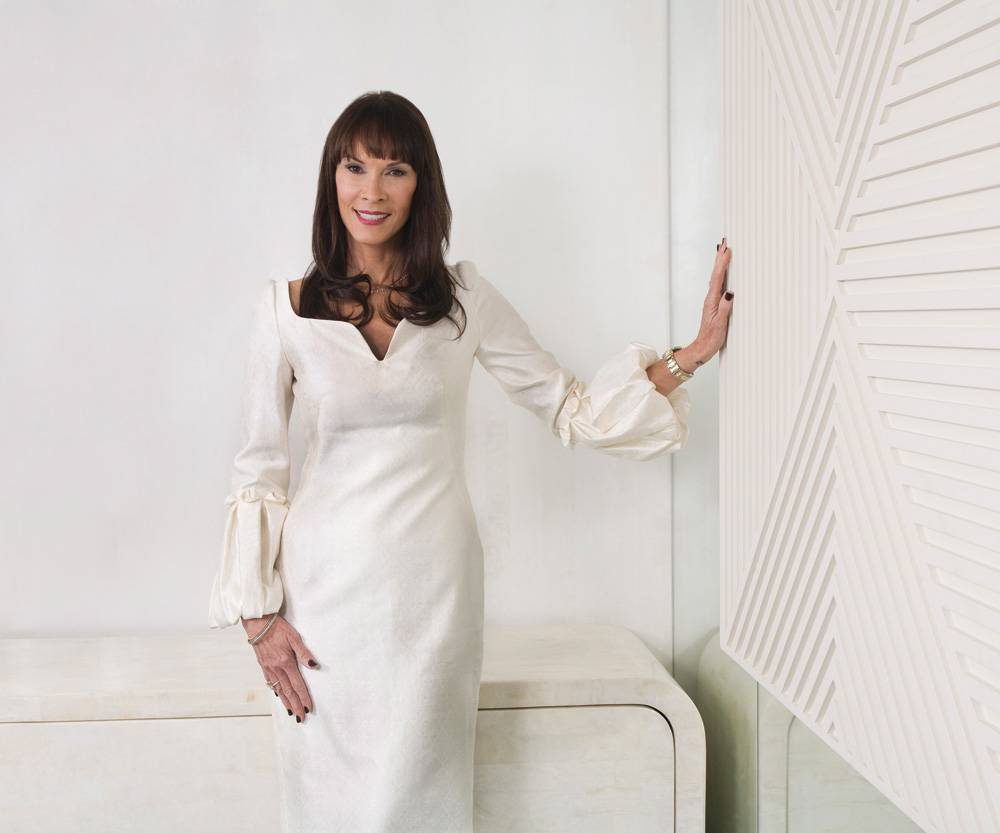 Cheryl Saban is feeling festive. It is Halloween, and she is pleased with her decision to break away from her predictable witch costume and instead, morph into a sushi chef. "It was a last-minute random costume with things I found in the basement. My husband and I are sushi freaks; he's been working with Japanese cartoons for over 30 years,' the 62-year-old Saban explains, adding with a laugh, "Plus, I have great geisha shoes."
Really, Saban should have considered going as Wonder Woman especially as the DC Comics heroine is so close to her own real-life persona that it's very nearly her alter ego. Both fight for justice, love, peace and sexual equality. They differ in that Saban prefers elegant Alexander McQueen creations to revealing star-spangled cat suits and capes.
A perfect example of her ability to do everything effortlessly  is that she manages to sound so insouciant after having hosted a star-studded fundraiser for Terry McAuliffe's Virginia gubernatorial campaign at her Beverly Hills compound just one day prior. But then again, throwing a party, even one that started at $15,000 per plate and was attended by Harvey Weinstein and headliner Hillary Clinton is small potatoes to Saban. After all, she is not only a world-renowned philanthropist and women's rights activist, but is a former Obama-appointed United Nations Special Ambassador, an author, PH.D. psychologist and founder of the Women's Self-Worth Foundation, which provides micro-financing programs to women in the U.S. and Israel. She is a force to be reckoned with.
Saban is so influential that she has been asked to moderate a panel of fellow dominant women at Angella Nazarian and Beth Friedman's inaugural Los Angeles WOMEN A.R.E. summit Nov. 7, and she couldn't be happier to be surrounded by proactive peers like Abigail Disney, Sharon Stone, Wallis Annenberg and Barbara Guggenheim. "When women want to get together to talk about doing good things, I think that's spectacular," Saban says. "I'm very grateful to all the women who are willing to step out of their very comfortable lives to make a difference." This includes Saban herself. She has made it her priority to give back to the organizations that she has a personal connection to, of which include the Marc & Jane Nathanson Mental Health Resource Center at UCLA, the Los Angeles Rape Center, Plan International, Women for Women International and the Women's Funding Network; she also sits on the board of Trustees of Children's Hospital Los Angeles and the Los Angeles Free Clinic.
"All of us have the ability to do something," she says. "I came from very moderate means, as did my husband [billionaire media mogul and Democratic political party donor Haim Saban]. We pulled our lives together by our own blood, sweat and tears. I often say that I learned things in the school of hard knocks. I was always an advocate for women having a seat at the table, a bigger voice, because I thought it was taken away from me. I was raped when I was 18 and I was treated so badly by the police that I carried away a really deep wound."Saban is stating a fact and there is no hint of lingering emotion behind her words. She is indomitable: her past has not broken her – she is stronger because of it. With this strength comes a conviction that she must give back to those who have helped her.
"The reason that we give to the free clinic is because I needed to go there one time myself. A lot of the things [Haim and I] do have a personal connection. I'm very involved with the Children's Hospital because I once had to take my daughter there; they were so good to her. When I had the opportunity to give them something, I gave big because of my personal connection". She adds, "Not everyone can give monetarily, but they can give something of themselves. We need women to be inspired to do things." Saban herself is both inspired and admires fellow power women like former Paramount Pictures CEO Sherry Lansing, ImpreMedia, LLC CEO Monica Lozano, UN Women's Lakshmi Puri, the Walt Disney Company's Anne Sweeney and media magnate Arianna Huffington. It is, of course, dear friend Hillary Clinton who tops Saban's list of heroes. "[Hillary] has been a friend for a long time. She's a champion for women; she's brilliant," Saban praises.
She finds Clinton so amazing, in fact, that it is her hope that her friend will once again enter the presidential race in 2016. "All of us who adore her hope [she'll run]," Saban says, though she is loath to speak on Hillary's behalf. "I can't answer that question [as to whether she'll run] for her; it wouldn't be fair – she's not answering that question. Do I think she would be an amazing president? Yes. I think she has earned it. She has a wealth of information about how the world works; she's been around this planet. She's dealt with complicated issues and different cultures. She's proven that she's able to communicate with all different groups. She's a tough negotiator. All I can say is that I'll be right there throwing my hat in the ring."
Until that day, Saban will continue to focus on her philanthropic endeavors, her continued fight for women's rights, supporting our current president, Barack Obama (whom she also is hosting a fundraiser for at her home this November), her family and her husband, the love of her life. "It's a luxury to have a long-term loving relationship," she says. "[Haim and I] love each other madly. We kiss and hug and touch each other all the time. We can't go without it. I feel blessed to have a good, tight-knit family and strong friendships: those things you cannot buy with any amount of money. If you don't have them, you suffer. Haim and I will do everything in our power to keep that part of our lives precious. Anything else is not an option."
Subscribe to discover the best kept secrets in your city