This year's SF Chefs festivities topped the charts. From cooking demos to the kick-off party to the Grand Tasting and high-octane after-parties, SF Chefs celebrated their fifth anniversary in superb form.
Haute Living had an insiders glimpse into just about every type of event that this festival had to offer!  This year's festivities included additional events from years past, making SF Chefs now an eight-day extravaganza that ran from July 28 – August 4.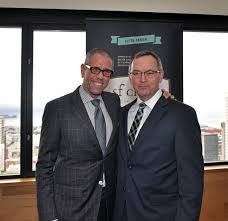 The official SF Chefs kick-off party was held at America's Cup Pavillion's Club 72 where guests were treated to small bites and beverages complemented by stunning views of the bay in stylish surroundings.
From the moment that the Grand Tasting Tent was erected on August 2, the energy and enthusiasm undoubtedly felt on one of San Francisco's trademark settings – Union Square.  The Tent, an epicurean paradise, was filled from end to end with mouthwatering tastes from the city's most coveted restaurants, innovative handcrafted cocktails prepared by top mixologists and premier wines and beers from an esteemed collection of wineries and breweries.
The Grand Tasting Tent wound down Friday evening, but the party didn't stop there. E&O Asian Kitchen and Chef Sharon Nahm hosted Rollin' with the Red Carpet: San Francisco Magazine's Best Chefs After-Party, a chance to celebrate the best chefs in San Francisco Magazine's food issue.
The celebration was hoping with house music while guests danced into the wee hours of the morning, enjoying fine wines, signature cocktails and late night nibbles inspired by the Best Chefs.
Bright and early Saturday morning the cooking demonstrations and select panels began to run at various locations around Union Square. The Westin St. Francis hosted Chef Sean Brock of McCrady's Husk Charleston and Husk Nashville and Michael Tusk of Cotogna and Quince Regional Devotion, which was presented by the American Lamb Board.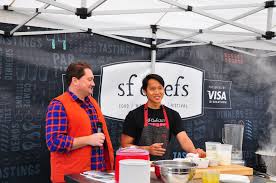 None other than Emmy Award-Winning Broadcaster and Bay Area favorite, Liam Mayclem of CBS 5's "Eye on the Bay" and "Foodie Chap" on KCBS, hosted the brilliant cooking demonstration.
Both chefs provided background cooking tips and information on their experiences and knowledge, which stem from recipes and knowledge passed down from family to visiting various foodie and non-foodie type spots, such as Brock's travels to Africa.
Tusk who is inspired by Italian and French cuisine, demonstrated how to create beautiful pasta that would stand up to the heartiness of the lamb by using dough that has a larger portion of semolina to make it a robust dish.
Brock demonstrated some of the exotic techniques he accrued from his travels to West Africa, where he researched popular dishes such as, jambalaya and gumbo mixed with his roots in rural Virginia. After explaining some of the unique methods the West African's use to maintain self-sustaining practices, he proceeded to illustrate how to use some of the rare ingredients he brought back to the USA to enhance the dishes and their flavors.
The Grand Hyatt hosted a superb Editor's Panel: Inside the American Restaurant Scene, which consisted of a marvelous group of food writers and editors including Kim Severson, The New York Times, Tom Sietsema, The Washington Post, Margo True of Sunset, and Miriam Morgan of the The San Francisco Chronicle. Andrew Freeman moderated the lively discussion which covered the panel's culinary passion and impressions on the American dining scene, creating a personal connection with the readers and the community.
The much-anticipated Decadence After Dark, The Menu is in the Music took place Saturday night in the Grand Tasting Tent. The SF Chefs created ample innovative bites, which were inspired by their favorite tunes and bands. Between the live music, fine wines, delicious cocktails and impeccably prepared food, there was enormous buzz that kept the energy going until the tent closed for the evening.
Once the Grand Tasting Tent festivities wound down Saturday night, Bluestem Brasserie and chef Francis Hogan hosted the Late Night Luxury: The After Party, which was co-sponsored by Celebrity Cruises. Guests danced the night away to "Yacht Rock" and indulged on Washington state wines and delectable bites provided by Shakewell Bar & Kitchen, Tacolicious, Puccini & Pinetti, and Stock in Trade.
This special opportunity of such incredible talent in one open forum was truly a remarkable experience and a definite highlight of SF Chefs 2013.
What a perfect way to close out the weekend's events!
[Reported by Darren Anderson]
Like Haute Living San Francisco? Join our Facebook page or follow us on Twitter @HauteLivingSF. Want Haute Living San Francisco delivered to your inbox once a week? Sign up for our newsletter.
Subscribe to discover the best kept secrets in your city