For some, life insurance may evoke feelings of apprehension and uncertainty. However, Howard Kaye, with his eponymous Boca Raton based life insurance agency, Howard Kaye Insurance Agency, LLC, looks at it from a refreshingly different financial perspective. Kaye illustrates to his clients that life insurance is an essential part of a financial portfolio and should be viewed as such.
Kaye is a second-generation insurance broker as he followed in the footsteps of his father, Barry, who was in the life insurance business for five decades.  The elder Kaye revolutionized his business with popular infomercials early in his carrer. The younger Kaye says of his father: "He's probably written more on the subject of life insurance than anyone else in the country. He really paved his own way and created all these strategies that are common today. He brought his entertainment background and combined it with the substance of life insurance. He was the first person to  create estate-planning seminars and infomercials."
Howard stresses how life insurance can be an important part of a financial portfolio. He has a personalized approach that shows the importance of making arrangements that benefit one's brood for years to come. "I'm into the use of insurance as an asset of a portfolio. I look at it purely as money. If I have to die, my family might as well get paid for it. That's been our mantra over the years. "
  "i'm into the use of  insurance as an asset of the portfolio. i look at it purely as money. if you have to die, your family might as well get paid for it. that's been our mantra over the years."
To his high-end clientele, Kaye  emphasizes the importance of  buying life insurance to offset estate tax costs in addition to showing people how to create their inheritance with his   401-Kaye Plan.
arry's legacy and Howard's hard work has created a lot of wealth for Kaye. After all, the Kaye family have always been some of their own best customers. The wealth they have created has allowed the younger Kaye to become a patron and philanthropist. Kaye organized "Fedstock" at Mizner Park Amphitheatre, a two-day event that helped benefit the Jewish Federation, where Kaye also served on the Executive Board. He has also been involved with the Museum of Contemporary Art (MOCA) in North Miami. "I sponsored their 15th anniversary exhibition," he says. He also helps other people become patrons  and involved with philanthropic endeavors too.
"We show clients how to create wealth for their own private foundations," says Kaye. One of his goals is to help create large endowments for charitable orgainizations all over America through the use of life insurance. What's next, aside from a wedding, for the recently engaged Kaye? Expanding the nationally recognized agency's reputation.  Kaye is seeking widespread, national coverage on television as well as other media: "My goal is to eliminate misconceptions about life insurance and get the message across that life insurance is just money and should be a part of every diversified portfolio."
For more information about Howard Kaye, visit his site at: www.howardkayeinsurance.com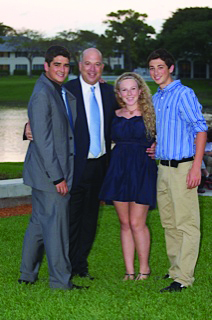 Subscribe to discover the best kept secrets in your city