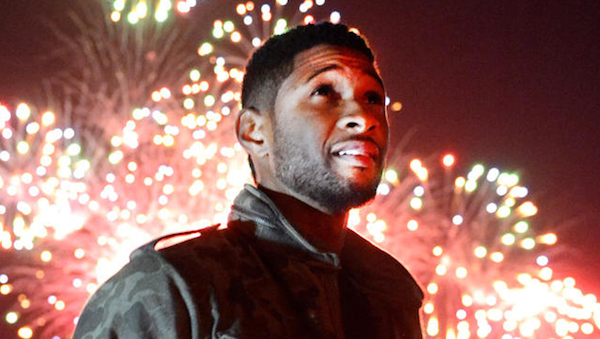 Tomorrow evening, Macy's will release more than 40,000 shells over New York City as part of the country's largest fireworks display. But that's not all! For the first time in the event's 37-year history, the retail giant is working with eight-time Grammy Award winner, Usher, to create a soundtrack for the summer spectacle.
"And this year, truly one of the most magnificent things we've ever done, is our first-time-ever collaboration with an outside artist on the soundtrack for the show," Amy Kule, the executive producer of the show, told the New York Daily News. "This is the very first time we took that creative piece and put it into the hands of someone else."
As the event's celebrity curator, Usher helped design posters and also worked with Pyro Spectaculars by Souza to create new pyrotechnic effects — including a beating heart. "The shells burst in the shape of a heart, then burst again. This happens three or four times, and it looks like a beating heart," Kule added. "It's really dynamic."
The fireworks will begin at 9 PM. Tune to 1010 WINS AM or Z-100 FM to hear Usher's synchronized soundtrack.
Subscribe to discover the best kept secrets in your city