The tents have already come down, and parties are packed up. The 31st Food & Wine Classic wrapped up yesterday in Aspen, but there will be chatter and stories for weeks to come. Here are some of the weekend's notable people and events:
Patron popsicles and ice cream served in the central courtyard of the Grand Tasting each day kept hot attendees cool, with the pineapple-cilantro flavor being surprisingly refreshing. On Friday night, the tequila brand hosted a Patron Lab at Above the Salt.

Oysters, oysters everywhere. From Thomas Keller's ice bar at the Best New Chefs dinner on Saturday night to seminars called "Oysters 10 Ways" and a late-night oyster and caviar party at The Little Nell, the salty seafood was everywhere.
Latin countries made quite the splash, with Peru and Mexico both hosting large tasting tables and private off-site events. On Sunday, the Mexico station served a grilled swordfish over fresh veggies during the Grand Tasting, and a Peru party on Friday treated guests to Amazonian fish lettuce wraps and pisco sours.
Susan Feniger's "Global Vegetarian" seminar on Saturday afternoon called for a variety of unique ingredients, including fresh turmeric, tamarind, black salt homemade simple syrup.
A "Food & Wine" marquee sign atop Aspen Mountain greeted guests going to the Best New Chefs dinner on Saturday and made for a picturesque photo background. Celebrating the 25th anniversary of the award, party-goers were treated to Cajun grain and Chappapeela Farms duckling rice bowls, mirliton kimchee and slow-cooked duck eggs by John Besh (1999 BNC); housemade charcuterie by Daniel Boulud (1998 BNC); rotisserie lamb ssam by David Chang (2006 BNC); Thomas Keller's ice bar (1988 BNC); and Robert McCormick's ramp and wagyu ravioli, mushroom flan and pickled porcini.
Guests to the Sky Hotel's party on Saturday night drank Veuve Clicquot in matching orange champagne flutes while being entertained by fire dancers around the pool. On Sunday, Sailor Jerry served "Not Your Grandma's Pina Coladas."
Jim Meehan and Kate Krader's tips for cocktail parties included batching drinks for entertaining large groups, and serving them in fun dispensers like teacups and mason jars.
Aspen 82's rooftop parties on the top of the $22 million Motherlode building gave guests one of the best vistas of the weekend: a bird's eye view of the Grand Tasting tents in Wagner Park.
2013-06-14 05.25.59
Teacup cocktails.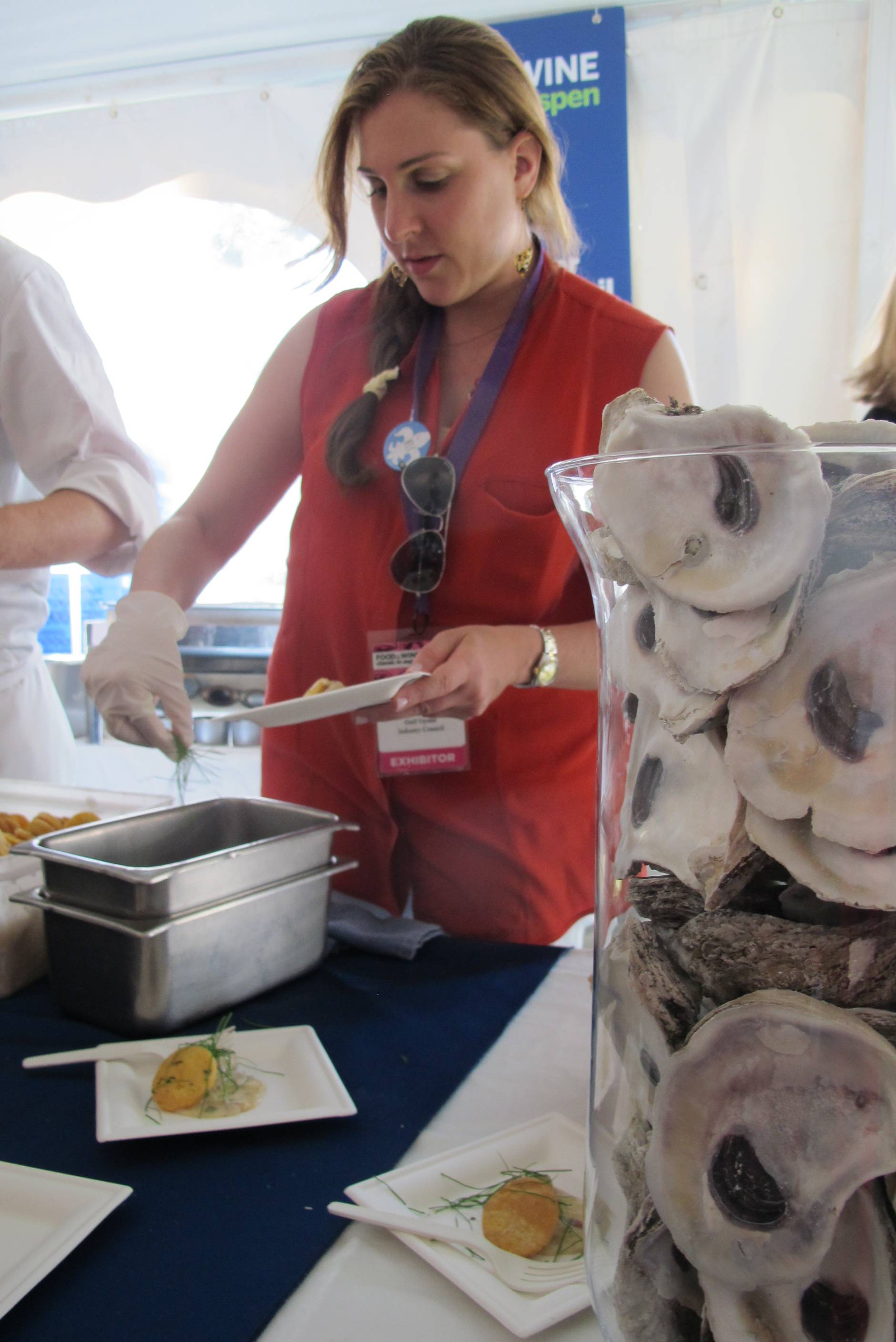 2013-06-14 06.26.52
Oysters galore at the 31st Food & Wine Classic in Aspen.
2013-06-14 07.01.36
Susan Feniger, Ming Tsai and Jose Andres pop bubbly at the Grand Tasting.
2013-06-14 08.15.15
Peruvian cocktails served at Jimmy's Restaurant & Bar.
2013-06-15 05.18.35
Chef Susan Feniger spills secrets about making Indian street food.
2013-06-15 10.06.36
The Food & Wine marquee outside the Best New Chefs dinner on top of Aspen Mountain Saturday night.
2013-06-15 10.33.45
Rotisserie lamb ssam prepared by David Chang (not pictured).
2013-06-15 10.53.48
Thomas Keller, Best New Chef from 1988, mans the ice bar at the Sundeck on Aspen Mountain.