Banksy, the beloved English street artist who rose to worldwide recognition after the hit documentary Exit Through the Gift Shop, will have two pieces of his art auctioned this weekend by Fine Art Auctions in Miami.
But the how the owners came to possess the pieces has come into question. Banksy's art, which often involves social issues and commentary, is painted on walls in public spaces and intended by the artist to be accessible to everyone. Even though he's been able to keep his identity (mostly) under wraps, he hasn't been able to keep his art where he put it. His meteoric rise to fame in the art world and skyrocketing values has caused some people to remove and resell them, even if that means taking a chunk of building it was painted on with them.
That was the case with "Slave Labor," which was gauged out of a wall of a London shop, and was reported missing on Sunday Feb. 17. The owners of the shop said Banksy had done the piece as a gift to the neighborhood. Now they feel it has been stolen, but the line is blurry. The art collector who now owns the piece disagrees, claiming that "everything is above board." But British Councilor, Alan Strickland, is urging a protest, "Banksy gave our community the painting for free. Someone has taken it and plans to make a huge amount for themselves."
While "Slave Labor" is still in England, it will be auctioned here, in Miami by its new owner. The other piece in question is titled "Wet Dog," which appeared at Art Miami's Context Art Fair where 55,000 people came to see the place during Miami Art Week. The work was not for sale and was exhibited as part of a private collection. It is still here in Miami.
The expected price for the works is somewhere between $500,000 and $700,000 respectively. Previews for the auction which includes over 100 works by prominent artists such as Andy Warhol, Christo and Purvis Young, start February 19 and run through the 22, with the auction is taking place on Saturday, Feb. 23rd at 3:00 p.m. Fine Art Auctions is located at 350 NW 29th St. Visit the website or call 305.573.4228 for more information.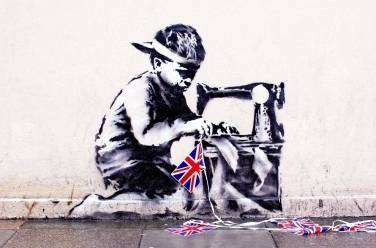 Subscribe to discover the best kept secrets in your city