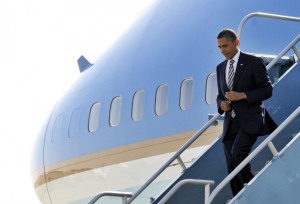 Image: sanfrancisco.cbslocal.com
President Barack Obama was back in San Francisco on Wednesday and spent around four hours mingling with officials and supporters at the airport before heading to campaign events throughout the city and finally returning back to the airport.
Arriving at SFO aboard Air Force One, President Obama was et by San Francisco Maybe Ed Lee, numerous campaign volunteers and Lt. Gov. Gavin Newsom. This was the president's second trip to the Bay Area in two weeks.
President Obama attended two events in the Financial District of San Francisco including a luncheon at the Julia Morgan Ballroom at the Merchants Exchange. At one of the events, San Francisco Giants and baseball Hall of Famer Willie Mays introduced Obama and said he had "a great, great pride in Obama. It's just a wonderful feeling that I have in my heart. He's the man that we need to be in the White House."
President Obama said, "The American people are tough, and the tougher the times, the tougher they get. Because of the extra talents and gifts and the resilience of the American people, the administration has been able to create 43 million new jobs. We've been able to stabilize the situation, but we also understand that folks are still hurting out there. That's why in some ways, 2012 is even more important than 2008…we've got to finish what we started."
Source: Mercury News
Like Haute Living San Francisco? Join our Facebook page or follow us on Twitter @HauteLivingSF. Want Haute Living San Francisco delivered to your inbox once a week? Sign up for our newsletter.
Subscribe to discover the best kept secrets in your city