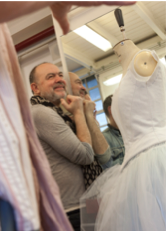 The Centre national du costume de scène et de la scénographie in Paris continues its collaboration with deisgner Christian Lacroix, following him into the heart of the Opéra national de Paris where he created the costumes for the ballet La Source.
These costumes embroidered with Swarovski crystals were worn on stage by the Paris Opera Ballet at the Palais Garnier in the autumn of 2011 and are presented in an exhibition organized by Christian Lacroix running June 16 to December 31, 2012.
The exhibition and the accompanying catalogue are an invitation to discover these costumes and accessories from their conception by the costume designer to their creation by the costume workshops at the Palais Garnier and finally to the staging of the ballet. Transported to the heart of the costume workshops at the Palais Garnier, the CNCS will reveal, room by room the different costumes of the characters in the ballet, retracing for each one the stages of development, technical research and artistic interest.
CHECK OUT  THE FULL ARTICLE ON HAUTEFASHIONDAILY.COM
Like Haute Fashion Daily? Check out our new facebook page
Subscribe to discover the best kept secrets in your city