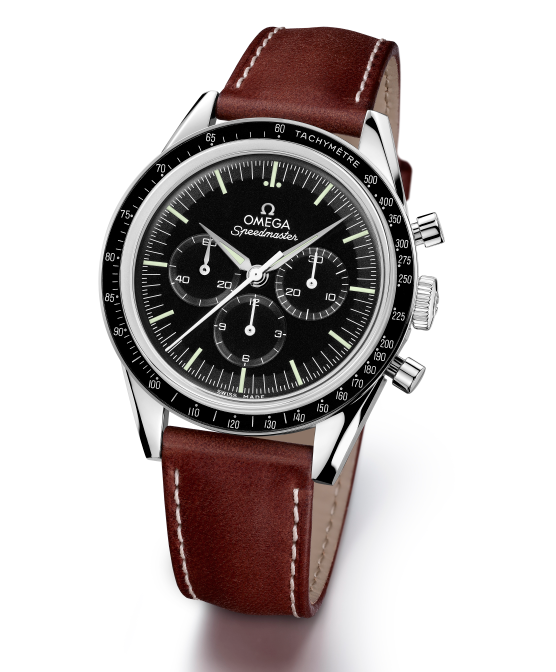 In watchmaking, it was the PR coup of the 20th century.  Omega's manually wound, steel cased chronograph, the Speedmaster, is world famous as the watch worn by the Apollo crews on all lunar missions –perhaps its most well known performance was during the dangerous return to Earth of the Lunar and Command Modules of the ill-fated Apollo 13 mission.  Crippled by an explosion in one of its oxygen tanks, the Command Module became uninhabitable and the crew was forced to use the attached Lunar Module as a lifeboat –and, without battery power for cockpit instruments (all onboard systems had been shut down to conserve power for re-entry) the crew was forced to use their Omega Speedmaster chronographs to time critical engine burns in order to keep the spacecraft in the proper course for re-entry.
Though the Speedmaster has been through many variations since it was worn by the Apollo crews, the basic model (known to aficionados as the "Moonwatch") is not only still in production, but in many respects unchanged –the original Speedmaster movement, the calibre 321, was modified and became the calibre 861/1861 but in 1972 the Speedmaster was re-certified by NASA for not only cockpit but also EVA (extra-vehicular activities –spacewalks, in other words) and remained in use by NASA crews flying the Space Shuttle.
Though the Speedmaster was officially certified by NASA for manned space flight in 1965 (after enduring torture tests that put other candidates out of the running) it flew into space for the first time three years earlier, with astronaut Wally Schirra, during the Mercury Atlas 8 mission of October 3rd, 1962.  The flight, at nine hours, was the longest so far for the fledgling America space program, which was still playing catch-up with the Soviets, whose Vostok 3 mission had, at four days, set a record for duration earlier that year.
READ THE FULL REVIEW ON HAUTETIME.COM
Like Haute Time? Join our Facebook page or follow us on Twitter @hautetime.
Subscribe to discover the best kept secrets in your city