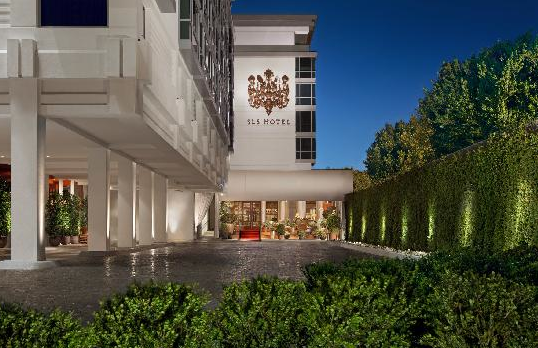 Earth Day is nearly here and the SLS Hotel at Beverly Hills has several green initiatives in motion to support the environment.
With the growing need for saving energy, and promoting healthier lifestyles, SLS Hotel at Beverly Hills is doing its part and working directly with local farmers for hand selecting products to create a more sustainable environment within the hotel. On Sunday, April 22nd, both The Bazaar by José Andrés and Tres restaurant will highlight some of the sustainable menu items. Tres will feature a pre fixe menu in addition to our regular dinner menu. The pre-fixe menu will include Brussel Sprouts Salad (lemon purée, apricots, grapes, lemon air), Troigross Brothers Salmon (Sorrel, spinach, dry vermouth sauce) and Cocconut Tapioca (passion fruit, mandarin sorbet).
"Make a Green Choice" is one of the hotel's newest initiatives, reducing water consumption, energy usage and assists in keeping chemicals out of the environment. Guests now have the option to 'decline' housekeeping service for one night (or more) and receive instead, 500 SPG Starpoints. By declining service for just one night, you can save 38 gallons of water, enough energy to run an energy star-rated laptop for 10 hours, enough energy to heat a 400 square foot room at 70degrees for 4 hours (when its's 10 degrees outside).
At the SLS Hotel at Beverly Hills you can also shop green. At its "shop without walls" Regalo, you can find WeWood Watches. Made of 100% natural wood, these high-tech timber timepiecs fill the forest as WeWood plants one tree for each watch sold. Watches start at $119.
Like Haute Living Los Angeles? Join our Facebook page or follow us on Twitter @HauteLivingLA. Want Haute Living Los Angeles delivered to your inbox once a week? Sign up for our newsletter.