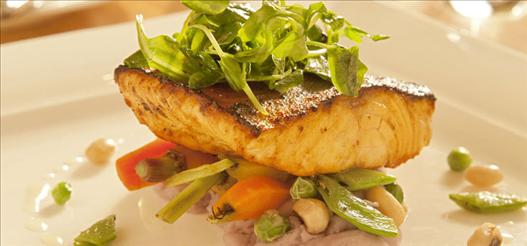 For those who want a little more than a standard room, The Fairmont San Francisco offers a unique Chef's Apprentice Package, allowing for a glimpse at the inner workings of a world-renown hotel and its stellar kitchen.
If you decide to experience The Fairmont San Francisco with the Chef's Apprentice Package, there are a few things that you can expect. First, your stay will be in one of the elegant tower suites that overlook San Francisco and the Bay. Every room is equipped with large, flat-screen televisions, Frette linen ensembles, pillow-top beds and MP3 docking stations. In addition to this, The Fairmont includes a welcome amenity of organic wine and delicious regional cheeses.
The Chef's Apprentice adventure begins in the early morning. Guests with the package are given the opportunity to go to the famous Ferry Building Farmers Market with Chef JW Foster. One of the advantages of taking the Chef's Apprentice Package is to get a firm understanding of how a professional Chef picks quality ingredients for his kitchen.
While on the tour of the Ferry Building Farmers Market, you will have the opportunity to speak with the farmers about their products and select local ingredients. These ingredients will then be showcased in a customized dinner prepared by the Chef. The dinner will take place in the Laurel Court Restaurant & Bar the evening of the market trip to ensure the freshest, best-tasting ingredients are used.
During the day, you will also be given the opportunity to participate in a champagne stroll with Chef JW Foster through the Fairmont's Epicurean Garden. This gives you the chance to view fresh herbs, vegetables, and see the honey beehives.
During your stay, you will also be given a gift from Chef Foster that includes a wide assortment of sustainable, gourmet treats from the local region as well as hand-harvested honey prepared by JW Foster. In order to facilitate the trip to the Ferry Building Farmers Market, The Fairmont is pleased to offer early check-in services to guests with the Chef's Apprentice Package.