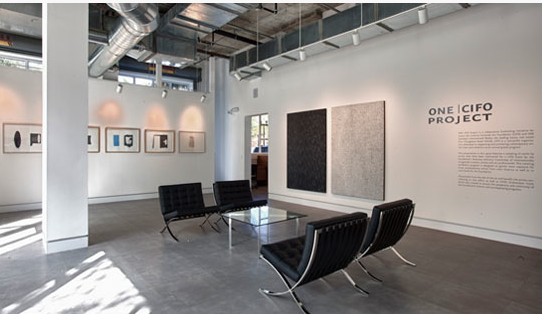 On Thursday January 12, ONE Sotheby's International Realty and the Cisneros Fontanals Art Foundation will host a special  event celebrating the launch the ONE CIFO Project.
Combining arts and culture with real estate their efforts raise funds the foundation, to further its mission to support emerging and mid-career artists from Latin America.
ONE Sotheby's International Realty launched the initiative at its new 6,000-square-foot, state-of-the-art branch in Miami Beach's South of Fifth neighborhood. In a unique allotment of space, 2,000 square feet is dedicated to a walk-in exhibition space displaying works by contemporary artists from Latin America that is available for purchase.   All proceeds will benefit the artists contributing to this initiative as well as CIFO's Endowment Fund, which was created to ensure the perpetuity and continuity of the foundation's mission and accompanying programs.
"I have always had a passion and strong connection with art," says Mayi de La Vega, founder and owner of ONE Sotheby's International Realty. "Together, Ella Cisneros and I will provide Latin American artists a unique opportunity to showcase their artwork and raise money for CIFO."
Artists on exhibi include Emilia Azcárate, Amalia Caputo, Eugenio Espinoza, Glexis Novoa and Jorge Pedro Nuñez.
The inaugural ceremony for ONE CIFO Project will take place Thursday at 5:30 pm at the offices located at 119 Washington Avenue.
For more information on ONE CIFO Project, please visit www.cifo.org and www.onesothebysrealty.com.