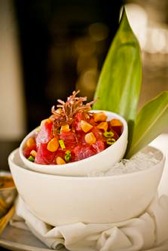 Want to learn how to make Prime 112's famous Hawaiian Tuna Poke? The steakhouse is sharing its secret recipe, step-by-step.
To prepare, Prime 112's Executive Chef Mike Sabin orders large quantities of the freshest Hawaiian Big Eye Tuna each week; in fact, this restaurant is the largest purchaser of the rare fish in the country.
To make the Hawaiian Tuna Poke, you will need to combine all of the ingredients listed below, except for nuts, limu and cucumber.
Slice cucumbers evenly and place them on the bottom of the serving bowls.
Place tuna mixture on top and garnish with nuts and limu.
Ingredients:
2 lbs. #1 grade Hawaiian Big Eye tuna, cut into bite-sized cubes
1/2 cup shoyu or soy sauce
3/4 cup green onions, chopped (tops too)
2 Tbs. sesame oil
1 Tbs. fresh grated ginger
1 chili pepper, cored, seeded, and chopped finely
Hawaiian sea salt, to taste
1 Tbs. toasted sesame seeds
1 Tbs. kukui nuts or macadamia nuts, toasted and chopped
1 cup fresh limu
1 cucumber, peeled, seeded, and julienned
For the ultimate presentation, the restaurant suggests that you serve it on ice in a small vibrant bowl atop a larger bowl.
Bon appétit!
Subscribe to discover the best kept secrets in your city