The worthiest watch in the case for bearing these responsibilities is the one you can't take your eyes off of.
People often ask me how to buy a watch. I represent the fourth generation of my family in the watch business, and I quite literally grew up among the display cases of Westime with frequent visits to the workshops of Switzerland's master watchmakers. Since watches are my past, my passion and my livelihood, I understand why I'm a good candidate for this seemingly simple question.
Before I offer an answer, my questioners take their own guesses. Should they analyze auction results to gauge the future value of a luxury watch? Would they be wise to buy from a manufacturer who has been in business for at least a century? Perhaps they should seek out proven quality and look for watches with certificates, seals and industry prizes? Or is it possible to sniff out a little-known brand today that will become the big hit of the watch world tomorrow?
All of these strategies make rational, logical sense, and are worthy considerations to take before buying a new high-end timepiece. But my answer is less about the head and more about the gut: buy what you love.
A timepiece silently conveys its owner's style and taste, is a machine with many uses, holds its value and delights the eye. The worthiest watch in the case for bearing these responsibilities is the one you can't take your eyes off of.
At Westime, we carry more than 50 different watch brands, from the most traditional and historic manufacturers to the independent geniuses who are turning watchmaking on its head. The ever-evolving selection ensures that our customers—however frequently they visit our stores—will always discover something new that captivates their hearts and minds. When it comes to attracting adoring gazes, the following five watches are the biggest head-turners in our stores today.
Greg Simonian
President, Westime
www.westime.com
Audemars Piguet: Royal Oak Offshore 44
Established in 1875, Audemars Piguet is the world's oldest watch company still in the hands of its founding families. Its impressive archival designs continue to inspire Audemars Piguet's present-day watchmakers, and a glance at its most iconic models shows a commitment to tradition and evolution. The eagerly awaited 44-mm Royal Oak Offshore is the perfect example of that philosophy. In 1972, Audemars Piguet introduced the Royal Oak, an octagon-shaped steel timepiece on a bracelet, a piece that became the first high end sports watch. Two decades later, the Royal Oak Offshore followed. This 42- mm chronograph—which maintained the design hallmarks of the Royal Oak—led the trend in increasingly large watches for men. Now, another 20 years later, the desire for big watches continues to build. The 44-mm case of the new Royal Oak Offshore makes it one powerful sports watch, but don't miss the impressive details: bezel and pushers of scratch-poof ceramic; a case of pink gold, forged carbon or steel; and an exceptionallypolished self-winding movement visible through a sapphire caseback.
De Bethune: DB28
Artisans Denis Flageollet and David Zanetta founded De Bethune just 10 years ago, but already their small yet extremely talented firm has attained stunning achievements in the watch industry. De Bethune, which operates a department committed to developing new technologies that will improve watchmaking and timekeeping, holds nine patent registrations for its inventions. And, last November, the brand earned the Watch of the Year award in the industry's answer to the Academy Awards: the Grand Prix d'Horlogerie. The winning watch is the DB28, and it epitomizes De Bethune's commitment to a contemporary aesthetic with taut lines, a slender case and exceptional hand finishing. Rest the round titanium watch on your wrist and its floating lugs immediately pivot to fit your own contours. A silvered dial frames a view of the hand-wound highly decorated movement, while a platinum and blued-steel spherical moon rotates in tandem with the moon in the sky to provide the perfect poetic touch.
Hublot: Big Bang
When Hublot emerged on the scene in 1980, the audacity of its timepiece resounded like an explosion in the watch industry. This upstart, whose watch bezels were designed like portholes (the meaning of hublot in French), was the first to pair its precious gold watch with a humble, natural rubber strap. What the world saw as a break from the norm Hublot defined as the "Art of Fusion." From that point onward, the company has continued to fuse the unexpected: gold with ceramic, tantalum with red gold, magnesium with titanium and even the philosophies of traditional watchmaking with 21st century technologies. In 2005, Hublot's Big Bang sent a new shockwave into the world by incorporating the traditional porthole details with a sporty case, chronograph and unusual colors and materials. Available in four sizes now, from 38 mm for women to the 48-mm "King," the Big Bang collection continues to bowl watch lovers over; NBA stars, World Cup champions and Formula 1 drivers included.
MB&F: Legacy Machine 1
Max Büsser, the mastermind of MB&F, defies standard corporate structures and instead assembles collectives of the most talented independent watchmakers and designers to craft a radical and original horological masterpiece every year. Since 2005, these talented groups of friends have produced "Horological Machines" that are wildly futuristic, bearing closer resemblance to a space ship, a jet engine, or a frog than a classic watch. Now, Busser has found the ultimate way to shock even his most devout followers: he presents his first traditionally round watch. The Legacy Machine 1 is the first in a line of timepieces from MB&F that pay homage to 19th century watchmaking by imagining the design of a futuristic watch as if it were being built in 1900. The LM1, designed by Kari Voutilainen with watchmaker Jean-François Mojon (winner of the Best Watchmaker Prize in 2010), incorporates two independently-operating time zone dials and a three-dimensional vertical power reserve indicator, all under a bubble sapphire dome to create the impression of a miniature sextant.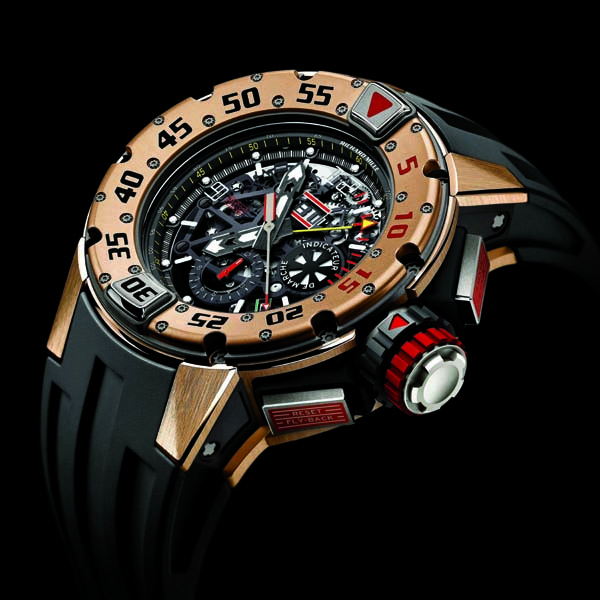 Richard Mille: RM 032 Chronograph Diver
When Richard Mille established his own company in 2001, he vowed to only create watches that pleased him—regardless of public opinion, the cost of manufacturing, or even the laws of nature, it seems. Mille's demands are high, and his teams of watchmakers often undertake years of development to perfect one watch model. But the resulting achievements—including the Innovation and Excellence Award last year for the lightest mechanical watch in the world, the RM 027— justify all the toil in the mountains of Switzerland. Richard Mille's RM 032 Chronograph Diver is not only impressive for what's inside, which includes a skeletonized automatic movement, flyback chronograph, annual calendar and oversize date. This 50-mm watch is encased in an engineering triumph. To prevent the pushers from engaging during a dive, Richard Mille invented a locking crown that secures the pushers and ensures water resistance to 300 meters. Similarly, the unidirectional rotating bezel has locking pushers for accurate dive time calculation. What does it take to produce one of these tripartite cases, available in titanium or red gold? Just nine hours of milling, eleven hours of machining and ten days of hand-brushing, polishing and quality control.
Subscribe to discover the best kept secrets in your city