With a 50 percent increase in participating galleries, this year will draw influential collectors, designers and critics form around the world.
Art Basel Miami Beach
Held at the Miami Beach Convention Center, Art Basel will showcase works by more than 2,000 artists of the 20th and 21st centuries. In honor of its 10th edition, a new collaboration with the Bass Museum of Art will transform Collins Park with unique artworks and performances by renowned artists and emerging talents. In addition, Art Video will be presented on the large-scale outdoor projection wall of the New World Center, designed by Frank Gehry. Throughout the fair, the world's most respected art dealers and galleries will offer exceptional pieces by both legendary artists and cutting-edge newcomers.
Fendi
This year, Fendi is back and has invited designer Elisa Strozyk and Sebastian Neeb to create this year's Design Performance project at Design Miami. The dreamlike installation centers on a series of antique furniture pieces inspired by Palazzo Fendi, the grand Neo-Classical building that houses Fendi's international headquarters, originally built in the 1700s. The furniture was created using Fendi discarded leather materials allowing the Fendi spirit to permeate the furnishings. The designers will extend this theme into the design of Design Miami's exclusive Collector's Lounge, hosted for the first time this year, by Fendi.
Design Miami/
The seventh edition of Design Miami will feature the world's leading galleries specializing in 20th and 21st century collectable design, adjacent to its sister fair, Art Basel Miami Beach. This year, the Designer of the Year award will go to London-based architect David Adjaye, who will present Genesis, his first large-scale work of architectural furniture for visitors to interact and decompress before entering and exiting the fair. With a 50 percent increase in participating galleries, this year will draw influential collectors, designers and critics form around the world. For the second year, W Magazine Editor-in-Chief Stefano Tonchi will moderate the Design Talks series. Major sponsors include Audi, the official automotive sponsor since 2006, Fendi and Swarovski Crystal Palace will unveil new design projects, as well as VeuveClicquot and Cappellini will continue their support with the 2011 show.
Anselm Reyle for Christian Dior
Prior to becoming a couturier, Christian Dior was actually a gallerist in Paris, making this first-time collaboration between Berlin-based artist Anselm Reyle and the House of Dior a rich one, joining the art world and vision of Dior Deputy General Manager, DelphineArnault. With the freedom to create a collection of accessories for Dior, Reyle played with colors and bold, freestyle interpretations. "I loved working on the Lady Dior handbag. Most of my work builds on objects that already exist, which I then transform. I applied the same philosophy," said Reyle. As for the characteristic Lady Dior Charms, they are accompanied by colored triangles, the artist's graphic signature. With contrasting topstitching against bright metallics, this collection is as lively and exciting as the pop-up store that will debut in Miami Nov 28th – Dec 10th at the Miami Design District and will be sold in select Dior stores globally beginning on January 7 through the end of March. Miami Design District, 191 NE 40th Street, Unit 101, (800) 929-DIOR.
Fondation Cartier pour l'art contemporain and Cartier present Beatriz Milhazes "Aquarium"
As partner of Art Basel for the past five years, Cartier is presenting Brazilian artist Beatriz Milhazes, who for Art Basel has imagined a singular work inspired by her canvases and collages, a mobile composed of pearls, precious and semi-precious stones. Crafted by the Ateliers Cartier, Aquarium is both a unique installation and a work of jewelry of unexpected dimensions, described as "intricate" and "overwhelming," inviting the spectator to contemplate an ideal purity. The space displaying the mobile is designed to resemble a jewel case and reveals the sculpture's finesse and surprising lightness.
The mobile will be hung at the Collins Building, 139 NE 39th Street (cross streets 39th and NE 1st Court) Miami, FL. Open to all holding Art Basel cards.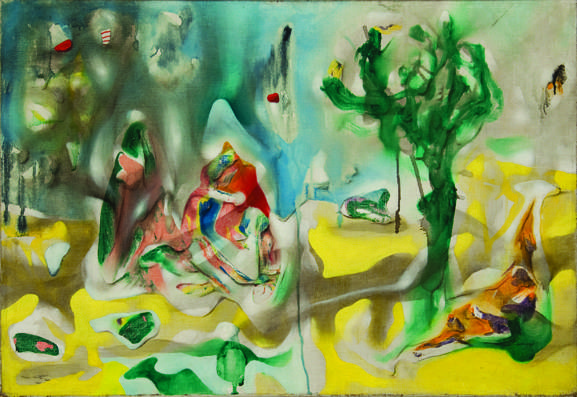 Gary Nader Auction and Private Dinner
The king of fine art in Miami, Gary Nader brings a bang to Basel with his first-ever auction house on December 1, featuring 150-200 lots of Modern and Contemporary fine art, with prices ranging from $50,000 to $5 million per lot. Think you're a big shot in the art world? Good luck scoring an exclusive invite to Nader's private 500-person VIP dinner, where the world's most prominent collectors will join and preview the exhibition on November 30. Offering pieces by artists such as Warhol, Hirst, Lam, Picasso, Botero and Lichtenstein, the auction will continue to expand its luxury market to offer cars, antiques and even wine, becoming Miami's first-ever full auction house and marking a major moment for the Miami and international art scene. As a response to Miami's affluent internationals, Nader continues to impress his Rolodex of impressive contacts and clientele. Gary Nader fine art, 62 N.E. 27 Street, Miami, FL.
Christie's Exhibition
Christies, the world's leading art business and fine arts auction house had global auction and private sales in the first half of 2011 that totaled $3.2 billion. Highlights from Christie's London Sale of Post-War and Contemporary Art will reside at the JW Marriott Marquis Miami, featuring a selection of extraordinary works of art to be offered on auction at Christie's London in February. JW Marriott Marquis Miami, 345 Avenue of the Americas, Miami, FL.
Eighth Annual Masters' Mystery Art Show
The 8th installment of Master's Mystery Art Show kicks off on November 30 at The Ritz-Carlton presenting original pieces of 6×9 Art created by top designers using T-shirts as their canvases to benefit Florida International University Masters in Fine Arts Program.
The mystery lies on the back of each piece, revealing the artist's signature only after the piece is purchased. As the only party of its kind during Art Basel, it is a coveted invitation and one of the most entertaining opening night parties. The show will be open to the public on December 1 only.
ELLE DECOR Showhouse at Paramount Bay
During Basel week, Miami's most prominent address will be a 43rd story, 10,000 square foot penthouse with 360 degree panoramic views at Paramount Bay when ELLE DECOR presents its second Showhouse designed by notable designers such as Juan Carlos Arcila-Duque, Vincenzo Avanzato and more. Each designer will use national and local brands to bring ELLE DECOR's signature style to life in the indoor and outdoor spaces. Proceeds from ticket sales benefit Design and Architecture Senior High (DASH), the Miami Design District-based magnet school for the design arts. The new condo development on Biscayne Bay will open December 2 though December 18 as an official satellite exhibit of Design Miami.
Subscribe to discover the best kept secrets in your city