Oh to be young again. Remember the countdown to sweet 16? to drive at 18? to drink at 21? To–oh wait, there's really no exciting age after that.
While many of us can vaguely recall our wild (and woohoo! legal!) debauchery of our 21st — soon to be 21 Austin Spivey, 20, of Santa Barbara, is making hers one to remember.
With tremendous support from family, friends, and total strangers across the country, the blonde beauty was able to conjure up Dream for 21, a fund to sponsor 21 final dreams for terminally ill adults through Dream Foundation, in honor of her milestone.
With her vigor, ferocity, huge heart, and her undoubted style– Austin teamed up with Dream to create a fashionable bracelet selling at–you guess it–$21, with ALL proceeds going to the cause.
I sat down with Austin to talk about her enormous efforts:
HL: What do you  hope to accomplish?
AS: I hope to enable 21 dreamers to live out their greatest wishes and inspire my fellow young adults to join me in the endeavor.
HL: What was your inspiration?
Every American dreams of turning 21 and celebrating that milestone. I had big ideas for how to celebrate my 21st this year, but when two of my peers were diagnosed with cancer, I started to think about all the people who were just focusing on surviving another year. Then my childhood classmate, and friend of 15 years, died at the age of 21. It was then I decided my 21st birthday should be used to grant someone else's wish; someone who might only get one last wish.
HL: How did one dream turn into twenty one?
AS: From my jewelry to my stilettos, I think BIG. I wanted my 21st birthday to make a big impact; not just on my friends, but on my entire generation. If I could inspire an entire nation of young adults to give, I could sponsor 21 dreams. And so was born Dream For 21.
HL: How are you raising the money for the fund?
AS: It was important to me that I do something that everyone my age could afford. For obvious reasons, I decided $21 was the amount. I needed 1,000 people to give $21. I had wanted to incorporate fashion into the idea from the beginning so I decided to produce a bracelet to sell for $21. However, I didnt want it to be something that people felt obligated to buy, but instead be something fun, fashionable and that people would really want to buy and wear. With the help of Dream Foundation, we created a unique piece to commemorate this goal.
HL: And what happens when you turn 21? Celebration I hope?
My plan is to sell all 1,000 (almost there! 900 sold already!!!) bracelets by my birthday on August 27th. Then, to put the icing on the cake and celebrate making my dream come true, I want to have a nightclub party in New York with a $21 cover charge. All the money raised at this event will go to making even more dreams come true through Dream Foundation and I will be one very happy 21-year-old.
Happy and accomplished for sure. To date, Austin has sold 900 bracelets and in incredible time. She has raised around $19,000 in less than a month. She already knocked down one dream, ironically enough–a 21st birthday! "It was a huge success, I really think Jasmine was happy and I was even happier to be a part of her special day."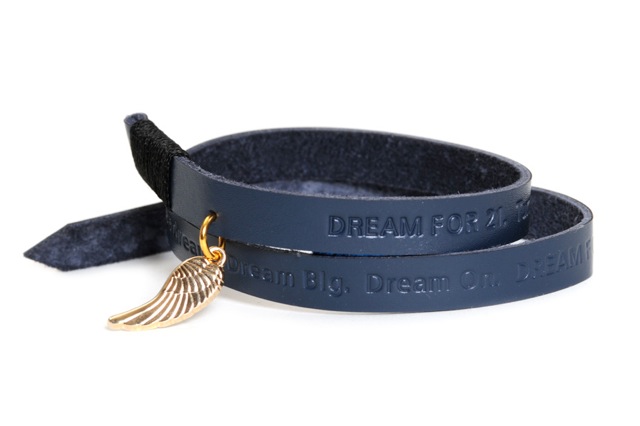 To support this wonderful and original cause, buy a dream for 21 bracelet here. Not only will it look great on your wrist, but it will feel even better knowing it went to something truly spectacular.