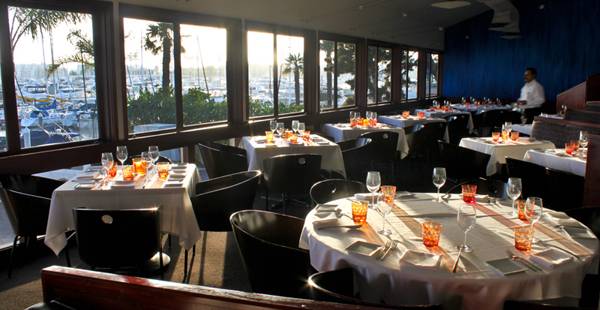 Living in Los Angeles, a city with countless dining and cocktailing options, we have our particular destinations for our particular appetites. And when we're craving that ultimate, wow-this-is-so-good dining experience, Café del Rey is the first place we head to. The ingenuity of this Marina del Rey hotspot is that it has done what so many restaurants have failed to do: it has seamlessly merged artistic, tasty culinary expressions with price points that are beyond reasonable for all that you get. It is truly fine dining at a spectacular price.
We recently headed to Café del Rey to find out what would be offered for spring. With a menu that changes quarterly, we were wildly curious: would the beloved truffle pizza remain? Which new, innovative dish would Executive Chef Daniel Roberts slip into the rotation?
We went on a weekday night, which was surprisingly swarming with crowds of business partners, friends and couples. Patrons packed the newly renovated lounge area, partaking in happy hour specials like the $6 sangria and the Lamb Kofta Cigar appetizer. We sat in the main dining area at a table with glowing orange mosaic candles and crisp white tablecloths near the bay windows – just in time to watch the sun slip into the Pacific Ocean.
Starting off with a cocktail is mandatory. In honor of spring, we tried the kiwi mojito, a refreshingly sweet twist on the tropical favorite. We also ordered the Spiced Apple Bourbon, a robust blend of woodford reserve, apple cider simple syrup and ginger ale. It's quite a strong mix, and will definitely separate the boys from the men. For those of you who prefer wine or want more variety, Café del Rey has four selections of wine flights, allowing you to sample three different wines, from California Cabernet to Argentine malbec and European pinot grigio, and many others.
We then ventured into the realm of appetizers. Much to our delight, the truffle pizza will be staying. You can opt for small or large, but we highly recommend ordering the smaller one so that you can try other great options, like the delectable Housecured Scottish Salmon with artichoke chips accompanied by a shot of basil Limoncello (pictured below). Now talk about a culinary masterpiece! Not only does the buttery salmon melt in your mouth, but the swigs of Limoncello between bites help to bring out the salmon's rich flavor. And even though warm weather is on its way, the steaming hot bowls of soup are not to be missed. The cauliflower apple soup blends apples and walnuts in a novel way, while the tomato bisque takes this traditional soup to a whole new level with hints of Reggiano Parmesan.
After we teased our palate with starters, it was time to dig into the main courses. With so many exceptional seafood options, from the Scottish salmon to the seared ahi tuna, it was quite difficult to decide what to order. We went with the Pan Seared Diver Scallops accompanied by peas, mashed potatoes, and a frothy green garlic emulsion. It's perfect for when you are in the mood for a dish that's light and healthy, yet still filling. We also got a sneak peak of the ricotta gnocchi that accompanies the Petaluma Farms Chicken Breast. Trust us – you have never had gnocchi like this! Executive Chef Roberts personally makes this Italian favorite from scratch, mixing hints of lemon and in-house made ricotta cheese into the pasta before lightly pan-searing it. This is a dish you absolutely must order. Sadly, one of our favorites – the Duo of Sonoma Lamb featuring an apricot braised shank of lamb and a goat cheese crusted lamb loin over a bed of boulanger potatoes – has been retired for now. It was such a pleasure to taste two distinct styles of prepared lamb that were both exquisitely amazing. We're keeping our fingers crossed that it will return when the winter season falls upon us once again.
With all of these delicious cocktails, appetizers and entrees, we had to leave just a little bit of room for dessert. The Chocolate Decadence featuring three chocolate desserts is it's big enough to share yet small enough to finish every last bite. Words cannot rightfully describe how indulgent the chocolate is in the truffle, mousse and cremeux.
What an evening! Café del Rey gets two thumbs up from us for such a memorable dining experience. This Mediterranean restaurant is a destination that's on the top of our list, and it should be on yours as well!
Haute tips:
Who to go with: Perfect for a special date or a casual meet-up with friends.
When to go: On clear days for stunning views of Marina del Rey, or in the evenings to watch the sunsets.
Where to sit: Request to sit at one of the tables by the windows to make sure you have that best seat in the house to experience the sunset.
What to get: The Housecured Scottish Salmon and the Petaluma Farms Chicken Breast with ricotta gnocchi.
Café del Rey is located at 4451 Admiralty Way Marina del Rey, 90292, 310.823.6395
Like Haute Living Los Angeles? Join our Facebook page or follow us on Twitter @HauteLivingLA. Want Haute Living Los Angeles delivered to your inbox once a week? Sign up for our newsletter.
Subscribe to discover the best kept secrets in your city