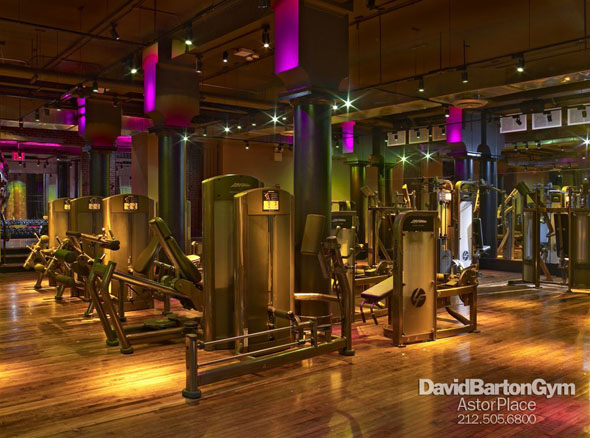 David Barton Gym at Astor Place looks more like a nightclub than a workout facility. But don't let that fool you. Behind the dim, multi-colored lights, eclectic designs and pumping pop music, is a club that is serious about fitness.
My roommate and I headed into the gym a few days ago to sign up for a membership. It had been months since we had been a member of a local workout facility, so we sat down with a sales executive to talk about our wants and needs in a local gym.
At the top of our wish list was a facility that not only has a wide selection of exercise machinery and invigorating classes but also motivates us to want to work out — and hard. So many times before we had signed a year long contract with a gym only to neglect the membership later after losing interest, but David Barton Gym makes you want to keep going.
The minute you walk in the door, you can feel the energy. The receptionists, jiving to the music, greet you by name once you scan your ID card. People gather in the lobby to chat in the dark blue and purple lights after a long work out, and, if you schedule it just right, you can hear a live DJ mixing music upstairs.
David Barton has working out down to every detail. The decor — my favorites are a white gun-shaped vase with roses sprouting out of the end ("Guns and Roses") and the long row of lit candles lining the back wall of the yoga room — is thoughtful and fun. And the services — WiFi for your iPad throughout the entire gym and built-in TVs and iPod adapters on most devices — are necessary for those long runs on the elliptical.
It's professional fitness for the young at heart. I can't think of a better combination.
Like Haute Living New York? Join our Facebook page. Want Haute Living New York delivered to your in box once a week? Sign up for our newsletter.
Subscribe to discover the best kept secrets in your city