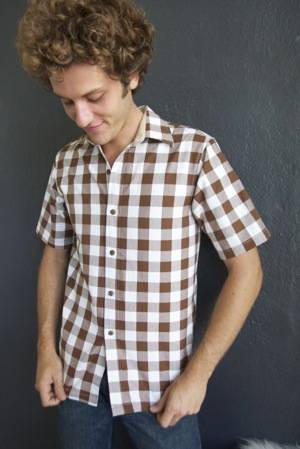 Let's face it, when it comes to fashion, men usually get the short end of the stick. Department stores, boutiques and the like are all designed with the female shopper in mind, offering limitless options when it comes to finding that perfect top. But for men, the options aren't limitless, they're limited. However, here to give men the options they've been craving, Hawaiian designer Roberta Oaks has just debuted her men's line.
Adored by fashionistas in Hawaii, on the mainland and internationally, Roberta Oaks is known as one of the few designers that creates sustainable, eco-friendly apparel without sacrificing style. Fun, flirty dresses made of organic cotton and bamboo have become the mainstay of the Roberta Oaks brand but as she extends her talents, men will be enjoy the fruits of her designing labor with the recent release of her men's line. Featuring the fun colors and lively prints that women have enjoyed, the Roberta Oaks men's line will include a collection of button-down dress shirts that can be worn at the beach or at the bar.
Since most men are quite basic in what they wear and don't have the limitless options when it comes to shirts and blouses that women have,  Oaks's line focuses on the not just the colors and patterns, but also one of the most important aspects of clothing: the fit. Roberta Oaks men's shirts are slightly slimmer, giving a more contemporary fit. Made from either vintage fabric or high-quality material from Japan, sizes will run from small to extra large and can be found at her both of her boutiques in Chinatown and at Pacific Edge in Ala Moana.
Subscribe to discover the best kept secrets in your city