Until recently, when we thought of visual art in Doha our mind would immediately jump to the beautiful museum of Islamic Art designed by renowned architect I.M. Pei featuring exquisite collections of antiquities from the Islamic past. Now Mathaf, meaning "museum" in Arabic, will highlight Arab modern and contemporary art exclusively in Qatar's capital. The new museum is set to open on December 30th of this year.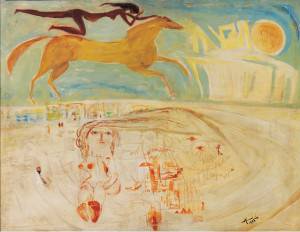 Qatari royal and also vice president of the Qatar Museums Authority, Sheikh Hassan bin Mohammad bin Ali al Thani is responsible for Mathaf's creation. The museum will be housed in a school converted by French architect Jean-Francois Bodin. It will also include a research center, a highly desirable addition for the arts community of the gulf.
Mathaf is one of several new art institutions to open in Qatar and the nearby United Arab Emirates where the Guggenheim Museum and the Louvre are now in the works.
Already art historians, writers, artists and collectors are making their way to Doha to take part in this very important establishment for Arab modern and contemporary art. A few skeptics have nevertheless contemplated whether local politics might take into determine the acquisition of certain works which might be considered sexually and politically provocative. But doesn't politics play a role in the establishment of any art collection?  As Wassan Al-Khudairi, acting direct and chief curator of Mathaf put it, "I mean everything at the end of the day is political. We have a lot of works in the collection because they're part of the story. To be honest is hasn't restricted us in any way." Perhaps the relationship between art and a country's socio-political is a question which still needs to be pondered.
Subscribe to discover the best kept secrets in your city