Terredora di Paolo is at the forefront of reestablishing Campania's glory as one of the world's greatest wine making regions. Located along the south western coast of the Italian boot, Campania is most famous for the city of Naples and the herculean explosion of Mount Vesuvius almost two millennia ago. However, what most people do not know is that historians have recorded remnants of wine makers of the past and winemaking techniques (still used today) dating back to the times of the Roman Empire. Founded in 1978, Terredora's main objective has been to regain Campania's former, Roman grandeur by focusing on the cultivation and development of the local vitis vinifera varietals rather than the better know international varietals — cabernet sauvignon, merlot and pinot noir.
Currently Campania's largest vineyard owner, cultivator and wine producer, Terredora di Paolo is committed to creating wines par excellence and nothing less. Terredora benefits greatly from a unique combination of geographical, climatic and topographical characteristics that allow it to assemble an exciting array of wines entirely representative of Campania's terroir. At more than 1,800 feet above sea level and with vineyards planted along dormant, volcanic hillsides, they cultivate numerous white and red grapes — (white) Greco, Fiano, Falanghina and (red) Aglianico and Piedirosso — and produce both DOC and DOCG designated wines. Walter Mastroberardino and his children, Paolo, Lucio and Daniela, manage all aspects of their 350-plus acre estate and, like many family owned estates, it is this very land, the grapes grown, the wine produced and a rich, ancient tradition that drives their commitment to quality, supremacy and passion. Their commitment and passion is further articulated by the use of modern equipment, innovative techniques and the intense training of the individuals responsible for executing their dreams.
This week's Haute Wines is a trio of whites. Terredora's selection of local white varietals strikes a balance between showy, rambunctious, Neapolitan personality with the elegance of a long-standing family tradition. Unlike international varietals, Italian ones are lesser known, have complicated names and difficult spelling. The first step is overcoming this hurdle and second is putting away the PG because it is time to discover some real Italian gems.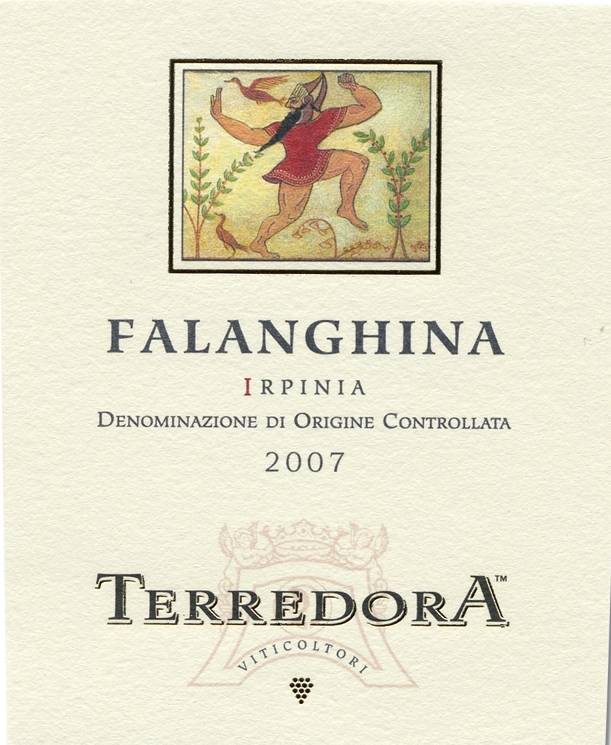 Terredora di Paolo Falanghina DOC Irpinia, 2009 – Despite its difficult pronunciation (pronounced Fah-lan-gee-na), once poured in a glass, ripe pineapples, poached pears and quince burst out screaming "Drink me, drink me…" The quince and the pear continue on the palate along with a fresh and lovely addition of orange blossoms, lime and golden delicious apples. Super crisp acidity cleans the palate leaving it wanton for more. Falanghina pairs wonderfully with light, spicy dishes, like Thai-style green papaya salad or Peruvian ceviche, or serves as the perfect aperitif at dusk — an ideal substitute for pinot grigio fans.
Terredora di Paolo Greco di Tufo DOCG, 2008 – Well-made greco, the granddaddy of southern Italian whites, is powerful and intense upon the initial approach, but should combine elegance and minerality through the finish. This particular example possesses concentrated stone fruit aromas, like peaches and apricots, meyer lemon zest and elderflowers. The beautiful aromas persist on the palate along with ample mouth feel, minerality and a zingy acidity. Most recently enjoyed with a bowl of spaghetti al Aglio'Olio (olive oil and garlic) and shaved Bottarga — absolutely delicious!
Terredora di Paolo Fiano di Avellino DOCG, 2008 — The most complex of the three wines, this Fiano is full bodied and intense, laced with citrusy notes of lemon, lime and grapefruit, green pears, apricot and hazelnuts. Terredora clearly flexes its muscles and demonstrates its genius with this wine displaying strong mineral character, balanced acidity and a super long finish. A bit of patience does this wine good; cellar it for a handful of years and enjoy it with the most decadent seafood plateau available. The bracing acidity and shelly-minerality begs for oysters, clams, crab, langoustines, lobster — what could be better?
Please note some wines are very limited in production and therefore difficult to find. If interested in acquiring, visit  www.epicuriouschic.com and we can assist in sourcing these wines. Follow me on Twitter @EpicuriousChic.
Subscribe to discover the best kept secrets in your city