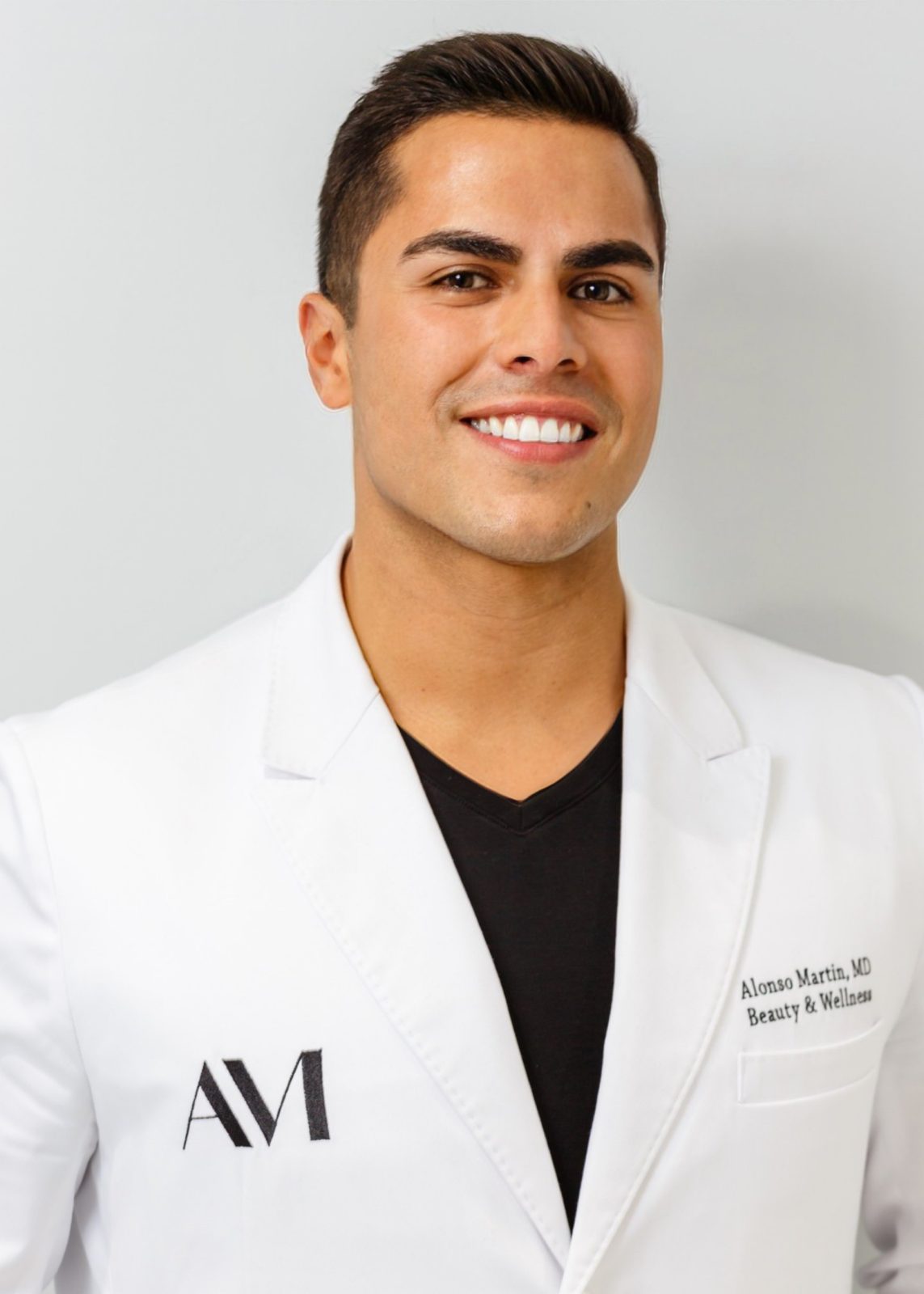 Photo Credit: Courtesy of Dr. Alonso Martin
As an expert in cosmetic dermatology, Dr. Alonso Martin is dedicated to his mission of merging science, beauty, and longevity to achieve exceptional results. His passion for facial rejuvenation started at an early age, inspired by his mother's ability to transform her clients through hairstyling. Today, Dr. Martin is known for his ability to deliver natural-looking and youthful results that leave his clients at AM Beauty & Wellness feeling extraordinary.
Haute Beauty had the opportunity to sit down with Dr. Martin to learn more about his expertise and practice. From his mission to his most popular procedures, Dr. Martin shared his insights with us.
AM Beauty & Wellness's Mission:
AM Beauty & Wellness is an evidence-based practice offering treatments that are supported by science and research. Our mission is two-fold consisting of exceptional concierge service and clinical outcomes. To our limited and exclusive clientele, we offer white glove aesthetic and wellness treatments with a dedicated medical concierge. We welcome our clients with warm greetings and offer them alkaline water, sparkling water, green juice, coffee, or tea.
Our client experience is very important to us and we make sure it is special every time. Our clinical outcomes and aesthetic results are outstanding and new clients are carefully selected by Dr. Martin and his staff. We believe in staying connected to clients wherever they find themselves in the world and strive to create an extraordinary experience every time. 
Today, our practice offers the latest modalities in non-invasive facial and body rejuvenation as well as longevity treatments with Emsculpt Neo, infrared light, cryotherapy, and PRF (platelet-rich fibrin). The practice will continue to add the latest in bio-optimization technologies that are validated by science for safety and efficacy.
AM Beauty & Wellness stands for...
AM Beauty and Wellness stands for excellence in cosmetic dermatology and total well-being. The A for Alonso and M for Martin in the practice's name represent Dr. Martin's dedication to his client's individual needs and his commitment to delivering exceptional results. The Beauty in the name represents the practice's focus on enhancing and rejuvenating the appearance of its clients, while the Wellness aspect reflects Dr. Martin's holistic approach to health and self-care.
Photo Credit: Shutterstock
The most popular services:
Emsculpt NEO

AM Facial Rejuvenation with 100% Natural Bio-Stimulatory Gel using the body's own plasma and proteins

AM Facial Balancing with Botox, Fillers, and PDO Threads

Microneedling with Exosomes

Microneedling with PRF

Peptide Treatments

InfraRed Light therapy 
The future of aesthetics and wellness:
The aesthetic and wellness industry is constantly evolving, relying on clinical research and development to improve outcomes with minimal downtime and tissue manipulation. At AM Beauty & Wellness, we are committed to shaping the future of aesthetic medicine by prioritizing our clients and personalizing their treatments. Our practice prides itself on having the latest rejuvenation technology and techniques to revitalize and reveal youthful skin through modern and innovative medical aesthetics and skincare services.
We understand the value of each individual's unique features and strive to honor and enhance their natural beauty. As the industry continues to evolve, we believe that personalization will become increasingly important, moving away from trends and more towards individualized treatments. At AM Beauty & Wellness, we are dedicated to providing exceptional care and results that leave our clients feeling confident and beautiful.
AM Beauty and Wellness is unique because...
The practice offers the latest in non-invasive facial and body rejuvenation. 
He is recognized for delivering youthful and natural results that make his clients feel extraordinary. His medical practice focuses on medical aesthetics and award-winning wellness treatments that prevent muscle and bone loss.
He created the AM Longevity Method, a compilation of wellness principles and applications combined with Emsculpt Neo, an award-winning technology that grows new muscles and eliminates visceral fat. This technology is used by NFL athletes and many A-list celebrities for health optimization, strength, and longevity.  For those looking to improve their sexual performance, he offers Emsella, a non-invasive treatment to improve sexual function and urinary incontinence.
New services AM Beauty & Wellness is excited to offer:
Dr. Martin stays current with the ongoing advances in biological and regenerative medicine. He now offers 100% natural skin rejuvenation with exosomes or PRF (platelet-rich fibrin). Clients now have the option of choosing these amazing alternatives from surgical, lasers, and other energy-based therapies.
An underrated service that doesn't receive as much press as it should:
IV hydration with isotonic fluids is still the standard of care when someone needs instant hydration. We offer plain isotonic fluids (i.e. normal saline drips) or vitamin-infused fluids to improve immunity, energy levels, sleep, brain, and musculoskeletal performance.
For more information, visit Alonso Martin, MD's social media: