Dr. Karan Chopra was guided and advised by visionaries of the field with hands-on experience at the esteemed Johns Hopkins Hospital in Baltimore, MD. There he honed his skills in complex facial and orbital reconstructive surgery at the R Adams Cowley Shock Trauma Center; completing a dual aesthetic and oculoplastic fellowship with Dr. Mark Codner; and subsequently trained in peripheral nerve surgery with Dr. A. Lee Dellon. At the forefront of advancing cosmetic surgery, his revolutionary techniques and artful hand yield natural-looking results unique to each of his patients.
Recognized for his prominent education and training pedigree, Dr. Chopra is revered for his leadership and research in Plastic and Reconstructive Surgery. He has authored 53 peer-reviewed research articles and has given over 20 lectures across the U.S.
Photo Credit: Shutterstock
We live in a society where many men can be hesitant to take their shirts off and are less than thrilled when they look at their chests. Instead of seeing flat, shapely pectoral muscles, some see cleavage. Some of the biggest complaints are that, "men don't like the way their chest or nipples puff out in shirts or sweaters." A condition that affects over 30% of men, gynecomastia, commonly known as "man boobs", "moobs" or enlarged male breast tissue, can cause low self-esteem, depleted confidence levels and shame surrounding self-image.
To address this condition, many consider a male breast reduction, which can permanently restore the pectoral area to a flat, more masculine contoured chest. In 2015, the American Society of Plastic Surgeons reported that men accounted for more than 40% of breast reduction surgeries.
Those who undergo gynecomastia correction surgery report higher than average satisfactory results. In a published study by the World Journal of Plastic Surgery, 27 patients ranging in age from 17 to 36 were asked to rate their satisfaction with gynecomastia surgery. On a scale of 1 to 10, the majority of patients rated their satisfaction with a score of nine out of 10.
Who is a candidate?
There are two causes of gynecomastia. The first is caused by a hormonal imbalance or elevated levels of estrogen and lower testosterone levels. The second is caused by weight fluctuation and excess fat stored in the chest area, increasing blood flow and spiking estrogen production. Similarly, steroid use and some medications such as antidepressants and hormonal therapies increase muscle mass, triggering estrogen levels to rise, which causes a surge in breast tissue. Drug and alcohol consumption can also increase tissue production.
According to a Mayo Clinic study, gynecomastia is common in 50% to 60% of adolescent males, however, tissue size and swelling may subside with age therefore this surgery is not recommended for boys going through puberty.
If lifestyle influences have shifted and the candidate is at a stable, consistent weight with a body mass index (BMI) between 19 and 30 percent, men can consider a surgical reduction in breast fat and tissue.
The Technique:
There are a few ways to approach the male breast reduction. Most doctors make numerous incisions on the nipple or areola and surrounding areas to remove excess fat and tissue through excisions and liposuction.
A leader in innovative plastic surgery, Dr. Karan Chopra, MD., a Johns Hopkins-trained plastic surgeon, prefers to use an advanced technique that selects peers to utilize called the "Pull Through Technique." This unique procedure does not call for an incision to be made on the nipple or areola. Rather, a small incision is made far from the treatment area where excess glandular tissue, fat, and skin is "pulled through" to be removed. This approach maintains a seamless, smooth and scarless breast area.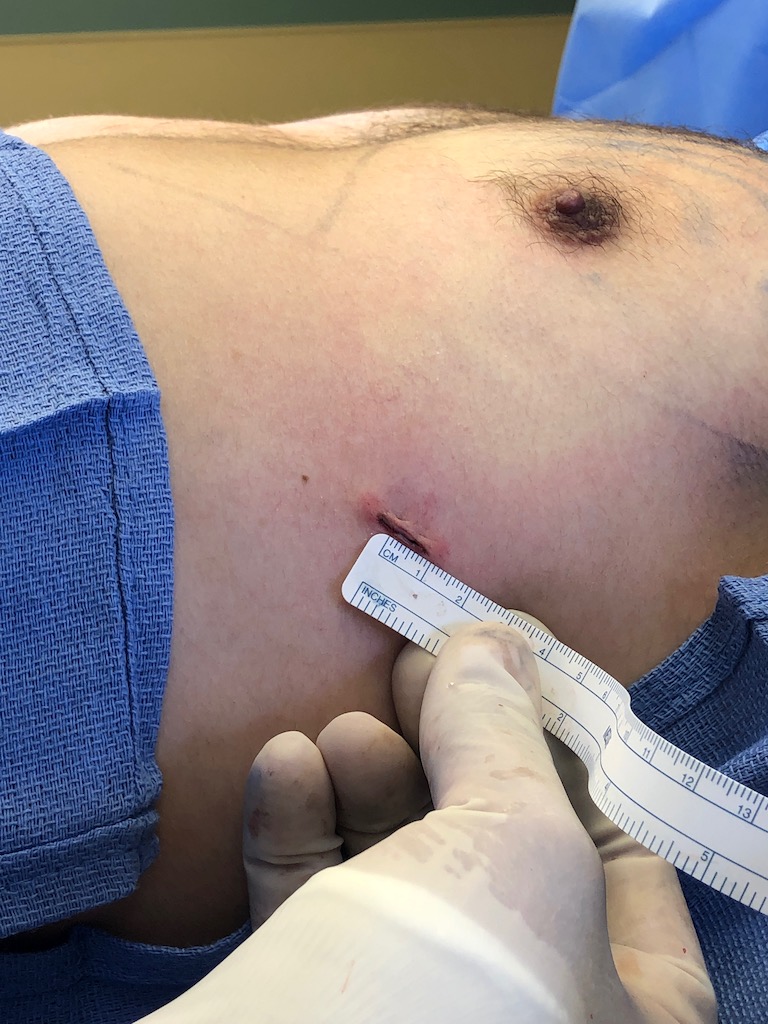 Photo Credit: Dr. Karan Chopra
Once this is completed, liposuction is used to sculpt the pectoral plane into a flatter shape proportionate to the patient's physique. As an outpatient procedure, Dr. Chopra's team administers general anesthesia to mitigate pain and discomfort. Depending on the amount of tissue and fat that needs to be removed, the surgery generally takes one-two hours to complete and results can be seen once swelling and bruising settle.
Alternatively, Dr. Chopra may recommend CoolSculpting®, a non-invasive, FDA-cleared treatment that "freezes" off excess fat cells. This procedure reduces the appearance of enlarged breasts by up to 20-25% in a single session. However, results are not permanent and weight gain can reverse the outcome. Results are seen as early as 1 to 3 months after treatment.
What is Recovery Like?
Recovery from male breast reduction surgery is rather quick. While patients should expect some level of temporary bruising and swelling, most return to work and activity within a week. Many with desk jobs can have their surgery on a Thursday or Friday and return to the office on Monday. Dr. Chopra usually recommends wearing a pressure garment for 3 to 6 weeks to help the tissue conform as it heals in its new shape and to reduce swelling. Usually, those who wear the garment as advised will likely heal more quickly.
For men treated with CoolSculpting®, there is no downtime and patients can resume normal daily activities immediately following the in-office procedure.
Will anyone know? As with most surgeries, some scarring in the incision areas can be initially visible. When properly cared for and protected from sun exposure, these marks fade and improve as the healing process progresses.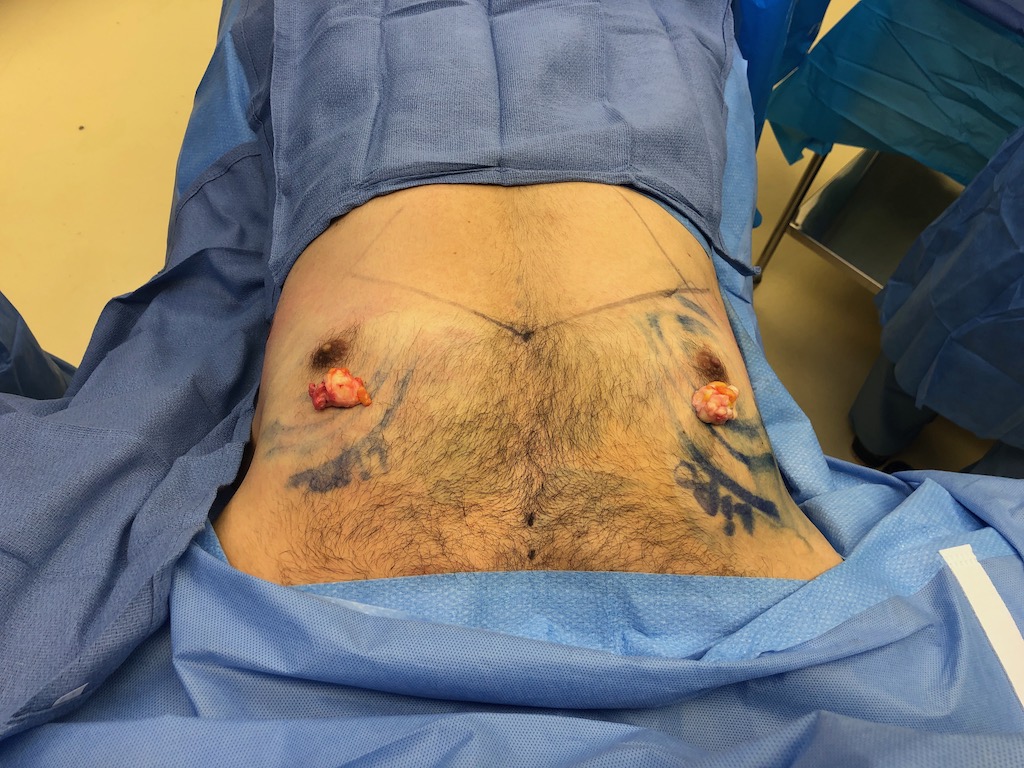 Photo Credit: Dr. Karan Chopra
Dr. Chopra gives you the "Power to Re-Imagine Yourself" with the ENVISION Consultation. During your one-on-one consultation, Dr. Chopra will discuss long term goals, an artistic treatment strategy alongside risks, benefits, and costs.
If you're interested in working with Dr. Karan Chopra, contact him directly at Gryskiewicz Twin Cities Cosmetic Surgery [https://www.tcplasticsurgery.com/] in Edina, MN at 952-842-1000 or in Burnsville, MN at 952-435-0177. Follow Dr. Chopra on Instagram @karanchopramd
Sources
https://www.ncbi.nlm.nih.gov/pmc/articles/PMC3987263/
https://www.plasticsurgery.org/news/press-releases/new-statistics-reflect-the-changing-face-of-plastic-surgery
https://www.ncbi.nlm.nih.gov/pmc/articles/PMC5109391/
https://www.ncbi.nlm.nih.gov/pmc/articles/PMC2770912/
For more information, visit Dr. Karan Chopra's social media: