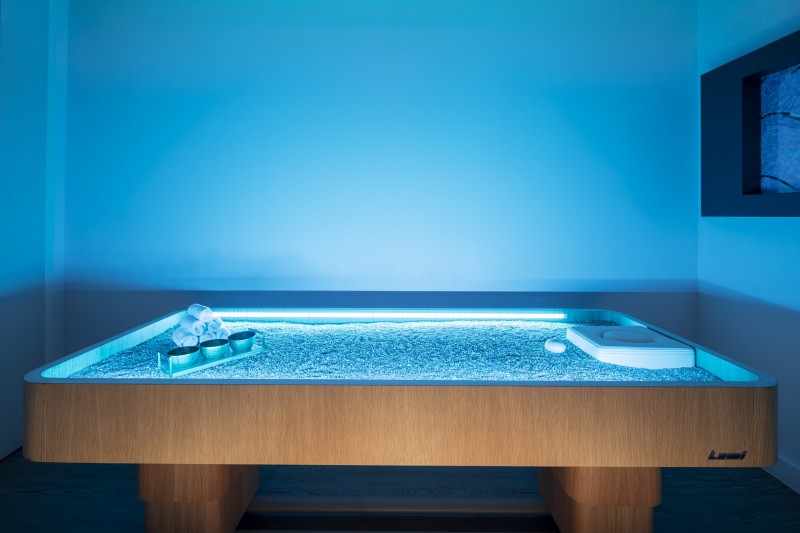 Photo Credit: Carillon Miami
The acclaimed Spa at Carillon Miami boasts one of the greatest and most cutting-edge spa and wellness facilities in all of South Florida. And now, the spa is taking all of its world-class elements one step further by elevating the offerings with brand-new, state-of-the-art wellness experiences, spa treatments and holistic healing offerings. The Carillon Miami Wellness Resort has tapped into experts including Dr. Vladamir Turoskiy, Dr. Stern and the famed beauty salon's Rocco Donna to complete the experience. 
In addition to bringing these experts and new treatments on board, the spa has also partnered with some of the world's revolutionary wellness brands to translate these experiences to the luxury facility, including Italian wellness brand Lemi to outfit the spa with the latest technology; Global Rituals + Signature Services from Italian skincare brand [comfort zone]; skincare brand emerginC: Organic and Raw Beauty; Jacqueline Piotaz Switzerland: Natural Anti-Aging Skin Care; Shankara: Ayurvedic Wellness; the New Oriental Medicine Division with Dr. Vladimir Turovskiy; Holistic Healing: New Ways to Detox and Rejuvenate the Mind and Body; NAD+ IV Therapy; and IV Wellness Packages with instant nutrient boost infusions.
Photo Credit: Carillon Miami
These new treatments take spa pampering to another level, all aimed at healing and improving different parts of the mind and body. Highlights of the treatment menu include the Quartz Massage—a relaxing full body massage taking place on the spa's Dream Crystal Quartz Massage Bed, which imparts wellness benefits, healing and strengthening energy and balance through transmission from the Quartz minerals; Salt Float Bath Therapy, offered per person or per couple, which encourages a deep relaxation state achieved by allowing the body to recover from stress, pain relief and blood flow stimulation as the body rests atop 800 pounds of salt in a dark water pod; the Infrared Sauna, which allows guests to eliminate seven times more toxins within the specialized sauna with infrared heat that aids relaxation, detoxification, weight loss, reduced inflammation and skin purification; and Whole Body Cryotherapy, where you step into a whole-body subzero chamber for an innovative treatment that benefits athletic recovery, fatigue, soreness, chronic pain, inflammation and the immune system—used together with the infrared sauna, guests can burn over 700 calories within the short time period and aid their after-workout recovery and soreness.
Photo Credit: Carillon Miami
Also unique to the spa are the new global rituals, including "The Oriental," which utilizes the ancient massage therapy of China with traditional Chinese medicine and the principles of Yin and Yang; or "The Mediterranean," which draws inspiration from the spirit of the Mediterranean—the sun and warmth, sea and fluid movement, as water inspires the treatment. Guests can also incorporate revolutionary skincare routines into their spa experience with the Non-Surgical Face Lift—a non-invasive treatment designed to lift sagging skin and restore radiance through the use of crystal-free ultrasound technology, lymphatic drainage, LED light therapy, skin-relaxing peptides and a collagen-based hydro mask; or the Skin Regimen/Longevity Detox Facial, which combines the iconic /skin regimen/ Aroma, Macro Waves SoundTM and unique Qigong and Rolling Roulage massage techniques that will leave you feeling recharged and ready to face your busy day.
Photo Credit: Carillon Miami
And of course, after some deep pampering, you can leave the salon looking and feeling your best after a visit to the famed Rocco Donna Hair & Beauty Art luxury salon, helmed by beauty and hair care specialist, Leonardo Rocco.
So, prepare to relax, unwind and leave feeling restored and rejuvenated after a truly unique and unmatched spa & wellness experience at the gorgeous beachfront Carillon Miami Wellness Resort. To get the full list of treatments and book your appointment, visit their site here.