Healing balms are essential for smoothing and soothing the side effects of cold, dry, blustery winter weather—and there's a salve-based solution for chapped skin and lips, rough elbows and knees, jagged cuticles and all other problem spots. Arm yourself with these powerful hydrators to moisturize less-than-supple skin, protect it from the elements and improve its look and feel until spring rolls around once again.
SkinCeuticals Hydra Balm
Designed especially for super-dry and compromised skin (and safe for use after cosmetic procedures), this ultra-hydrating balm features petrolatum to lock moisture into the skin and prevent it from escaping as it relieves itching and discomfort with aloe vera and bisabolol. Ideal for use from head to toe, it's a savior for extremely dry hands and feet—especially when topped with cotton gloves or socks at bedtime.
---
Neal's Yard Remedies Wild Rose Beauty Balm
The best part about this rosehip oil-based multitasker is that you can use it to smooth even the most delicate of dry spots including the lips and cuticles, and unlike other healing balms you can use it as a super-moisturizing cleanser as well. (You even get a muslin cloth for gentle facial exfoliation when you purchase it as well.) Rich in antioxidants thanks to its nourishing base of geranium, starflower, hemp and rosemary oils, it smells as good as it feels as it restores lost hydration and instantly revives the skin.
---
May Lindstrom Blue Cocoon
Crafted by hand in small batches in May Lindstrom's own kitchen, this magical potion soothes the sensation of heat and sensitivity, nourishes the skin and provides an overall sense of calm. With blue tansy as its main ingredient (in addition to a bevy of beneficial natural and organic oils), it quells redness and irritation while acting as meditation for your skin—and it can be used as a daily winter moisturizer for the face or a targeted treatment for winter-ravaged body parts.
---
Tammy Fender Intensive Repair Balm
When any old moisturizer just won't cut it, this all-natural plant-based balm is up to the task. Featuring nature's most potent botanical skin-regenerating ingredients (such as helichrysum, white lily and lotus extracts), this intense facial moisturizer and dry-skin treatment seals in moisture while leaving skin with a protective yet dewy (and not greasy) finish.
---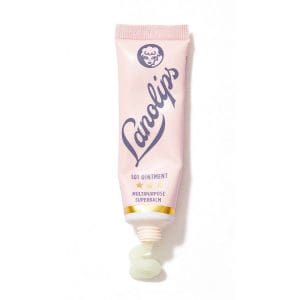 Lanolips 101 Ointment
Ideal for problem spots well beyond the lips (and packaged in a perfectly-portable tube that lets you take its hydrating benefits wherever your travels may take you), this super-concentrated balm instantly revives scaly skin on the face and body, seals in moisture and does a lot more. Use it to alleviate nasal dryness, prevent windburn, soothe minor boo-boos (like papercuts and insect bites) or use it keep your brows in place—and you can also add a dab to your usual moisturizer to kick it up a notch. You definitely need one of these healing balms on hand at all times, and not just during cold, winter weather.